Dr. Death will make you question all of your doctors
July 18th, 2021 under Alec Baldwin, Christian Slater, Dawsons Creek, Peacock. [ Comments: none ]
Peacock tells the true story of Dr. Christopher Duntsch (Joshua Jackson). He is known as Dr. Death for a reason. That reason is the surgeon has killed or maimed over 30 of his patients. They went to him because they thought he could cure them, but he makes them a lot worse.
When neurosurgeon Robert Henderson (Alec Baldwin) and vascular surgeon Randall Kirby (Christian Slater) find out about him, they decide to do everything in their power to stop him. However, there are going to be a lot of obstacles that will try to stop them. So along with Dallas prosecutor Michelle Shughart (AnnaSophia Robb), they will build a case against Dr. Death.
Will they win when they finally have their day in court? You will just have to stream the 8-part series to find out.
The first four episodes start off slow, but stick with the series because it picks in up in episode five and never slows down again.
The only other complaint I have is I think Slater and Jackson should have switched roles. Slater is just better at playing narcissists and sociopaths.
Other than that, I was intrigued to find how doctors can get literall6y away with murder.
It is the summer; there is nothing else to watch. So why not watch something that will keep you captivated.

---
James Van Der Beek and Joshua Jackson are still fighting
July 29th, 2019 under Dawsons Creek, James Van Der Beek. [ Comments: none ]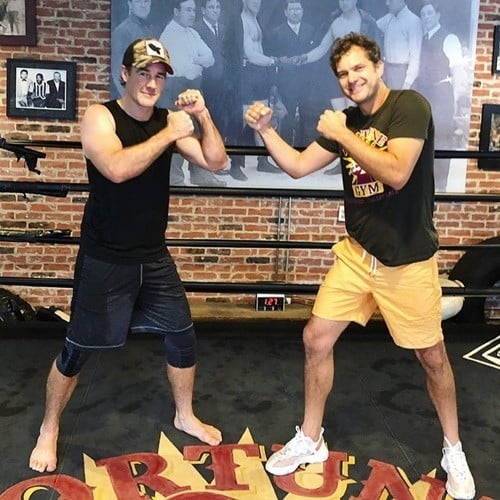 It has been an unsweet 16 years since Dawson's Creek ended and looks like Dawson and Pacey are still fighting over Joey. Are they? Nope, James Van Der Beek and Joshua Jackson were just getting a work out at their "gym is cooler than your gym."
This photo makes you wonder why they don't do a reunion. They don't need Michelle Williams to be part of it since she died in the series finale. It is not a spoiler if it is over 15 years old.
Would you want to see the Creek back on our TVs?

---
Busy Philipps is not Busy Tonight or any night anymore
May 6th, 2019 under Busy Philipps, Dawsons Creek, E!. [ Comments: none ]

Did you know that Busy Philipps has a talk show on E!? Well, you are not alone if you did not because she revealed that it has been cancelled.
She wrote, "Hey guys. Just wanted to let you know my show Busy Tonight won't be continuing on the E network after May 16. I'm beyond proud of what we've built in such a short period of time and I'm hopeful we can find the right place for the show to live on. Goodnight you guys. I love you.✨"
I don't know why she thinks anyone else would be interested in her show because it did not get a lot of buzz after the first week. That and it is absolutely awful. It was all about her and not the guests. I hate talk show hosts who make it all about them. She would actually interrupt guests to talk about herself. As if, the show was not enough about her to begin with. That is my theory why her talk show is cancelled.
I hope that E! is not out of the talk show business. I think they can have a successful one if they find the right host. She was not just it.

---
Joshua Jackson cleans up well!
April 3rd, 2018 under Dawsons Creek. [ Comments: none ]

Eight days from now, Joshua Jackson will have his big Broadway opening night in Children of a Lesser Gd. Because of that the actor posed for the cover of The X Magazine and talked about the Great White Way adaptation of the Oscar winning movie.

For those of us who will not be able to make it to NYC, we get enjoy seeing Pacey in a tux. One that looks so good on the Dawson's Creek's bad boy.

---
Imagine Dawson's Creek with Jesse Tyler Ferguson as Dawson?
December 13th, 2017 under Dawsons Creek, Modern Family. [ Comments: none ]

Jesse Tyler Ferguson made a confession on Instagram today, I am still trying to absorb it all in. The actor posted the above photo with James Van Der Beek and revealed that, "One of these guys auditioned for the role of 'Dawson' on Dawson's Creek and did NOT get the part. The other one is very handsome & very fun as 'Beau' in tonight's new episode of Modern Family [on ABC at 9p]. Both of these guys are fake laughing in the second picture. #Acting."

Now I ask you to imagine Ferguson as Dawson and think if he would still care about the teen drama as much? I just can't imagine anyone else doing that ugly cry like Beek. Can you?

---