James Van Der Beek and his wife are expecting baby #6!
October 8th, 2019 under James Van Der Beek. [ Comments:

none

]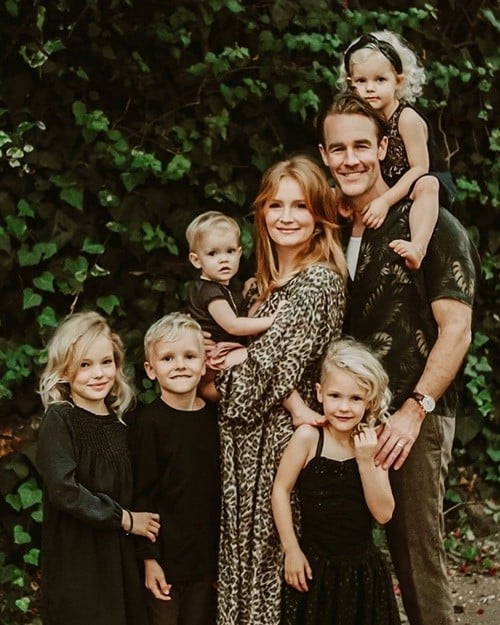 James Van Der Beek and his wife Kimberly revealed on Dancing with the Stars yesterday that she is pregnant with baby #6. They even showed us her getting the ultrasound where they heard the heartbeat to prove it. This was very important for them to do so and he explained why on social media.
Thrilled beyond belief to announce that another little bundle of joy has picked us to be their family. We chose to have our first ultrasound on camera with our #DWTS crew capturing the result – something I NEVER thought we'd ever do… but @vanderkimberly and I have been through three of those first appointments to discover either no heartbeat, or no baby, and she wanted to share this moment. Miscarriage (a word that needs a replacement – nobody failed to "carry", these things sometimes just happen) is something that people rarely talk about, and often go through in secret. But there needs to be zero shame around it, or around giving yourself the time and space to grieve. We decided to put ourselves out there – not knowing what we'd find – in an effort to chip away at any senseless stigma around this experience and to encourage people who might be going through it to open themselves up to love & support from friends and family when they need it most. Happily, for us – this time- we walked out with tears of joy. #AndThenIDancedAQuickStep.
Baby #6 joins Olivia, 9, Joshua, 7, Annabel, 5, Emilia, 3, and Gwendolyn, 15 months. Good thing Van Der Beek is building up his stamina on DWTS because he is going to need it with six kids under 10. Little does he realize Olivia is about to hit puberty and that is when parenting gets to be a whole lot more fun. Not!
You know if the Van Der Beeks and Alec and Hilaria Baldwin got divorced and James married Hilaria, they would have a house full of 11 kids under 10. That and a reality TV show. However, that is not going to happen because you cannot make that many kids together in such a short time and not love each other until death do you part.
---
Dancing with the Stars actually got some stars this go around!
August 21st, 2019 under Christie Brinkley, Dancing with the Stars, James Van Der Beek. [ Comments:

none

]

Dancing with the Stars took a season off and it worked for their benefit. Today, the ABC show announced who is hitting the dance floor next month and I actually heard of half of them. Of course, there is one person we wish we never heard of. Just when we thought Sean Spicer was just a footnote in the history books, he is putting dancing shoes on his feet.
While he is someone we wish we could forget, none of us ever want to forget James Van Der Beek. I guess having 5 kids is more expensive than we thought. We all know why Lamar Odom needs the money. You know because of what he spent it on.
Here is the full list of stars:
• Lauren Alaina – country music star
• Christie Brinkley – supermodel
• Ally Brooke – pop star
• Hannah Brown – "The Bachelorette"
• Karamo Brown – TV host
• Kate Flannery – TV star
• Ray Lewis – NFL Hall of Famer
• Kel Mitchell – comedian/actor
• Lamar Odom – two-time NBA champion
• Sean Spicer – former White House press secretary
• James Van Der Beek – TV icon
• Mary Wilson – The Supremes
If Christie Brinkley does not dance to Billy Joel's Uptown Girl for her first number, then she deserves to be eliminated right there on the spot.
When it comes to which professional they are dancing with, we will have to wait to find that out on the season premiere. On September 16th, all will be revealed. Like if the two extra professionals are not dancing or if we are getting two more celebrities. Things that make you go hmmmmm.
Here are the pros:
• Brandon Armstrong
• Lindsay Arnold
• Alan Bersten
• Cheryl Burke
• Witney Carson
• Val Chmerkovskiy
• Sasha Farber
• Jenna Johnson
• Daniella Karagach
• Keo Motsepe
• Peta Murgatroyd
• Pasha Pashkov
• Gleb Savchenko
• Emma Slater
---
James Van Der Beek and Joshua Jackson are still fighting
July 29th, 2019 under Dawsons Creek, James Van Der Beek. [ Comments:

none

]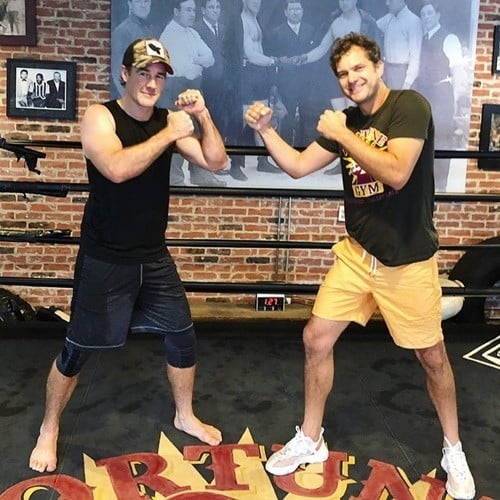 It has been an unsweet 16 years since Dawson's Creek ended and looks like Dawson and Pacey are still fighting over Joey. Are they? Nope, James Van Der Beek and Joshua Jackson were just getting a work out at their "gym is cooler than your gym."
This photo makes you wonder why they don't do a reunion. They don't need Michelle Williams to be part of it since she died in the series finale. It is not a spoiler if it is over 15 years old.
Would you want to see the Creek back on our TVs?
---
James Van Der Beek is pretty in pink a towel
May 1st, 2019 under James Van Der Beek. [ Comments:

none

]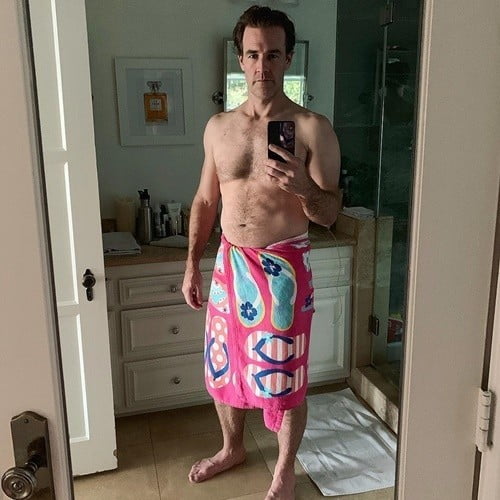 James Van Der Beek is married and has four daughters, so that means his house is full of pink. The other day when he was getting out of the shower, he needed a towel. He grabbed the nearest one. That towel is not particularly his style. How does he feel about that? He wrote, "Just giving up? Or just not giving a f*ck? #Dadwear #IHaveDaughters"
Life as a single man and that of a father of five is much different. Looks like after his fifth child and fourth daughter, he is finally ready to accept that. You know what, it looks good on him.
---
James Van Der Beek throughout the years
February 28th, 2019 under James Van Der Beek. [ Comments:

1

]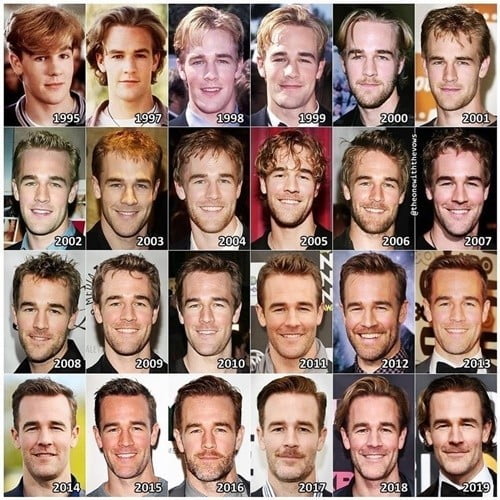 We have been watching James Van Der Beek grow up in front of our eyes since 1998 when he starred in Dawson's Creek. While he has become more manly throughout the years, I did not realize how much he has aged in 25 years.
That was until yesterday when he posted 24 side-by-side photos of himself since 1995. Yes, he has gotten older, so have we all. The 41-year-old has just aged better than us. Especially when you consider he is the father of 5 young children. If we had that many rugrats in our lives we would look like we were ready to move into Shady Pines. Not him, so what is his secret?
---