James Van Der Beek gives parenting advice
December 1st, 2021 under James Van Der Beek. [ Comments: 1 ]
James Van Der Beek has more kids than we have fingers on one hand. Therefore, he has learned a thing or two about parenting. Since he has six kids, he has learned how to CALLLM a crying baby to sleep. And he is sharing that secret with us.
It is all about being CALLLM with a newborn infant, like his son Jeremiah. What does that acronym stand for? It is Connection, Acceptance, Love, Listen, List, and Magic. He explains what each word means in the video. Obviously, it is working because look at the little guy sleeping like an angel.
I wonder by which kid he was able to perfect this method. Was it with Olivia, 11, Joshua, 9, Annabel, 7, Emilia, 5, or Gwendolyn, 3? I am guessing it was with Jeremiah, less than two months.
After watching this video, I think that someone should give him and his wife, Kimberly, a show about how to be a parent. I think he would be really good at it.

---
James Van Der Beek welcomed his sixth child
November 22nd, 2021 under James Van Der Beek. [ Comments: 1 ]
James Van Der Beek and his wife, Kimberly, welcomed their sixth child together after two late-term pregnancy losses. Baby #6 is a baby boy that they named Jeremiah, Remi, for short.
You didn't know that his wife was expecting? The actor explained why they kept this pregnancy a secret. "After experiencing late-term #pregnancyloss twice in a row (both at 17+ weeks), we kept this one quiet. Truthfully, I was terrified when I found out," he wrote. "But we found a doctor here in Texas who diagnosed the last two as having been caused by an: 'incompetent cervix' (I asked him what kind of misogynistic old dude invented that term and he laughed – which made me like him even more. Now it's called a #WeakenedCervix). A simple surgical cerclage was done, removed at full-term, @vanderkimberly gave birth naturally on the ranch…and here we are. The medical books say to only look at a cerclage as an option after three late-term losses. Our doctor recommends considering it after one. Spread the word."
Remi has four older sisters Olivia, 11, Annabel, 7, Emilia, 5, Gwendolyn, 3, and an older brother, Joshua, 9.

---
BTWF: James Van Der Beek on Clarissa Explains It All
November 22nd, 2021 under Before They Were Famous, James Van Der Beek, Melissa Joan Hart. [ Comments: none ]
Before James Van Der Beek was all about Joey on Dawson's Creek, he was interested in listening as Clarissa Explains It All. He looks the same now as he did when he was 16 in that 1993 episode.

---
James Van Der Beek shows off how DWTS changed his body!
November 27th, 2019 under Dancing with the Stars, James Van Der Beek. [ Comments: none ]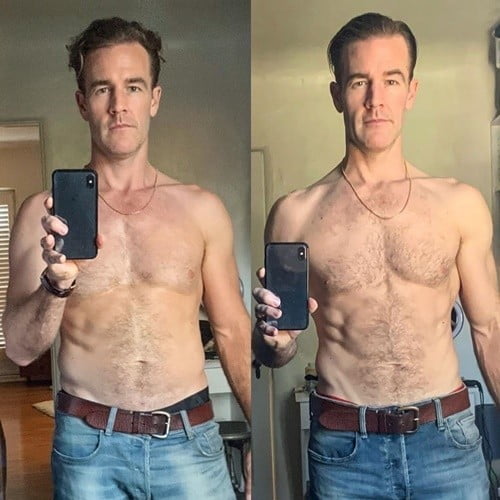 We know that being on Dancing with the Stars changes the shape of the Stars' bodies when they compete on the show. However, we rarely see how different they look from before they put on their dancing shoes to when they take them off.
Well, James Van Der Beek showed how much more toned he is now. His muscles are more defined, his chest hairs are more pronounced and he looks years younger. If DWTS did that for him, then why aren't more Stars doing it? They get paid to get the perfect body. It is a win/win situation. Unless they are voted off week one or suffering an elminating injury.

---
James Van Der Beek reveals his wife miscarried before being eliminated from DWTS
November 19th, 2019 under Dancing with the Stars, James Van Der Beek. [ Comments: none ]

A few weeks ago, James Van Der Beek revealed on Dancing with the Stars that he and his wife, Kimberly, were expecting their sixth child. Yesterday, on the dancing competition, he shared the sad news that she lost the baby on Saturday. Even though, he was ready to quit and be with her, Kimberly told him to go on because she was not done watching him dance.
While she was not done, Carrie Ann Inaba, Len Goodman and Bruno Tonioli were. When the Dawson's Creek star found himself in the bottom two, all three of them chose to save Ally Brooke instead of him. The Fifth Harmony singer did not agree with their decision and offered to leave the show instead of him. Host Tom Bergeron said to her that is not how things work. It was a sweet gesture on her part.
Also, it is a messed up one on the judges' part. I hate that they have so much say this season. I never thought they know what the viewers want which is why people like me danced their last dance with them a while ago.
Alas, it is not about them, it is about Van Der Beek. After the show ended, he wrote a heartfelt message about his loss: "Wrecked. Devastated. In shock. That's how we're feeling right now after the soul we thought were going to welcome into our family in April… has taken a short cut to whatever lies beyond this life. We've been through this before, but never this late in the pregnancy, and never accompanied by such a scary, horrific threat to @vanderkimberly and her well-being. Grateful that she's now recovering, but we've only just begun unpacking the layers of this one. Thank you to all of our friends and co-workers (and dance partners) who have shown up for us so beautifully during this time. As many of you have said, 'There are no words…' and it's true. Which is why in a time like this it's enough to know that you're there. Grieving AND counting our blessings today."
My heart goes out to the couple as they deal with their tragic loss.

---