Kiefer Sutherland's dog reacts to him dressing as one
October 31st, 2020 under Kiefer Sutherland. [ Comments: none ]

Kiefer Sutherland dressed his dog up as a taco for Halloween, and the pup's mom thought her son looked good enough to eat. Therefore, the designated survivor decided to save his pooch by dressing up as one. How did his furbaby react to it? Just like Jack Bauer, when a bomb went off in 24!

Seriously, how arfdorable are the man and his best friend?

---
The animated Creepshow episodes are scarier than the live-action ones
October 29th, 2020 under Joey King, Kiefer Sutherland, Shudder. [ Comments: none ]

In honor of Halloween, Shudder released two new episodes of Creepshow today for streaming. Due to the pandemic and filming restrictions, both of them are animated. Since the series comes from a comic book, the animation mimics that feel. A feeling that makes the stories even scarier because it leaves a lot up to the imagination. Getting lost in your thoughts can make even the creepiest of stories creepier.
In Survivor Type, Kiefer Sutherland goes from Designated Survivor to the lone survivor on an island. He was on a cruise ship that sunk in the middle of nowhere. No one knows that anyone made it out alive, so he is doing his best to survive. Even though there is no food on the island and parts of his body are decaying from infections. Since he is a doctor, he is doing the unthinkable to make sure he sees another day. However, how far will someone go to stay alive? That is what we will find out as Sutherland narrates what his character writes in his journal about his fight to live on in an impossible situation.
Joey King is the sole voice in Twittering from the Circus of the Dead. Unlike Sutherland, she tells her terrifying tale via Twitter. King is a teenager on a failed road trip with her parents and her brother. They planned on going skiing, but there was too much snow. Therefore, her father comes up with an alternative plan. He decided to take them to something called the Circus of Death. What is that? King will describe the unimaginable horror to us in a series of tweets that will send shivers down your spine.
Yesterday, Shudder announced that Marilyn Manson (Sons of Anarchy), Ali Larter (The Rookie), Iman Benson (BlackAF), Ryan Kwanten (True Blood), Barbara Crampton (Re-Animator), C. Thomas Howell (Criminal Minds), Denise Crosby (Star Trek: The Next Generation), Breckin Meyer (Robot Chicken), Ted Raimi (The Evil Dead), Kevin Dillon (Entourage) and Eric Edelstein (We Bare Bears) will guest star on the second of the season of the show. Personally, I wish for the third one; they do every episode like these two. Seriously, you have to watch them. Once you do will be saying exactly what I am. It so much more horrifying when you don't see everything that is happening. Because of that, you create from their thoughts what else is going on around them. I am still afraid to go to sleep after watching this Halloween special. It is that terrifying.

---
Kiefer Sutherland and Joey King are going to have a Creepshow Halloween
September 24th, 2020 under Kiefer Sutherland, Shudder. [ Comments: none ]

Season two of Shudder's Creepshow is currently in production, but that is not stopping them from airing a Halloween special with Kiefer Sutherland and Joey King.

On October 26th, the two of them will each be starring in an animated episode. Survivor Type, based on the short story by Stephen King and adapted by Greg Nicotero, stars Kiefer Sutherland (24, Designated Survivor) as a man determined to stay alive alone on a deserted island no matter what the cost. Twittering from the Circus of the Dead, based on the short story by Joe Hill and adapted by Melanie Dale, stars Joey King (The Kissing Booth, The Act) as a teen whose family road trip includes a visit to the gravest show on earth.

That is just one of the 61 Nights of Halloween on the horror streaming site. To see what other terrifying things they have lined up for Spooktober, then click here!

---
Kiefer Sutherland cancels his tour after falling down his bus' steps
August 15th, 2019 under Kiefer Sutherland. [ Comments: none ]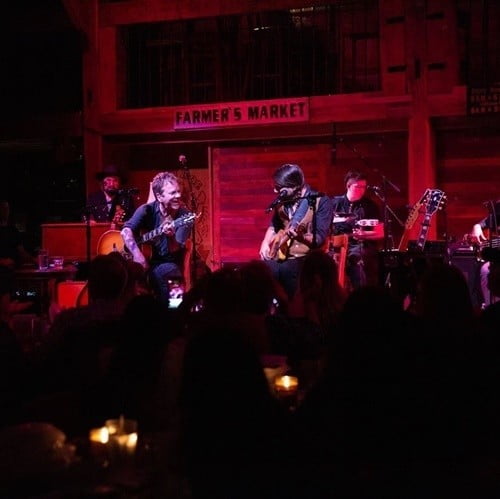 It has not been a good summer for Kiefer Sutherland. First, Netflix canceled his show Designated Survivor and now he was forced to cancel the remainder of his tour. When he is not acting, he is singing and selling out venues all over the World. At least until now and explained why he regrettably had to pull out of the last three shows.
Sadly I slipped on the steps of the bus whilst travelling to Denmark and seriously injured a rib, making it difficult to breathe and impossible to sing. Regretfully, I will not be able to perform the last 3 shows of our tour but have every intension of making up these shows up in September / October when we return. I am so sorry for any inconvenience
that I have caused to the fans who have bought tickets. I will do everything I can to make it up to you.

Thank you for your understanding
Kiefer, you might not be a designated survivor anymore, but you still are a survivor. Get well soon!

---
Netflix does an ABC and impeaches Designated Survivor
July 24th, 2019 under Italia Ricci and Robbie Amell, Kal Penn, Kiefer Sutherland, Netflix. [ Comments: none ]

Last year, ABC cancelled Designated Survivor and then Netflix picked it up for a third season in September. Today, they announced that they too are cancelling the show. Even though we will not get any more new episodes, the old ones will continue to stream for years to come.
Netflix said this about the cancellation, "We're especially thankful to star and executive producer Kiefer Sutherland, who brought passion, dedication and an unforgettable performance as President Kirkman. We're also grateful to showrunner/executive producer Neal Bear for his guiding vision and steady hand, creator/executive producer David Guggenheim and EPs Mark Gordon, Suzan Bymel, Simon Kinberg, Aditya Sood and Peter Noah along with the cast and crew who crafted a compelling and satisfying final season."
However, the news is not really a surprise. Kiefer Sutherland is busy with his musical career, Kal Penn has a new show on NBC and Italia Ricci is expecting her first child.
Last year, I was OK with the show getting the ax, but this season I am going to miss it. It was as thrilling as the first half of season one when the show was really enjoyable. At least we got one more season.
You know if Netflix keeps cancelling the shows I watch, I might have to cancel them.

---