The cast of Taxi reunited!
February 19th, 2020 under Danny DeVito, Taxi. [ Comments: none ]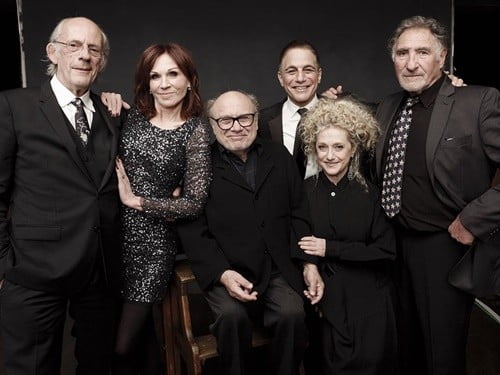 Tony Danza shared a few photos with his surviving castmates Christopher Lloyd, Marilu Henner, Danny DeVito, Carol Kane, and Judd Hirsch, and he did not say why the old gang got together. I don't care. I have not stopped crying happy tears since I saw them together again because Taxi is my all-time favorite show. I have been hoping for a revival of this show since they started bringing shows back.
Look at how great they look when they put on some nice threads! As good as they looked when Elaine sang Lullaby of Broadway from 42nd Street with them. You can watch that amazing number below. Not only that, you can see that they have not aged since that episode aired in 1980.
Since people don't take cabs anymore, why can't Alex bring them all together again to drive for his ridesharing company Sunshine? Since he was the only one who wanted to be a cab driver? Can you imagine what it would be like to see Louis and Reverend Jim still behind the wheel after 40 years? Gd help anyone crossing the street or walking on the sidewalk.
However, it was not about their driving skills; it was about their friendship and their antics. How I miss all the trouble, they got into. I have seen each episode over 100 times, and I still find something new to laugh at with each one.
If you have never seen Taxi, you can enjoy the series on Hulu and CBS All Access.

---
Danny DeVito is The Rock!
July 1st, 2019 under Danny DeVito, Jack Black, Kevin Hart, The Rock. [ Comments: none ]

The first trailer is out for Jumanji: The Next Level, and it might be the rare sequel that is better than the first movie.
The first movie was totally game on, and this one look like it will take it to the next level. I mean Danny DeVito as The Rock and Danny Glover as Kevin Hart is brilliant. I was wondering how they were going to top the OG, but it appears that they did. I actually laughed with the trailer, and that is something I rarely do.
I just hope those are not the best scenes. Don't you hate when editors do that? But it is not about that. It is about going to see Jumanji 2 when it comes out this Christmas.

---
Rhea Pearlman says she is not getting a divorce from Danny DeVito
May 10th, 2019 under Andy Cohen, Danny DeVito. [ Comments: none ]

When it comes to celebrity couples, I thought that Rhea Pearlman and Danny DeVito were going to make it until death us do part. I was wrong because the couple separated after 30 years of marriage in 2012. I honestly thought they reconciled, and again I was wrong.
Yesterday, when she was on Watch What Happens Live with Andy Cohen she cleared up their relationship when a caller wanted to know how the exes remain so civil to each other. She said that they talk and see each other all the time. In fact, they still love each other even though do not live together anymore.
Will they get a divorce? She had a great reaction, "What for?" Is it wrong for me to hope that someday maybe they will get back together? I have loved their love for each other since they played lovers on Taxi.

---
Colin Farrell auditioned for Boyzone
March 27th, 2019 under Colin Farrell, Danny DeVito. [ Comments: none ]

Dumbo stars Colin Farrell and Danny DeVito sat down to answer Wired's Web's Most Searched Questions. Someone wanted to know if it is true that Farrell auditioned for the Irish (Yes, he is Irish and not British. Don't make that mistake) boyband Boyzone.
He admitted that he did and the tone-deaf actor sang Wham's Careless Whisper not once but twice for the producers. He believes they asked him to sing it again because he was so tone deaf and "they could actually believe I had the balls to stand in front of them and sing."
How bad was he? The actor not singer said, "It was a boy band and look, two of the members of the boyband had dead mics and I could not even be one of them. That's how bad I was."
While he was not good enough to sing with Boyzone, he was good enough to sing in Crazy Heart. That was his voice in the movie.
Oh and Danny DeVito really did eat fish in Batman when he played the Penguin.

---
Danny DeVito reveals how he nailed the audition for Taxi!
March 25th, 2019 under Danny DeVito, Larry King, Taxi. [ Comments: none ]

Before Taxi, Danny DeVito only had small roles on television. Therefore, he did not know the big named producers who were attached to the sitcom.
When the actor got the script, he told Larry King on his Ora TV show that he "loved it". Thus, he really wanted to make sure he left an impression with them.
He walked in, the casting director introduced him to producers so now it was time for him to sit down and audition in the hot seat. Before he sat down, he said them. "There is one thing I want to know before I start, 'Who wrote this 💩,'" as he threw the script down on the table. With that Louis De Palma, one of television's all-time greatest characters on television's all-time greatest show, was born.
If you have never seen the brilliance of Taxi, watch it on Hulu or Tubi TV, the latter for free. You will understand why this will always be my favorite program. To get a glimpse of what it made it so wonderful, then click here!

---