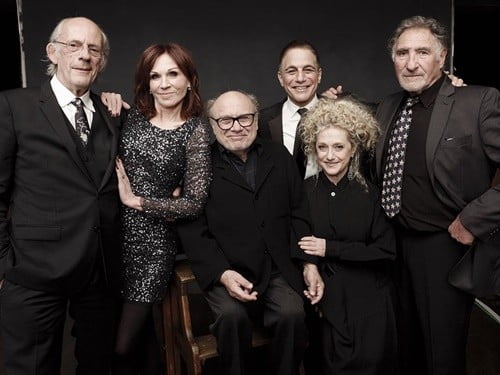 Tony Danza shared a few photos with his surviving castmates Christopher Lloyd, Marilu Henner, Danny DeVito, Carol Kane, and Judd Hirsch, and he did not say why the old gang got together. I don't care. I have not stopped crying happy tears since I saw them together again because Taxi is my all-time favorite show. I have been hoping for a revival of this show since they started bringing shows back.
Look at how great they look when they put on some nice threads! As good as they looked when Elaine sang Lullaby of Broadway from 42nd Street with them. You can watch that amazing number below. Not only that, you can see that they have not aged since that episode aired in 1980.
Since people don't take cabs anymore, why can't Alex bring them all together again to drive for his ridesharing company Sunshine? Since he was the only one who wanted to be a cab driver? Can you imagine what it would be like to see Louis and Reverend Jim still behind the wheel after 40 years? Gd help anyone crossing the street or walking on the sidewalk.
However, it was not about their driving skills; it was about their friendship and their antics. How I miss all the trouble, they got into. I have seen each episode over 100 times, and I still find something new to laugh at with each one.
If you have never seen Taxi, you can enjoy the series on Hulu and CBS All Access.

---