An '90s teen boys' wet dream: Danielle Fishel and Danica McKellar! 
September 18th, 2023 under Danielle Fishel., Wet dream. [ Comments: none ]
Back in the '90s, teenage boys were watching The Wonder Years and Boy Meets World, and they were having wet dreams about Danica McKellar and Danielle Fishel. But they never saw the two actresses together.
Over the weekend, they got to hang out at '90s Con in Tampa, Florida, and took this photo. And now those boys are having dreams their wives don't want to know about. But hopefully, they are benefitting from those dreams.
Especially since Fishelle, 42, and McKellar, 48, look even better now than when we knew them as Topanga and Winnie Cooper.

---
Justin Timberlake helped Lance Bass reel in the girl
August 15th, 2023 under Danielle Fishel., Justin Timberlake, Lance Bass. [ Comments: none ]
Before Lance Bass was out and proud, he dated Danielle Fishel. She was on a TGIF show called Boy Meets World, and she met the boy when he was in a band. And they were *NSYNC with one another, so she gave him her number.
Well, he didn't know what to do if he got her voicemail, so he asked his bandmate, Justin Timberlake, to help him. And then they spent the next hour writing the perfect message for her.
It was so on point that not only did Timberlake bring the sexy back, he got the girl to call his friend back.
And now Bass and Fishel are best friends. So what happened to that other guy? I heard he is writing music. And Bass is taking credit for that.

---
Danielle Fishel meets her second son!
September 5th, 2021 under Danielle Fishel.. [ Comments: none ]
Danielle Fishel and her husband, Jensen Karp, welcomed their second son earlier this week.
"On 8/29/2021 we welcomed Keaton Joseph Karp to the world. He was born on his deceased grandfather's birthday (like I prayed for!) and his middle name is an homage to his great grandfather who is still here to meet him at almost 98 years old. ❤️," the actress wrote.
Adler is a super(hero) big brother and @jensenkarp and I are thrilled to have him home, healthy and safe, with us."
Thankfully, Keaton did not come out with a shrimp's tail like the ones his dad found in his Cinnamon Toast Crunch.
The Karps have been married since November 2018 and welcomed their first son, Adler, on June 24, 2019.

---
Danielle Fishel will meet another baby boy
May 5th, 2021 under Danielle Fishel.. [ Comments: none ]
Today is Danielle Fishel's 40th birthday (feel old?), and she has some news to share with us.
"I couldn't be more grateful to enter my 40's with my amazing husband and son, excitedly expecting the arrival of baby boy #2," the Boy Meets World actress wrote. "My birthday wish is for all of you to tell someone how much you love them and walk through today with more patience than you normally might."
Fishel and her husband of three years, Jensen Karp, are already the parents to Adler, 22 months. He came into the world a month early and spent a few weeks in the NICU before going home with his parents. Hopefully, things will go more smoothly this time around.

---
Danielle Fishel finally brings her son home!
July 15th, 2019 under Danielle Fishel.. [ Comments: none ]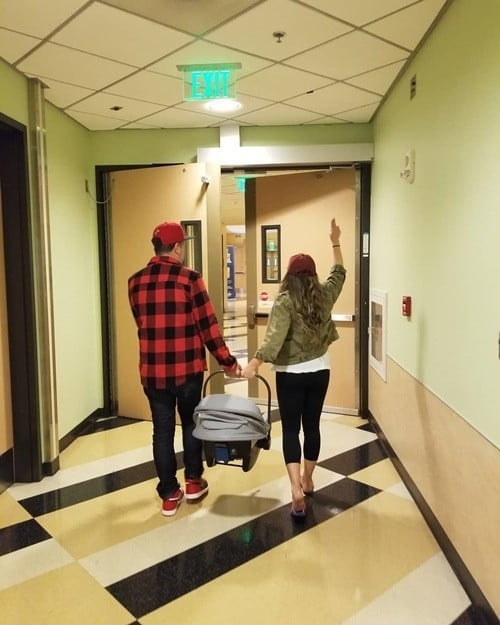 Today is Danielle Fishel's son's 3-week birthday and he got a huge present. After 21 days of living in the NCIU due to being born prematurely, he was finally given his moving papers. Little Adler was sent home and his parents cannot wait to let him sleep in his own crib. Although, I have a feeling that is still going to be weeks away. They are going to want to keep him as close as possible for the time being.
Now that the family of three are home, the actress has a message for the people of Childrens Hospital Los Angeles. She wrote, "We never wanted to know this hospital and its staff so well but now that we do, we can say with certainty there is no better place for children with medical needs. Now we hope to never be back. 🙂 Finally, our love and hugs to every single parent who has ever spent time in the NICU and especially those we left behind today. ❤️❤️❤️"
Now that you have your little boy home, enjoy every moment with him.

---