Christie Brinkley wants to know if she should go gray
January 9th, 2020 under Christie Brinkley. [ Comments:

none

]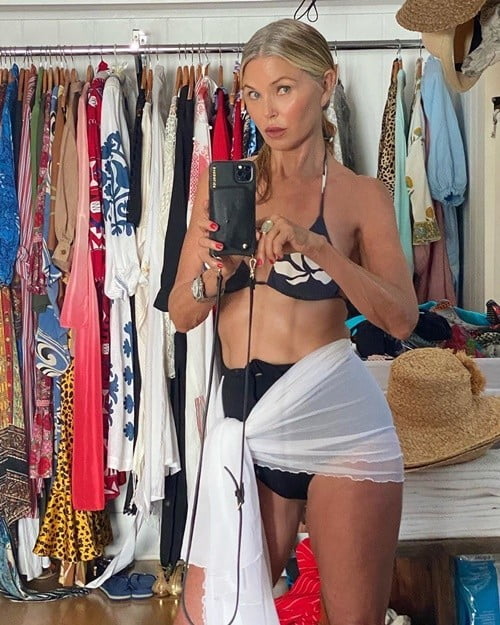 Christie Brinkley is a senior citizen, but you would never know it by looking at her. The supermodel looks just like she did when she was on all of the magazine covers in the '80s.
Part of her secret to looking so young is coloring her hair. Since she was on vacation, she decided to give her hair a rest. Which means she found out her golden locks are more silver than gold. She wants to know what should she do about it.
I think she accept the fact that she is aging and let the gray grow out. What do think?

---
Is Christie Brinkley up for another season of Dancing with the Stars?
September 18th, 2019 under Christie Brinkley, Dancing with the Stars. [ Comments:

none

]

Christie Brinkley was all set to do Dancing with the Stars this season. Then last week, she feel and shattered her arm. The injury was so bad that it required surgery and she had to drop out of the competition before dancing her first dance on live television.
Brinkley's daughter was flying out to support her mom when the injured dancer got the news and the supermodel asked her daughter to step into her dancing shoes. At first Sailor was like no, but she decided to give it a try. Even though she had just a few days to learn the steps, she still wowed the judges and the audience on Monday night.
After the episode was over, Extra spoke to mother and daughter, and Sharna Burgess asked Christie would she do a different season of the show. She kind of hesitated before both women said yes.
Looks like we know at least one competitor on the next edition of DWTS.

---
The Dancing with the Stars curse is back, injury forces someone out
September 16th, 2019 under Christie Brinkley, Dancing with the Stars. [ Comments:

2

]
https://www.instagram.com/p/B2dUASqnKqv/
For the last few seasons, Dancing with the Stars has been injury-free. However, the curse is back, just in time for the show's season premiere tonight at 8p. Christie Brinkley was forced to drop out of the dancing competition and her daughter Sailor will take her place.
ABC released this statement, "While rehearsing for the premiere of 'Dancing with the Stars,' Christie Brinkley suffered injuries which required surgery to her wrist and arm. She is unable to continue her planned participation on the show. Keeping it all in the family, her daughter Sailor Brinkley-Cook, a Sports Illustrated model, has chosen to quickly step in with hours to learn the entire routine and will compete in her mother's place for the remainder of the season. We wish Christie a full and speedy recovery and look forward to seeing her in the audience, whenever possible, proudly supporting Sailor."
When this accident happened we do not know. However, she posted the above video at 9p on Sunday, around 20 hours before the start of the live show. Meaning that is all the time her daughter has had to learn the dance. While her competitors have had weeks to perfect their first dance. Good luck Sailor, you are going to need it.
This is not the first time that a family member stepped in for another one. During season 2, Master P filled in for his son Lil Romeo who suffered an injury before the premiere. Others Stars who dropped out for health reasons are Tamar Braxton, Kim Zolciak-Biermann, Nancy O'Dell, Jewel, Misty May-Treanor, Dorothy Hamill, Billy Dee Williams and Tom Delay. Sara Evans left the show for personal reasons.
Tonight we will find out which pros the Stars are dancing with, a DWTS first. Plus, there are two extra pros. What they will be doing, we will find out soon enough.
UPDATE: Good Morning America got video of the moment Christie Brinkley broke her arm on Thursday during rehearsal.
Sailor told Ginger Zee she was getting on the plane to support her mom, when she got the phone call she was going to have to fill in. She is nervous, but she is ready to face her fears.

---
The Goldbergs are going on Vacation with Christie Brinkley
August 29th, 2019 under Christie Brinkley, The Goldbergs. [ Comments:

none

]

Earlier this month, The Goldbergs announced that their season premiere would pay tribute to National Lampoon's Vacation. Yesterday, we got our first look at the episode and Christie Brinkley hasn't aged a day since she made that 1983 movie.
If you did not know that this scene was filmed a few weeks ago, you would think it is from the original movie.
I don't know about you, but I cannot wait to see this episode on September 25th. Mostly because I love Murray's reaction. It is so him.

---
Dancing with the Stars actually got some stars this go around!
August 21st, 2019 under Christie Brinkley, Dancing with the Stars, James Van Der Beek. [ Comments:

none

]

Dancing with the Stars took a season off and it worked for their benefit. Today, the ABC show announced who is hitting the dance floor next month and I actually heard of half of them. Of course, there is one person we wish we never heard of. Just when we thought Sean Spicer was just a footnote in the history books, he is putting dancing shoes on his feet.
While he is someone we wish we could forget, none of us ever want to forget James Van Der Beek. I guess having 5 kids is more expensive than we thought. We all know why Lamar Odom needs the money. You know because of what he spent it on.
Here is the full list of stars:
• Lauren Alaina – country music star
• Christie Brinkley – supermodel
• Ally Brooke – pop star
• Hannah Brown – "The Bachelorette"
• Karamo Brown – TV host
• Kate Flannery – TV star
• Ray Lewis – NFL Hall of Famer
• Kel Mitchell – comedian/actor
• Lamar Odom – two-time NBA champion
• Sean Spicer – former White House press secretary
• James Van Der Beek – TV icon
• Mary Wilson – The Supremes
If Christie Brinkley does not dance to Billy Joel's Uptown Girl for her first number, then she deserves to be eliminated right there on the spot.
When it comes to which professional they are dancing with, we will have to wait to find that out on the season premiere. On September 16th, all will be revealed. Like if the two extra professionals are not dancing or if we are getting two more celebrities. Things that make you go hmmmmm.
Here are the pros:
• Brandon Armstrong
• Lindsay Arnold
• Alan Bersten
• Cheryl Burke
• Witney Carson
• Val Chmerkovskiy
• Sasha Farber
• Jenna Johnson
• Daniella Karagach
• Keo Motsepe
• Peta Murgatroyd
• Pasha Pashkov
• Gleb Savchenko
• Emma Slater

---