Dancing with the Stars actually got some stars this go around!
August 21st, 2019 under Christie Brinkley, Dancing with the Stars, James Van Der Beek. [ Comments:

none

]

Dancing with the Stars took a season off and it worked for their benefit. Today, the ABC show announced who is hitting the dance floor next month and I actually heard of half of them. Of course, there is one person we wish we never heard of. Just when we thought Sean Spicer was just a footnote in the history books, he is putting dancing shoes on his feet.
While he is someone we wish we could forget, none of us ever want to forget James Van Der Beek. I guess having 5 kids is more expensive than we thought. We all know why Lamar Odom needs the money. You know because of what he spent it on.
Here is the full list of stars:
• Lauren Alaina – country music star
• Christie Brinkley – supermodel
• Ally Brooke – pop star
• Hannah Brown – "The Bachelorette"
• Karamo Brown – TV host
• Kate Flannery – TV star
• Ray Lewis – NFL Hall of Famer
• Kel Mitchell – comedian/actor
• Lamar Odom – two-time NBA champion
• Sean Spicer – former White House press secretary
• James Van Der Beek – TV icon
• Mary Wilson – The Supremes
If Christie Brinkley does not dance to Billy Joel's Uptown Girl for her first number, then she deserves to be eliminated right there on the spot.
When it comes to which professional they are dancing with, we will have to wait to find that out on the season premiere. On September 16th, all will be revealed. Like if the two extra professionals are not dancing or if we are getting two more celebrities. Things that make you go hmmmmm.
Here are the pros:
• Brandon Armstrong
• Lindsay Arnold
• Alan Bersten
• Cheryl Burke
• Witney Carson
• Val Chmerkovskiy
• Sasha Farber
• Jenna Johnson
• Daniella Karagach
• Keo Motsepe
• Peta Murgatroyd
• Pasha Pashkov
• Gleb Savchenko
• Emma Slater
---
Proof Christie Brinkley hasn't aged since 1983!
August 12th, 2019 under Christie Brinkley, The Goldbergs. [ Comments:

none

]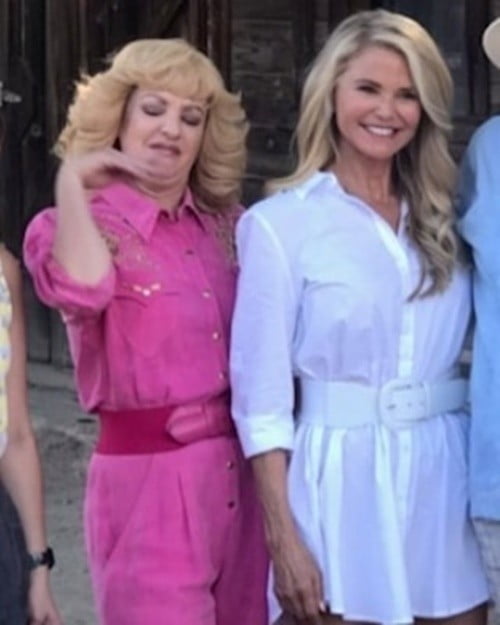 Back in 1983, Christie Brinkley, then 28, made her acting debut in National Lampoon's Vacation. Thirty-six years later, she is reprising that role on the season premiere of The Goldbergs that airs September 25th on ABC.
Our favorite family takes a road trip from Philadelphia all the way across the country to Disneyland. Along the way, they will meet Brinkley and Anthony Michael Hall. The latter played Rusty Griswold in the film.
Wendi McLendon Covey, who plays Beverly Goldberg, shared a photo of herself (swatting a fly) with the 65-year-old supermodel, and the Uptown Girl has not aged a day since the original movie. Don't believe me. To see her in the classic film, then click here!
---
Is Christie Brinkley really a senior citizen?
May 19th, 2019 under Are they really their age?, Christie Brinkley. [ Comments:

none

]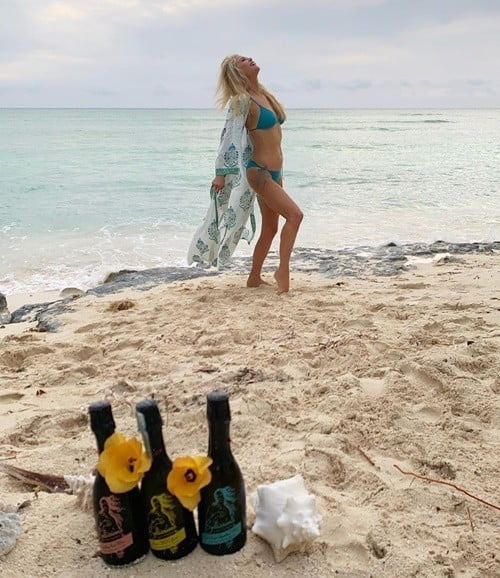 Christie Brinkley is 65 years old, but there is no way in hell you would know that by looking at her in bikini. She has body that 20 year olds would die for and she has not been in her 20's since before she became an Uptown Girl.
Seriously, collecting social security has never looked this sexy!
---
Christie Brinkley looks even more gorgeous just as she wakes up
June 9th, 2017 under Christie Brinkley. [ Comments:

none

]

I do not know about you, but when I wake up in the morning I look like I have been hit by truck and it lost. It looks even scarier, if I fall asleep wearing makeup.

While that me, it is definitely not Christie Brinkley who feel asleep with her CoverGirl on while watching television. This is what she looks like when she just wakes up, I cannot help but to hate her. What makes me hate her even more is that she is 64 and looks like that. So not fair.

I am sure there are many men who have already wanted to wake up next to her. Now that they have seen what it looks like, I am sure that number has just quadrupled.
---
Christie Brinkley and Kathie Lee Gifford prove 63 is the new 36!
February 17th, 2017 under Are they really their age?, Christie Brinkley, Kathie Lee and Hoda. [ Comments:

none

]

Christie Brinkley was on Kathie Lee and Hoda this morning and the two blonde beauties posed together for this photo. Can you believe that Kathie Lee Gifford and the supermodel are 63 years young because they look the reverse of their age. Proving we no longer have to be afraid of our 60's because they are the new 30's! So that would make 15 the new 30's and that explains Millennials.
---