Chevy Chase spent five weeks in the hospital
March 22nd, 2021 under Chevy Chase. [ Comments:

none

]
Chevy Chase has been MIA for a while, and now we know where he has been. "I was in the hospital five weeks. A heart issue. So, for now, I'm around the house. Not going anywhere," the actor told Cindy Adams.
Chase, 77, did elaborate on what the heart issue was, but he is home now healing.
Because of his hospitalization, we now have confirmation that he has a heart. Seriously, I hope he is better soon.

---
Did you know that Chevy Chase has been married to the same woman for 37 years?
June 19th, 2019 under Chevy Chase. [ Comments:

none

]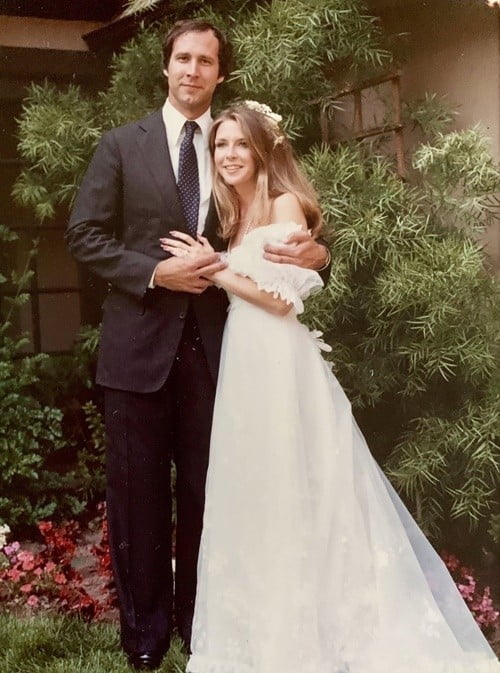 Back in 1982, Chevy Chase got married for the third time and he has been married to Jayni ever since. In fact, the couple are celebrating their 37th wedding anniversary today. Which in Hollywood is a lifetime.
However, to him, it does not feel that way to him. He wrote, "37 years!! How many of you, my fans, could still be actually faithful to my wife for 37 years? I've been faithful to yours..Wait. That doesn't sound right. Anyhow honey, I love you and here's to another 37."
I don't know about you, but I had no idea he was married. Let alone to the same person for over 35 years and that they have three adult daughters together. I thought he was an eternal bachelor.

---
Chevy Chase breaks his silence about rehab
September 8th, 2016 under Chevy Chase, Rehab. [ Comments:

none

]

Earlier this week, it was revealed that Chevy Chase entered rehab for a "tune-up" and today he confirmed it on WhoSay. Flecth said, "I wanted to take a moment to thank all of you for your love and especially your words of encouragement this week. I'm here in Minnesota because I love my vodka a little too much and I think it's time I stopped. My focus is to keep my family from worrying and get back to my birth weight. Thank you so much for your support and I look forward to laughing with you again soon. Love, Bob (Chevy 😄)"
I can't wait to be laughing with him again because it sounds like "Bob" has sense of humor back.

---
BTWF shows: John Belushi, Chevy Chase & Christopher Guest in Lemmings
February 17th, 2015 under Before They Were Famous, Chevy Chase, Saturday Night Live. [ Comments:

none

]

Before John Belushi, 24, Chevy Chase, 29, and Christopher Guest, 25, were all on Saturday Night Live, they all did a stage show called Lemmings for National Lampoon. You truly can see how talented all of them were in this 1973 live performance.

---
A mini-Griswold family reunion!
December 24th, 2014 under Chevy Chase, Reunions. [ Comments:

none

]

We are still a whiles away from getting another Vacation movie, but until then we can get some Christmas cheer seeing two of the Griswolds together! Juliette Lewis shared a photo of herself with her movie pops, Chevy Chase, and you get that same feeling as when someone finally turns on the lights on the tree. Well, if Clark Griswold was doing it, we would be seeing a fire because you know he can't do anything right when it comes to situations like that!
Seriously though, how sweet is this photo of Audrey and her dad?

---