Beverly D'Angelo reveals that National Lampoon's Vacation had a different ending
September 27th, 2022 under Chevy Chase. [ Comments: none ]
Spoiler Alert. The ending to 1983's National Lampoon's Vacation was that Griswolds finally made it to Walley World and had an amazing time. However, that is not the original ending that they shot.
Today, Beverly D'Angelo shared with us the way the movie was supposed to end before the test audiences saw the film.
This is a still from the ORIGINAL ENDING of the first Vacation- that never made it into the finished film! Originally, when we found that Walley World was closed, the Griswolds go to Walley's home and Clark holds him at gun point, demanding that he perform for us. Then, contented, we get on the plane and fly back home to Chicago- hence the airplane seats and hats in this photo. Roy Walley was played by the great song and dance man Eddie Bracken, and it was a great scene!

BUT. About four months after we wrapped, we were called back for reshoots. Producer Matty Simmons explained to me that audiences would be too let down if the Griswolds never made it into the park after all the catastrophes along the way. Harold Ramis brought in John Candy as the security guard we kidnap and you know the rest.
I wish they would've kept that scene as compared to the one we saw. It would've been more fitting to their failed road trip. Which one do you prefer?
To see the ending we saw, then click here!

---
A mini-Fletch reunion
September 26th, 2022 under Chevy Chase. [ Comments: none ]
Fletch got its second sequel, and this time Jon Hamm is playing the title role. Sadly, they didn't ask Chevy Chase and Kareem Abdul-Jabbar to be in Confess, Fletch. So the two men got together this weekend, and guess what they didn't do…

---
Bill Murray and Chevy Chase are reunited
December 2nd, 2021 under Bill Murray, Chevy Chase. [ Comments: none ]
Bill Murray and Chevy Chase have been rumored to be enemies since their days at Saturday Night Live. However, the two of them recently hung out, and they look like buddies again. Maybe enough to give us Caddyshack 3? Hey, if we get another Ghostbusters movie, why not another Caddyshack?

---
Chevy Chase spent five weeks in the hospital
March 22nd, 2021 under Chevy Chase. [ Comments: none ]
Chevy Chase has been MIA for a while, and now we know where he has been. "I was in the hospital five weeks. A heart issue. So, for now, I'm around the house. Not going anywhere," the actor told Cindy Adams.
Chase, 77, did elaborate on what the heart issue was, but he is home now healing.
Because of his hospitalization, we now have confirmation that he has a heart. Seriously, I hope he is better soon.

---
Did you know that Chevy Chase has been married to the same woman for 37 years?
June 19th, 2019 under Chevy Chase. [ Comments: none ]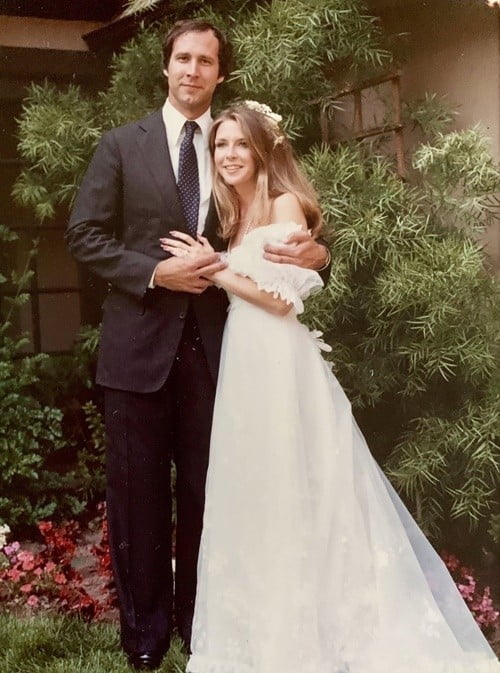 Back in 1982, Chevy Chase got married for the third time and he has been married to Jayni ever since. In fact, the couple are celebrating their 37th wedding anniversary today. Which in Hollywood is a lifetime.
However, to him, it does not feel that way to him. He wrote, "37 years!! How many of you, my fans, could still be actually faithful to my wife for 37 years? I've been faithful to yours..Wait. That doesn't sound right. Anyhow honey, I love you and here's to another 37."
I don't know about you, but I had no idea he was married. Let alone to the same person for over 35 years and that they have three adult daughters together. I thought he was an eternal bachelor.

---