Is Christie Brinkley really a senior citizen?
May 19th, 2019 under Are they really their age?, Christie Brinkley. [ Comments:

none

]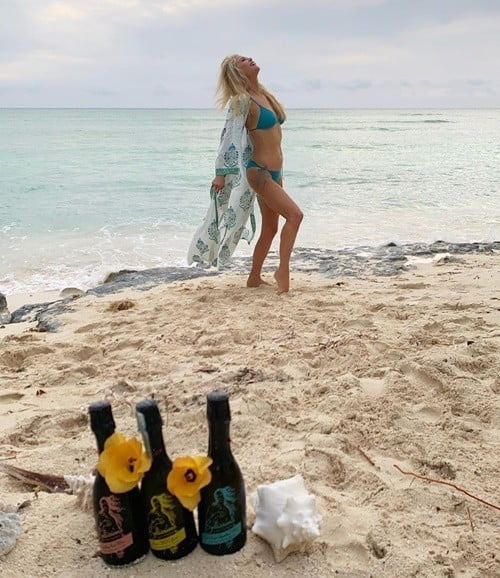 Christie Brinkley is 65 years old, but there is no way in hell you would know that by looking at her in bikini. She has body that 20 year olds would die for and she has not been in her 20's since before she became an Uptown Girl.
Seriously, collecting social security has never looked this sexy!
---
Christie Brinkley looks even more gorgeous just as she wakes up
June 9th, 2017 under Christie Brinkley. [ Comments:

none

]

I do not know about you, but when I wake up in the morning I look like I have been hit by truck and it lost. It looks even scarier, if I fall asleep wearing makeup.

While that me, it is definitely not Christie Brinkley who feel asleep with her CoverGirl on while watching television. This is what she looks like when she just wakes up, I cannot help but to hate her. What makes me hate her even more is that she is 64 and looks like that. So not fair.

I am sure there are many men who have already wanted to wake up next to her. Now that they have seen what it looks like, I am sure that number has just quadrupled.
---
Christie Brinkley and Kathie Lee Gifford prove 63 is the new 36!
February 17th, 2017 under Are they really their age?, Christie Brinkley, Kathie Lee and Hoda. [ Comments:

none

]

Christie Brinkley was on Kathie Lee and Hoda this morning and the two blonde beauties posed together for this photo. Can you believe that Kathie Lee Gifford and the supermodel are 63 years young because they look the reverse of their age. Proving we no longer have to be afraid of our 60's because they are the new 30's! So that would make 15 the new 30's and that explains Millennials.
---
Christie Brinkley still looks like an Uptown Girl!
February 18th, 2014 under Christie Brinkley. [ Comments:

1

]

Back when Christie Brinkley was just 5 years old the world was introduced to a little doll called Barbie. Then 5 years later, when she was 10, Sports Illustrated introduced us to real life Barbies in swimsuits on their covers once a year. Yesterday the two worlds collided for the 60 year old model, who graced the cover of Sports Illustrated Swimsuit Issue 3 times, when Barbie honored her for being in the famous issue's 50th anniversary that hit stands this week.
Even though she just entered her 6th decade of life, she still looks as beautiful now as she did when she was SI's cover girl. The best part about Brinkley is she seems to be ageing naturally unlike some of the other women she used to pose with.
---
Paul McCartney is The Hamptons' biggest catch
August 27th, 2007 under Christie Brinkley, Paul McCartney/Heather Mills, Renee Zellweger. [ Comments:

1

]
First there were rumors that Paul McCartney and Christie Brinkley might have a connection, now two weeks later it is him and Renee Zellweger. And the two of them together on Saturday did not make Christie Brinkley happy according to the
New York Daily News
. Looking at those pictures it looks like he is putting his moves on both girls and they seem happy to put the moves back on him. Can't say I blame them because he is a good catch, but them on the other hand…well Christie has had multiple divorces and Renee has problems keeping her relationships going including a very short lived marriage. I wonder who he will flirt with at the next Hampton Social?
---