Cameron Mathison gives a post-surgery update and the tumor is gone!
September 13th, 2019 under Cameron Mathison, Sick Bay. [ Comments: none ]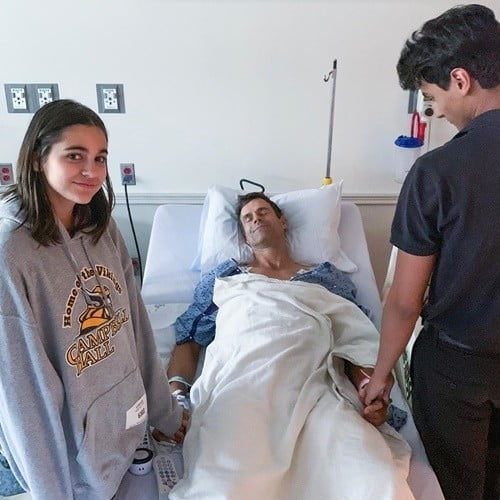 On Monday, Cameron Mathison revealed to Hallmark's Home and Family audience that he was diagnosed with Kindey Cancer and was having surgery to remove it on Thursday.
Today the actor gave us an update on how the surgery went yesterday. He wrote, "Feeling loved and supported by my family and friends, including each and everyone of you. I've been very overwhelmed and so grateful for all of the supportive comments and prayers. The surgery went very well. The tumor is gone and I even got to keep 80% of my kidney😊 We are all optimistic. Keep you updated. So grateful for all of you ❤️" We are grateful that it all went well too.
He also told the audience that his type of cancer, that did not spread, does not require chemotherapy and radiation. He is also expected to be back on the air in the next few weeks. For now, he just needs to take the time to be with his family and recover.

---
BTWF: Cameron Mathison in Any Mother's Son
September 11th, 2019 under Before They Were Famous, Cameron Mathison. [ Comments: none ]

Before Cameron Mathison was a con man who had a way with the ladies on All My Children, he was a Navy man who was beaten up for liking men in Any Mother's Son. He hasn't aged a day since he was 27 in that 1997 movie.

---
Cameron Mathison reveals he has kidney cancer
September 11th, 2019 under Cameron Mathison, Sick Bay. [ Comments: none ]

Last year, Cameron Mathison was happy to share the news that he is the new host of Hallmark's Home & Family. This week, he shared some bad news with the viewers. He was diagnosed with Renal Cell Carcinoma or Kidney Cancer. Tomorrow, he will go into surgery to have it removed.
He also wrote a note on social media asking for prayers, "I have a health situation that I want to share with you all🙏🏼 There are many reasons I love social media, staying connected with you all, sharing fun experiences… well this time I'm asking for your help.

"About a month ago, I had an MRI for some gut issues I've been having, and during that MRI they found a tumor on my right kidney. It's consistent with Renal Cell Carcinoma … or kidney cancer. The good news is that it hasn't spread to any other organs🙏🏼 They say my healthy lifestyle and diet has no doubt helped keep it from growing and spreading to other areas, as doctors think it's been growing in me for minimum 10 years🙏🏼. I am extremely lucky that we found it early. Thank you to my longtime friend and urologist @jon_giddens who has helped me tremendously through this process.

"Vanessa, Lucas and Leila have been absolutely amazing with their love and support… as have my mom, dad, brother, and everyone at Home and Family, Hallmark, and ET❤️ My surgery is scheduled on September 12th, I was hoping to receive positive thoughts, prayers, or whatever you feel comfortable with, on 9/12 (my surgery is at 1pm PST) 🙏🏼
I announced this on @homeandfamilytv yesterday, and wanted to make sure I posted about it here as well.

"Feeling very grateful and optimistic!! 💪🏼🙏🏼❤️
#thankyou yes"
Today, he sat down with his old stomping ground, Good Morning America, and talked more about his fight to get something done. The host explained that for years he has been going to doctors because of stomach pains. They could not figure out what was wrong with him. He insisted that they do an MRI and they did. By insisting they do one, they found a 4-centimeter mass in his kidney. He forcefulness saved his life.
The actor wants us to take charge of our bodies. Who knows our body better than we do? If there is something wrong, insist your doctor do more. Worst case scenario, it is nothing. Best case scenario, you find out something is wrong and you can cure it before it gets any worse. Just like he is he doing.
Mathison is a good guy, so I am praying for him. We all should. May his surgery go smoothly tomorrow and so will his recuperation from it. Hopefully, he will back on his talk show in time to promote his and all the other Hallmark Christmas movies.
UPDATE: Mathison talked about it on Home & Family. He says he will have laparoscopic surgery.
Hopefully, they will get it all and not take his kidney. After the minimally invasive surgery, he will not have to do chemo nor radiation. Mathison said he should be back at work in, at most, two weeks after going under the knife.
To see his announcement, then click here!

---
Whose new eyebrows do you like better: Jerry O'Connell or Cameron Mathison?
January 21st, 2019 under Better Days, Cameron Mathison, Hallmark, Jerry O'Connell/Rebecca Romijn. [ Comments: none ]

In the last week, Jerry O'Connell and Cameron Mathison got a new look over their eyes. The Stand By Me star sat down with a threader who threaded his bushy brows thin. Kind of like what puberty did to him. When it comes to the Home & Family host, he had a little accident at home that almost cost him a whole eyebrow instead of half of one. Thus causing the makeup department on the Hallmark Channel show to have an accident when they saw him come in.

Now that you have seen both bros' brows, who do you think looks sexier with their new look? I say it is a tie, as in someone tie a bandana over their eyebrows until they grow back in. That is if they do grow back in…

BTW I feel for O'Connell because that had to hurt a lot. I hope there is video!

---
Cameron Mathison has a new Home & Family!
July 27th, 2018 under Cameron Mathison, Hallmark. [ Comments: none ]

Nearly two months after Home & Family parted ways with Mark Steines, they replaced him with another Entertainment Tonight host. Cameron Mathison is moving into the daily Hallmark talk show with co-host Debbie Matenopoulos.
I think this pairing is brilliant. Both of them are very likable and full of energy. It is enough to perk up anyone's morning. Not only that, he is favorite on their channels whenever he does one of their films. Therefore, he already has a built-in audience with them.
When it comes to his time at ET, it is not over yet. He will appear on the show whenever he has time to do it.

---