DL Hughley passed out during a set yesterday
June 20th, 2020 under Coronavirus, Sick Bay. [ Comments:

none

]

DL Hughley was doing a set at Zanies in Nashville yesterday, when he suddenly passed out midway through his act. Thus, scaring everyone in the audience.
Today, his publicist told TMZ, "suffering from exhaustion after all the week's work and travel, and was kept overnight at the hospital for tests under doctor's orders. He is awake and feeling better, and wishes to thank everyone for the very kind prayer and thoughts."
Hopefully, he will be better soon.
UPDATE: DL Hughley revealed that he tested positive for coronavirus. His only symptom was passing out.
---
Amy Grant underwent open heart surgery
June 4th, 2020 under Sick Bay. [ Comments:

none

]

Back in February, Amy Grant was diagnosed with a heart condition that has been with her since birth, and yesterday she went under the knife to get it fixed.

Her reps wrote, "From Team Amy – with all that is going on in our world that needs our collective prayer, please also join us in praying for Amy this week as she has heart surgery to correct her PAPVR condition."

Then a few hours later they added, "Thank you for so many prayers today. Amy is out of surgery and the doctor said it could not have gone better. We would ask for continued prayers over the days, weeks and months to come as she makes a full recovery… xo"

The 59-year-old singer revealed a few months ago, she would be taking the summer off from concerts and camping trips with her husband, Vince Gill, to take care of her heart.

Now, she is in the recovery stage. Get well soon.
---
Abigail Spencer broke her arm making a charity video
May 1st, 2020 under Sick Bay. [ Comments:

none

]

Abigail Spencer was showing off her hidden talent for a COVID-19 video, and things didn't go as planned.

She explained what went wrong, "So. I broke my wrist yesterday doing a backhand spring in a charity video for Covid relief in my front yard. (True story) It was my 'special skill' no one knows I can do. (That was the premise of the video & I used to be a gymnast)." She added, "Nailed the first one… the second one nailed me. Full crunch fest. It looked like my hand was making a getaway from my arm. I couldn't believe it."

After the accident, the actress was rushed to the hospital and said her arm is "SO broken." How broken? Doctors told her she would have to undergo surgery this morning to repair it.

I don't know if it is the painkillers talking, but she also wrote, "Pain is a teacher. Healing inevitable. This too shall pass. One moment at a time. I'm much stronger than I thought."

At least she is trying to see the bright spot through this painful experience.

Too bad she doesn't have a time machine like she did in Timeless. If she did, then she could have gone back in time and tell herself not to do that stunt. I know you can't go back to a time when you were alive in, but this would be an acceptable exception.

To see her sucessfull backhand spring, then click here!
---
Julian Lennon reveals he has skin cancer
February 3rd, 2020 under Julian Lennon, Sick Bay. [ Comments:

none

]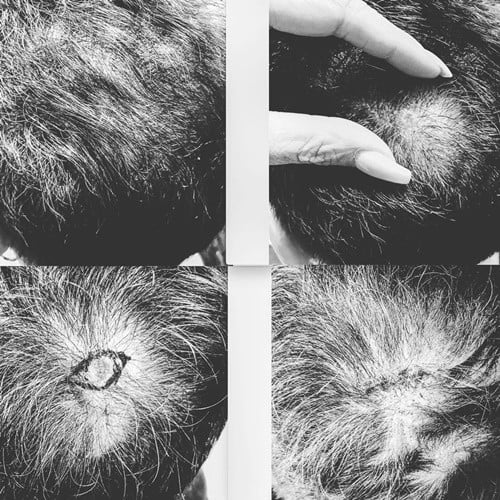 Julian Lennon says he went into 2020 all optomistic with a smile on his face, after going through a rough five years since his mother passed. Then last week, his world was turned upside down.
Yesterday, the singer explained what happened, "I went to visit My dermatologist, here in LA, when she noticed a little bump on My head, that was actually a Mole, that had been there, along with a Birthmark, for the last 57 years…. But this time, it looked & felt a little different.
"She urged me to have a Biopsy 2 days ago, which I obliged… Only to learn, 24 hrs later, that it was Malignant/Cancerous, and that her recommendation was to get it removed immediately, which is what happened today…. Hopefully We managed to remove all that was cancerous, but the Mole is being sent off again, for a further/deeper analysis, and I'll have those results next week."
He did not share his diagnosis with us "for sympathy." Instead, he wants everyone to go to their doctors twice a year for checkups because "Life is too Short… Don't make it shorter, by being ignorant about Your Own health." Amen.
Even though he still has a full head of hair, the sun can still penetrate through. You might think you are safe from the sun, but you never know. It is a really important lesson for all of us to take care of ourselves. It does not have to be just skin cancer, it can be anything. Don't wait until it is too late.
Hopefully, next week, he will get some good news and find out they got it all.
---
Cameron Mathison gives a post-surgery update and the tumor is gone!
September 13th, 2019 under Cameron Mathison, Sick Bay. [ Comments:

none

]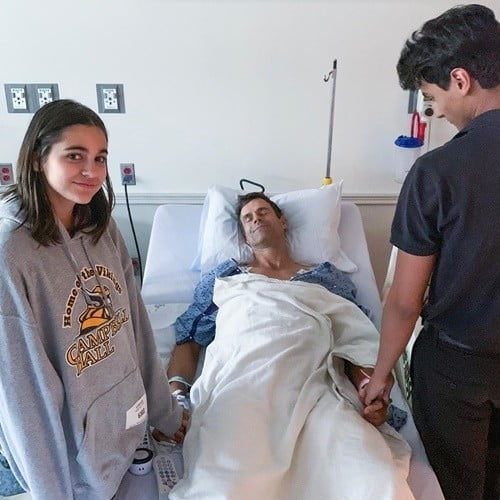 On Monday, Cameron Mathison revealed to Hallmark's Home and Family audience that he was diagnosed with Kindey Cancer and was having surgery to remove it on Thursday.
Today the actor gave us an update on how the surgery went yesterday. He wrote, "Feeling loved and supported by my family and friends, including each and everyone of you. I've been very overwhelmed and so grateful for all of the supportive comments and prayers. The surgery went very well. The tumor is gone and I even got to keep 80% of my kidney😊 We are all optimistic. Keep you updated. So grateful for all of you ❤️" We are grateful that it all went well too.
He also told the audience that his type of cancer, that did not spread, does not require chemotherapy and radiation. He is also expected to be back on the air in the next few weeks. For now, he just needs to take the time to be with his family and recover.
---