Julian Lennon reveals he has skin cancer
February 3rd, 2020 under Julian Lennon, Sick Bay. [ Comments:

none

]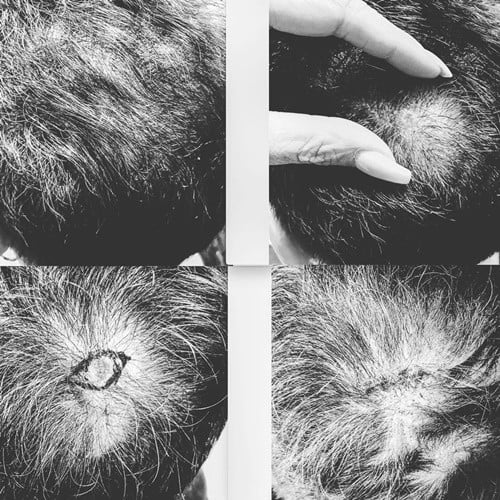 Julian Lennon says he went into 2020 all optomistic with a smile on his face, after going through a rough five years since his mother passed. Then last week, his world was turned upside down.
Yesterday, the singer explained what happened, "I went to visit My dermatologist, here in LA, when she noticed a little bump on My head, that was actually a Mole, that had been there, along with a Birthmark, for the last 57 years…. But this time, it looked & felt a little different.
"She urged me to have a Biopsy 2 days ago, which I obliged… Only to learn, 24 hrs later, that it was Malignant/Cancerous, and that her recommendation was to get it removed immediately, which is what happened today…. Hopefully We managed to remove all that was cancerous, but the Mole is being sent off again, for a further/deeper analysis, and I'll have those results next week."
He did not share his diagnosis with us "for sympathy." Instead, he wants everyone to go to their doctors twice a year for checkups because "Life is too Short… Don't make it shorter, by being ignorant about Your Own health." Amen.
Even though he still has a full head of hair, the sun can still penetrate through. You might think you are safe from the sun, but you never know. It is a really important lesson for all of us to take care of ourselves. It does not have to be just skin cancer, it can be anything. Don't wait until it is too late.
Hopefully, next week, he will get some good news and find out they got it all.
---
Cameron Mathison gives a post-surgery update and the tumor is gone!
September 13th, 2019 under Cameron Mathison, Sick Bay. [ Comments:

none

]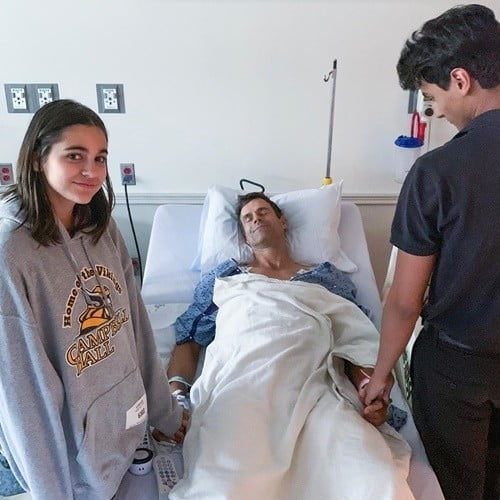 On Monday, Cameron Mathison revealed to Hallmark's Home and Family audience that he was diagnosed with Kindey Cancer and was having surgery to remove it on Thursday.
Today the actor gave us an update on how the surgery went yesterday. He wrote, "Feeling loved and supported by my family and friends, including each and everyone of you. I've been very overwhelmed and so grateful for all of the supportive comments and prayers. The surgery went very well. The tumor is gone and I even got to keep 80% of my kidney😊 We are all optimistic. Keep you updated. So grateful for all of you ❤️" We are grateful that it all went well too.
He also told the audience that his type of cancer, that did not spread, does not require chemotherapy and radiation. He is also expected to be back on the air in the next few weeks. For now, he just needs to take the time to be with his family and recover.
---
Cameron Mathison reveals he has kidney cancer
September 11th, 2019 under Cameron Mathison, Sick Bay. [ Comments:

none

]

Last year, Cameron Mathison was happy to share the news that he is the new host of Hallmark's Home & Family. This week, he shared some bad news with the viewers. He was diagnosed with Renal Cell Carcinoma or Kidney Cancer. Tomorrow, he will go into surgery to have it removed.
He also wrote a note on social media asking for prayers, "I have a health situation that I want to share with you all🙏🏼 There are many reasons I love social media, staying connected with you all, sharing fun experiences… well this time I'm asking for your help.

"About a month ago, I had an MRI for some gut issues I've been having, and during that MRI they found a tumor on my right kidney. It's consistent with Renal Cell Carcinoma … or kidney cancer. The good news is that it hasn't spread to any other organs🙏🏼 They say my healthy lifestyle and diet has no doubt helped keep it from growing and spreading to other areas, as doctors think it's been growing in me for minimum 10 years🙏🏼. I am extremely lucky that we found it early. Thank you to my longtime friend and urologist @jon_giddens who has helped me tremendously through this process.

"Vanessa, Lucas and Leila have been absolutely amazing with their love and support… as have my mom, dad, brother, and everyone at Home and Family, Hallmark, and ET❤️ My surgery is scheduled on September 12th, I was hoping to receive positive thoughts, prayers, or whatever you feel comfortable with, on 9/12 (my surgery is at 1pm PST) 🙏🏼
I announced this on @homeandfamilytv yesterday, and wanted to make sure I posted about it here as well.

"Feeling very grateful and optimistic!! 💪🏼🙏🏼❤️
#thankyou yes"
Today, he sat down with his old stomping ground, Good Morning America, and talked more about his fight to get something done. The host explained that for years he has been going to doctors because of stomach pains. They could not figure out what was wrong with him. He insisted that they do an MRI and they did. By insisting they do one, they found a 4-centimeter mass in his kidney. He forcefulness saved his life.
The actor wants us to take charge of our bodies. Who knows our body better than we do? If there is something wrong, insist your doctor do more. Worst case scenario, it is nothing. Best case scenario, you find out something is wrong and you can cure it before it gets any worse. Just like he is he doing.
Mathison is a good guy, so I am praying for him. We all should. May his surgery go smoothly tomorrow and so will his recuperation from it. Hopefully, he will back on his talk show in time to promote his and all the other Hallmark Christmas movies.
UPDATE: Mathison talked about it on Home & Family. He says he will have laparoscopic surgery.
Hopefully, they will get it all and not take his kidney. After the minimally invasive surgery, he will not have to do chemo nor radiation. Mathison said he should be back at work in, at most, two weeks after going under the knife.
To see his announcement, then click here!
---
Penelope Ann Miller learned a painful traveling lesson
August 7th, 2019 under Sick Bay. [ Comments:

none

]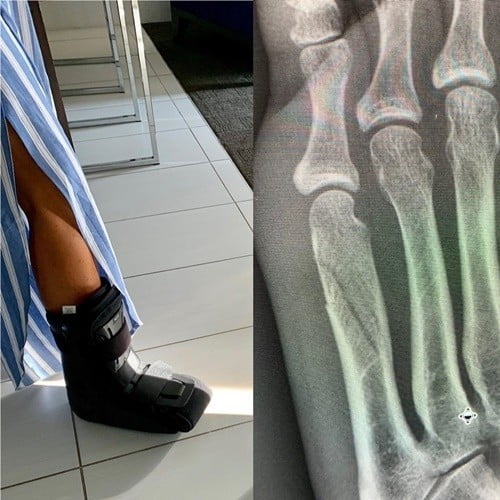 When some people travel, they start packing a week beforehand. While that is them, it is not Penelope Ann Miller nor me. We wait until the last minute and that can be dangerous.
So much of a risk, Miller shared her painful lesson with us. She wrote, "Rule #1 don't pack last minute Rule #2 don't rush to the airport. #fracturedfoot 😪"
The moral of the story, pack way beforehand or you will need an ice pack on one of your body parts.
Get well soon. A fractured foot sucks. Broke mine when I was 20 and it still hurts me until this day.
---
Both John Davidson and Sting cancel concerts for medical reasons
July 10th, 2019 under Sick Bay, The Police. [ Comments:

none

]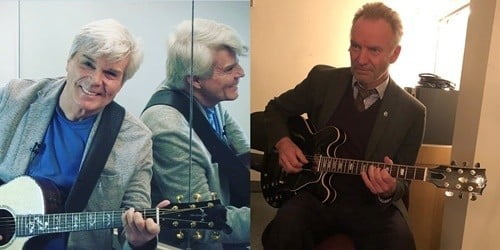 John Davidson and Sting are on the road this summer and both singers are forced to take a break from performing for their next few gigs per doctor's orders.
The Hollywood Squares' host, wrote today, "Some bad news: due to a gallbladder that's gone rogue, I will be having emergency surgery to have it removed, and my next 3 gigs have to be canceled. I feel terrible about this, but I'm in the hospital until it's out. I hope you'll come out to another show after this month, and my sincere apologies to the venues and attendees of The Guthrie Center, The Farmstand and Surflight Theatre."
While we know what is wrong with the 77-year-old, the Police singer has not revealed what is ailing him. All the 67-year-old's people said is, "It is with great regret that Sting's concerts previously scheduled for Thursday, July 11 at jazzopen in Stuttgart, Germany and Friday, July 12 at the Castle Garden in Slavkov u Brna, Czech Republic will be canceled. As reported earlier this week, Sting is under the weather and under doctor's orders, and was forced to also cancel concerts in Ghent, Belgium (Monday, July 8) and Munich, Germany (Wednesday, July 10). Sting sincerely regrets disappointing or causing any inconvenience to the fans."
Hopefully, both of them will be better very soon and back on tour soon delighting their fans. Although, personally I have never seen a good Sting concert and I have seen him 3 times, two-times solo and once with The Police. All three were huge disappointments to me.
---