This Britain's Got Talent audition will leave you in tears
May 28th, 2023 under America's Got Talent, Bruno Tonioli, Simon Cowell. [ Comments: none ]
There have been auditions on the Got Talent shows that have left the judges and the audience in tears. There have also been ones that caused everyone to get on their feet and cheer. But there has never been a reaction like the one that Musa Motha got on Britain's Got Talent yesterday.
Musa Motha came out and told Simon Cowell, Alesha Dixon, Amanda Holden, and Bruno Tonioli that he lost the lower part of his left leg to cancer as a teenager. Before then, he was a football player. But after that, he learned how to dance from his friends.
And that brings us to his audition. Motha performed a lyrical dance to Naughty Boy and Beyonce's Runnin' (Lose It All). It would've been a beautiful routine if he did it with two legs, but it was beyond stunning to watch him do it with just one.
He wants to be inspirational, and he is.
So much so that even though the judges have each given out their Golden Buzzer, Cowell let them do a group one for the audience.
Therefore, he moves on, and my friend in London is going to have to let me Whatsapp with her so I can watch him live on the show. She has no choice because I can watch him over and over again. I think everyone will be enamored with the way he moves his body.
And it proves you do anything that you put your mind to. And he has put his mind to it and has successfully mastered dancing.
Because of that, we are all left crying happy tears for all that he has accomplished.

---
Dancing with the Stars' Bruno Tonioli goes grey!
August 4th, 2020 under Bruno Tonioli. [ Comments: none ]

On Friday night, Strictly Come Dancing won the BAFTA for Entertainment Programme, but that is not what everyone was talking about. The buzz was all about Bruno Tonioli's grey hair. The 64-year-old judge stopped coloring his locks while he was in lockdown, and he looks better than ever.
I hope he decides to keep it and doesn't go back to black when he starts filming Dancing with the Stars.
What do you think of the silver fox who keeps getting foxier?

---
Bruno Tonioli's Christmas card shows off everything but his jingle balls and candy cane
December 23rd, 2019 under Bruno Tonioli. [ Comments: none ]

It is Christmastime, and Bruno Tonioli sent out an electronic card to his fans. While the Dancing with the Stars judge might be on Santa's nice list, he is on our naughty one. Which is why he is also on our nice one because he can roast our chestnuts, warm our hot cocoa, and make sure the fire never goes out on these cold December nights in this photo.
BTW Can you believe he is 64? That is not the body of a man who is about the become a senior citizen in about 11 months. If that is what dancing does for you, sign me up.

---
I can't take my eyes off of Bruno Tonioli singing
November 25th, 2019 under Bruno Tonioli, Dancing with the Stars. [ Comments: none ]

On Saturday, Bruno Tonioli did something he has never done on Strictly Cone Dancing and Dancing with the Stars before. The dancer turned judge decided to try singing on the BBC dancing competition.
How did he do singing Franki Valli's Can't Take My Eyes Off Of You? He made a sweet romantic song sexy. So much so, I hope we get to hear him perform on this side of the pond.
Tonioli told his fans how much his performance meant to him, "Thank you all so much for your kind comments on my singing!! I was so nervous, I've been practising so much as well as having singing lessons… something different and certainly took me outside my comfort zone xx" The singing lessons really paid off, don't you agree?
If I were a judge, I would give him a 10!

---
Is Bruno Tonioli really 63?
August 20th, 2019 under Bruno Tonioli, Dancing with the Stars. [ Comments: none ]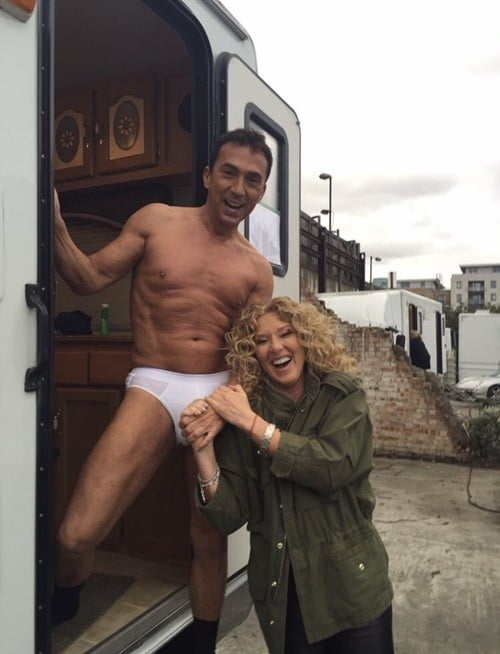 Bruno Tonioli shared a photo of himself in his tighty whities and you have to wonder if he is really 63 years old? That is because the Dancing with the Stars judge looks just as good now in his underwear as he did when he starred in Elton John's I'm Still Standing back in 1983.
What his secret for not aging a day in 36 years? He says, "Laughter is always the best medicine 😂 #fun #lifeisshort #nevertakeyourselftooseriously" Therefore, keep laughing, it is obviously great for the stomach muscles! Look at his, they remind me I have to do my laundry.
BTW tomorrow we find out who will be Dancing with the Stars this season. In the words of Men At Work, "Who can it be now?"

---