Did Anthony Anderson's mom force ABC to move black-ish back to fall?
June 18th, 2020 under ABC, Anthony Anderson. [ Comments:

none

]

Yesterday, ABC announced their fall lineup and black-ish was missing from their schedule. Today, they sent out a press release to announce that the sitcom is back on it.
"'black-ish' has a long-standing history of shining a light on current events and honoring Black voices through the lens of the Johnson family," said Karey Burke, president, ABC Entertainment. "After speaking with Kenya and our creative partners, we decided it was important to tell these meaningful stories during this moment in time, so we are adjusting our premiere schedule and are committed to doing whatever it takes to bring this series back as soon as we possibly can. Following recent monumental events, it's imperative that the dialogue continues and empowers viewers to raise their voices, and there is no other show that does that like 'black-ish.'"
I could not understand how ABC could leave their premiere show about African-Americans off of the fall schedule during this time when Black voices are being heard and need to continue to be heard.
ABC did the right thing. I just wish they would stop messing with American Housewife. In order to fit black-ish back on Wednesday nights, they gave it the slot that was supposed to belong to AH. So now black-ish airs at 8:30p, AH at 9:30p, and Call Your Mother goes to midseason.
With all of this being said, Anthony Anderson's mom Doris can release whoever she was holding hostage until they brought back her son's show. And if his TV mom Jenifer Lewis was helping out, then ABC never had a chance.
---
Jimmy Kimmel staged a Kangaroo Jack surprise reunion!
April 30th, 2020 under Anthony Anderson, Jerry O'Connell/Rebecca Romijn, Jimmy Kimmel. [ Comments:

none

]

Several shows and movies from yesteryear are staging online reunions during the coronavirus pandemic, and Jimmy Kimmel wanted to do one on his show. Therefore, last night the ABC late night host decided to have a surprise one with his guest Anthony Anderson.
Are we going to get a Hang Time reunion? Sadly, nope. It was Anderson's second-best project, Kangaroo Jack. That is right, Kimmel arranged for Jerry O'Connell and Kangaroo Jack, himself, to surprise their co-star.
Seeing the three of them Zooming together, proves that we desperately need a sequel to the 2003 comedy.
Although, I would prefer that O'Connell did one for Joe's Apartment first. Sorry Anthony, but it was even more of a high-larious film.
---
When did Tracee Ellis Ross get those?
March 4th, 2020 under Anthony Anderson. [ Comments:

none

]

We are so used to see Tracee Ellis Ross covered up on black-ish, we are not used to seeing her show some skin.

On March 17th, she and Anthony Anderson will be showing off their chests. Something I did not realize she has so much of, until now.

In fact, this whole look from head to toe, reminds me a lot of her mom, Diana Ross. Don't you agress?
---
Who has the bigger brain: Anthony Anderson or his TV daughter Marsai Martin
February 3rd, 2020 under Anthony Anderson, National Geographic. [ Comments:

none

]

Tonight at 9p, Anthony Anderson and his black-ish daughter Marsai Martin go head to head, I mean brain to brain, on Nat Geo's Brain Games. Did you know there are things our brains are better at when we are kids than when we are adults and vice versa? Anderson, who does not like to lose, and Martin, find that out first hand. Only one of them will be victorious. However, it is not their ability that will help them to win. It is their age.
Above, you can watch the first challenge. Children have a faster response time than adults, as you will see when Anderson loses more than just the round. After each challenge, the show's host Keegan-Michael Key will explain why that is.
There are other challenges on tonight's episode. We have all heard that kids can learn languages faster than adults, so the show puts that to the test. Both stars learn new words for things they already know, and then are tested to see who soaked up the new information better.
That is a learning thing, but who is better at balancing, hearing, and not being tricked by what you read as compared to what you see? What does that mean? You will have to tune in for Anderson's craziest moments during the episode.
There is one final round for the two. Who is a bigger risk-takers, the teenager or the man with a Peter Pan complex? Could this be the round that defies science?
On the science note, I enjoy watching the chemistry between Anderson and Martin. She seemed more like the adult of the two, which made me laugh. I am certain it will do the same for you.
Even though, it sounds like I might be knocking Anderson, I adore his youthful personality. It is why he has always stood out to me since Hang Time. Talk about taking it back old school.
Now, that I know some of the things I am better at than a child. I cannot wait to test it out on my 10-year-old niece.
When it comes to the show in general, even though it is in its 8th season, it is new to me. I plan on watching it again. I like learning new things like this. However, since I am older, I might have to watch each episode a few times to really absorb all of that information. You know, since they say the older you get, the harder it is to learn.
---
Proof Anthony Anderson is just a big kid!
August 6th, 2019 under Anthony Anderson. [ Comments:

none

]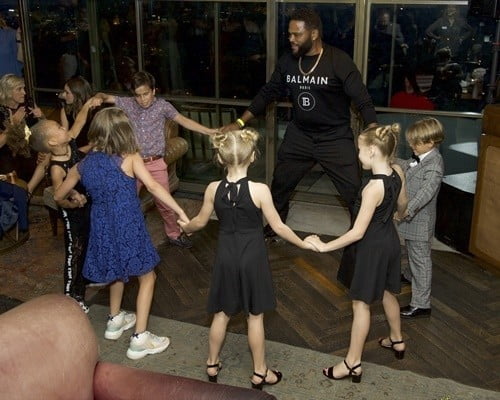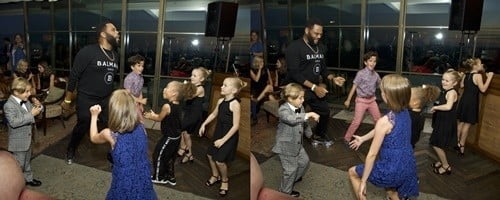 Yesterday, was ABC's Summer Press Tour Day and the casts from their shows all partied together. While the adult talent all hung out with each other, Anthony Anderson decided to hang with the child stars from the network.
Anderson joined Single Parents Tyler Wladis, Mia Allan, Ella Allan, and Marlow Barkley, mixed-ish's Mykal-Michelle Harris, and Modern Family's Jeremy Maguire in a group dance. Proving to me, he is just as big of a kid as they are. Actually, even more so.
Once a child star, always a child star!
Seriously though, these photos of him with the kids are so cute-ish. They brought a smile to my face, and I hope they did the same for you!
---