I dirtied my pants watching Anthony Anderson's Running Wild with Bear Grylls: The Challenge
August 22nd, 2022 under Anthony Anderson. [ Comments: none ]
Tonight at 9p on Nat Geo, Anthony Anderson does things he has never done before on Running Wild with Bear Grylls: The Challenge.
The actor shows up to the Sierra Nevada Mountains, and Bear picks him up in a helicopter. As soon as they take off, Bear throws their bags out of it. If that is bad enough, Bear then throws Anderson and himself out of the plane, and they are now on the search for their bags.
This was the first time I was nervous for Anderson. The second time is when Bear tells him he has to climb down a cliff. I don't know about the black-ish star, but I am starting to poop my pants for him. Luckily, he gets his clean when they go into a lake to get to the other side of it. That is something he didn't like because the water is freezing.
Guess what was on the other side of the water? Their bags! Now, it is time to set up their camp for the night. As soon as the hammocks are ready, it is time for supper. Not to eat it, but to catch it. Imagine what it is like when a boy from Compton goes fishing.
Finally, it is time for sleep! However, when Anderson wakes up, Bear is gone. Now, he has to go find him. Can he do it?
Spoiler alert: I ran into Anderson last week, and he told me this is a "really good episode." He wasn't lying.
Not only did we get to see how strong he is physically, but we also learned what makes him so mentally strong. His mother plays a big part in that, and she is not the only one. To find out who else inspires him, you need to tune in for a literal death-defying episode.
I have a new appreciation for him because he does things I would never ever do.

---
Anthony Anderson's wife files for divorce
March 28th, 2022 under Anthony Anderson. [ Comments: none ]
Anthony and Alvina Anderson have been married for 22 years, and their marriage will not make it to their 23rd. That is because Alvina filed for divorce, according to The Blast. She claimed irreconcilable differences as the reason for the split.
This is not the first time that she asked for a divorce. The first time was in 2005, and they got back together.
Anderson is currently in NYC filming Law & Order, so that might have been the final straw in their marriage. We don't know.
What we do know is they have two children, Nathan, 22, and Kyra, 26. Since their children are not minors, Alvina is not asking for child support, but she does want spousal support.

---
The funny reason why Law & Order had to stop filming
March 8th, 2022 under Anthony Anderson, Dick Wolf. [ Comments: none ]
Law & Order was filming in Manhattan, but they had to stop because of something that was happening in the background. What was it? A streaker? A fan? A real crime? None of the above.
A bus with an ad for the NBC show was passing by as Anthony Anderson and Jeffrey Donovan were shooting a scene. And they can't have that air during broadcast.
Why? Because an eagle-eyed viewer will spot it, and it will go viral. Someone from my hometown saw the BX2 Express Bus in a scene of Dick Wolf procedural and posted it to our Riverdale group. If they can see Riverdale flash by in a second, imagine what the fans would do if they saw a poster for L&O?
Oh, and imagine what would've happened if no one caught that bus ad until that episode aired and the gaffe was all over social media? Dun-dun.

---
black-ish lands Michelle Obama as a guest star
December 14th, 2021 under Anthony Anderson, Jenifer Lewis, Politics. [ Comments: none ]
On January 4th, black-ish will air their final season premiere. They want to go out big, so they got a huge star to guest on that episode.
Dre (Anthony Anderson) and Bow (Tracee Ellis Ross) go to a political fundraiser, and they make friends with Michelle Obama. They invite her over for dinner, and she says yes. The couple hopes for a quiet evening of just the three of them, but their family (Jenifer Lewis, Laurence Fishburne, Marsai Martin, and Miles Brown) invites themselves to dinner.
Will the Johnsons make the former First Lady regret her decision? Of course, they will, and that is why we are sad to see this show go!

---
Dun dun, Law & Order is back on the beat
December 8th, 2021 under Anthony Anderson, Dick Wolf. [ Comments: 1 ]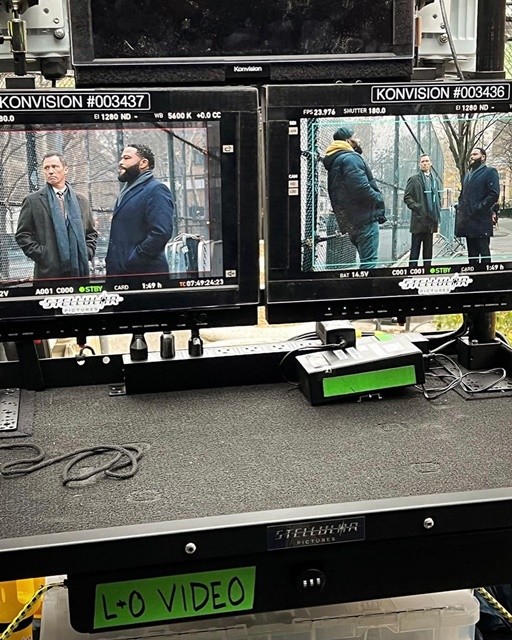 Wolf Entertainment/Instagram
Law & Order has been on an 11-year break, and today they started production on the procedural's 21st season. Anthony Anderson, who is reprising his role as Detective Kevin Bernard, and Jeffrey Donovan shot their first scene together on the streets of NYC. Once again, the people of New York City are safe from the bad guys.
Law & Order's new season debuts on February 24th.

---