Proof Anthony Anderson is just a big kid!
August 6th, 2019 under Anthony Anderson, Uncategorized. [ Comments:

none

]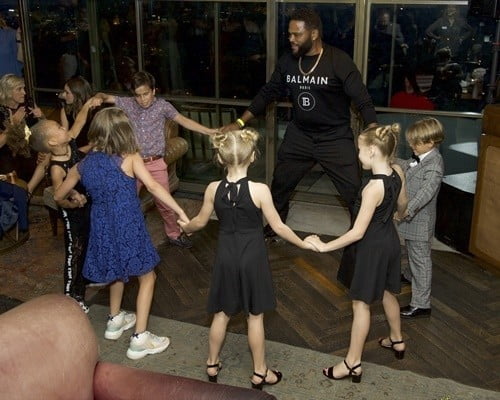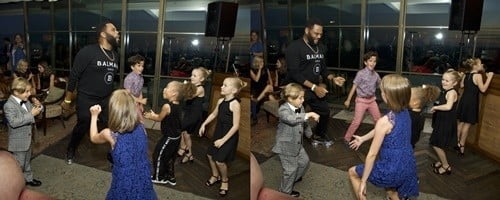 Yesterday, was ABC's Summer Press Tour Day and the casts from their shows all partied together. While the adult talent all hung out with each other, Anthony Anderson decided to hang with the child stars from the network.
Anderson joined Single Parents Tyler Wladis, Mia Allan, Ella Allan and Marlow Barkley, mixed-ish's Mykal-Michelle Harris, and Modern Family's Jeremy Maguire in a group dance. Proving to me he is just as big of a kid as they are. Actually, even more so.
Once a child star, always a child star!
Seriously though, these photos of him with the kids is so cute-ish. They brought a smile to my face and I hope they did the same for you!
---
black-ish is doing a Young Sheldon
May 2nd, 2019 under Anthony Anderson. [ Comments:

none

]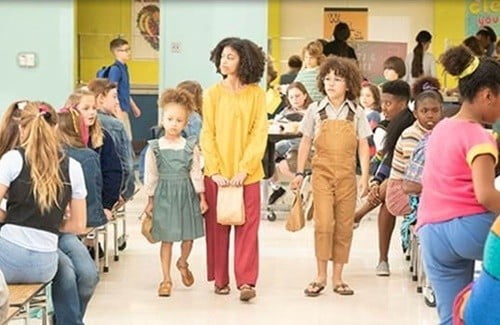 ABC announced today that they picked up black-ish for a 6th season and they are giving the series its second spinoff, grown-ish airs on Freeform. mixed-ish will follow Rainbow's life as a kid growing up as mixed race girl in the '80s.
If ABC keeps their slate as is, then that means they will have 1 show based in the '70s, The Kids Are Alright, 2 shows in the '80s, this and The Goldbergs, and 2 in the '90s, Fresh Off the Boat and Schooled. What happened to 2019? Oh, The Conners.
When it comes to ABC's decision on giving black-ish a spinoff, I am personally surprised. The ratings for the original are pretty bad, it is not even close to being one of their top comedies. They would be better off giving Modern Family a spinoff and I don't think anyone wants that.
---
Anthony Anderson hopes that Jussie Smollett wins a NAACP Award
March 28th, 2019 under Anthony Anderson. [ Comments:

none

]

Anthony Anderson is hosting the NAACP Awards again this Saturday and Extra asked him some questions about the show.
Terri Seymour first wanted to know if nominee Jussie Smollett will be there? The actor told her, "I hope he is here. I hope he wins, I hope everyone wins." He added, "I am glad everything has worked out for him. But I hope he is here so he can celebrate with his community, with his family, and with his friends."
Even though the charges were dropped, to me, no one is saying he is innocent. If he is guilty of staging a hate crime on himself, he hurt his community, family and friends. Therefore, would they want to celebrate with him? Even his Empire crew and cast are reportedly torn about welcoming him back to the show.
What Anderson should have said is, "I don't know if he is coming, but I hope he does because it will be good for the ratings if he shows up." Although, if Smollett were to go, his appearance would overshadow anything Anderson does. And is it just me, or does it seem like Anderson doesn't like to share the spotlight with anyone ever since he started doing Black-ish.
I hope Smollett doesn't attend. Everyone still needs time to heal. We don't know what happened that night, but it seems like there are a lot more questions than answers. That is causing people, who never believed him, to think that he lied and we should not believe victims of a hate crime.
What Smollett needs to do, is take some time away from the spotlight and do the charitable work that appears to have helped him get the charges dropped. To me, if he tries to save his career now, it makes him look guilty. He needs to earn his way back like Robert Downey Jr. and Rob Lowe did.
Plus, can we be honest? Smollett's career pretty much stalled during the second season of Empire. His music did not seem to break out and what else did he do besides the Fox show. The first two seasons people knew his name. However, how many people were like which one is Jussie when the news broke in January?
---
ABC wants to laugh a little more this season!
December 14th, 2018 under ABC, Anthony Anderson, The Goldbergs. [ Comments:

none

]

ABC has had a sad fall, so they want to laugh a little more laughter in the spring. Therefore, they ordered some more episodes from four of their sitcoms. They asked Black-ish for two more and one extra ep from The Goldbergs, Single Parents and The Kids Are All Right.
Personally, I think we need more episodes of The Goldbergs, Single Parents and American Housewife because I cannot get enough of those shows and it is all about me.
I also think ABC jumped the gun on Kids because without The Conners as a lead in their ratings will be less than the amount of kids in their family!
---
Is Dan moving on on The Conners? Black-ish goes to the movies!
December 11th, 2018 under ABC, Anthony Anderson, John Goodman, Roseanne. [ Comments:

none

]

Tonight at 8p on The Conners, an old friend (Katey Sagal) comes to town and she eyes on Dan (John Goodman). Is he ready to move on Roseanne? How will his kids react to a woman flirting with their dad?

Meanwhile on the ABC sitcom, Harris (Emma Kenney) gets busted by the cops for underage drinking, and Becky (Lecy Goranson) is the one that is home when the police bring her home. They promise not to tell Darlene (Sara Gilbert) about it, but she finds out anyway. What happens next might put a permanent wedge between the two sisters.

Finally, who did Matthew Broderick piss off to get this role? I understand that they want to give Laurie Metcalf something to do, but this is just awful.

Then at 9p on Black-ish, it is Christmas at the Johnson household. They celebrate by going to movies. Bo (Tracee Ellis Ross) will see anything. The kids want to see the latest comic book movie. Dre (Anthony Anderson), on the other hand, wants to see the Rosa Parks biopic because he thinks his family should support African American movies.

Who do you think wins? After a long debate, Dre wins and his family loses. How will they get out of it? You have to watch the episode to see the takeaway lesson.
---