black-ish lands Michelle Obama as a guest star
December 14th, 2021 under Anthony Anderson, Politics. [ Comments: none ]
On January 4th, black-ish will air their final season premiere. They want to go out big, so they got a huge star to guest on that episode.
Dre (Anthony Anderson) and Bow (Tracee Ellis Ross) go to a political fundraiser, and they make friends with Michelle Obama. They invite her over for dinner, and she says yes. The couple hopes for a quiet evening of just the three of them, but their family (Jenifer Lewis, Laurence Fishburne, Marsai Martin, and Miles Brown) invites themselves to dinner.
Will the Johnsons make the former First Lady regret her decision? Of course, they will, and that is why we are sad to see this show go!

---
Dun dun, Law & Order is back on the beat
December 8th, 2021 under Anthony Anderson, Dick Wolf. [ Comments: 1 ]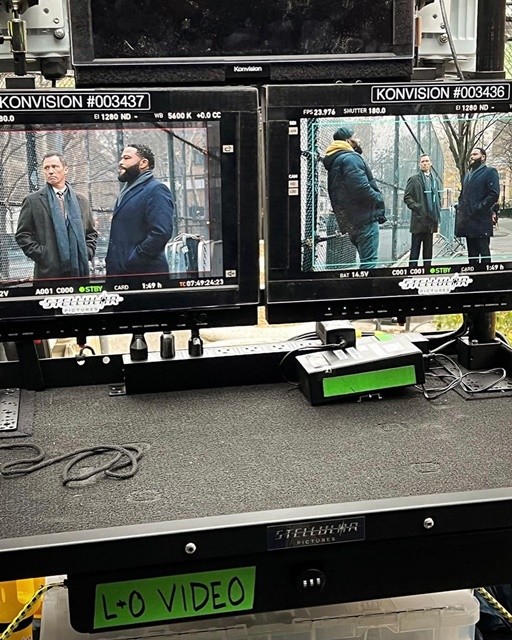 Wolf Entertainment/Instagram
Law & Order has been on an 11-year break, and today they started production on the procedural's 21st season. Anthony Anderson, who is reprising his role as Detective Kevin Bernard, and Jeffrey Donovan shot their first scene together on the streets of NYC. Once again, the people of New York City are safe from the bad guys.
Law & Order's new season debuts on February 24th.

---
Dun dun, Anthony Anderson is back on the Law & Order duty
November 23rd, 2021 under Anthony Anderson, Dick Wolf. [ Comments: none ]
When NBC announced that they were bringing back Law & Order, people wondered if Anthony Anderson would reprise his role as Detective Kevin Bernard. Today, it became official that he will be back for at least one season, according to The Hollywood Reporter.
Anderson will be joined by Jeffrey Donovan and Hugh Dancy when the revival debuts on February 24th.
That means we will have twice the Anderson because he will be seen on the legal procedural and on ABC's black-ish at the same time. That is a lot of Anderson.

---
Jason Momoa can make ironing look sexy AF
July 9th, 2021 under Anthony Anderson, Jason Momoa, Jimmy Kimmel. [ Comments: none ]
Jimmy Kimmel is out fishing for the summer, so Anthony Anderson is filling in for him. The black-ish star caught himself a fish, or should I say Aquaman?
If you are going to have Jason Momoa on your show, then you are going to want to get him wet. Therefore the late night host asked him if he could make things sexy. As soon as Momoa heard that, he ignored the studio's request to keep his clothes on and took off his shirt. Now, I was wet.
Back to the game. Sorry, I got distracted by his muscular chest. Anyways, the first thing ordinary thing he had to try to make extraordinary was putting on hand sanitizer. He put a little on his hands, but the rest he let cascade down on his beard and chest.
Next up, he was asked to open a can of tuna in a way that would turn the ladies on. So he crushed the can open with his arm muscles, and then he poured the juice in his mouth. It got all over him. And I never knew tuna could be so erotic, but it is.
Oh, and he better be careful when he films Aquaman 2 because the tuna might want to get revenge on him for this.
Finally, he had to iron a shirt, and all I will say is that Lisa Bonet is a very lucky woman.
Good thing this segment aired at night because it is not safe for daytime. Although, I might change my mind if they gave him a show earlier in the day where all he does is make the mundane orgasmic. Would you watch it?

---
Black-ish will be back for one last season
May 14th, 2021 under Anthony Anderson. [ Comments: none ]
We are getting close to the networks announcing their schedule for next season, so that means we are finding out what shows will be back and what shows will not.
The good news is that Black-ish is returning for an 8th season. The bad news is that Executive Producer Kenya Barris announced today it will be its final one.
#BLACKISH ANNOUNCEMENT!!! -To ALL the people in the world I love, honor, respect and care for it is both exciting and bittersweet to share that black-ish has been RENEWED by ABC for it's EIGHTH… and FINAL SEASON. In this day and age it is rare to get to decide when your show should come to an end, and we are grateful along with ABC to be able to make this final season exactly what we'd hoped for – and to do it with the entire and AMAZINGLY STELLAR cast coming back to close this chapter out with us the right way!

This show has changed my life in so many ways and I am so proud of the conversations we've started along the way. None of this would have been possible without our audience and supporters, who have championed the show every step of the journey; allowing us to change not just the narrative of Black Families, but of Family, Culture, and the World in general. All the while allowing us to talk about things that people were not supposed to talk about period… especially on a network television comedy.

Thank you to everyone who made it possible to get to this point! The cast, crew, writers, directors, executives, and especially my family, who allowed me to mine so many deeply personal moments from them (many times forgetting to give them the heads up) and show them to the world. Tears fill my eyes and a smile brightens my face as I say thank you to ALL of my blackish family for all you have given of yourselves. ✊🏽👊🏽 #blackish #seasoneight #dreamingawake
Black-ish helped to bring back sitcoms about African American families to broadcast television, and it also took on controversial issues throughout its run. That and it launched two spinoffs, Freeform's Grown-ish based on the oldest child going away to college and Mixed-ish, the prequel about Rainbow's childhood.
Having said that, the news is not a surprise because the ratings have been declining rapidly over the last few years.

---