I think Taye Diggs is losing it in lockdown?
August 3rd, 2020 under RENT. [ Comments: none ]

Taye Diggs, like the rest of us, is adjusting to the new normal. Some people are not handling it that well, and there is the All American actor.
He recorded a little dance video, including nipple squeezing, to get us moving. You know what, it definitely pays the rent.
Try it! It will make you feel happy, and that is what we all need today.

---
Adam Pascal does not rent out hugs
April 19th, 2019 under RENT. [ Comments: none ]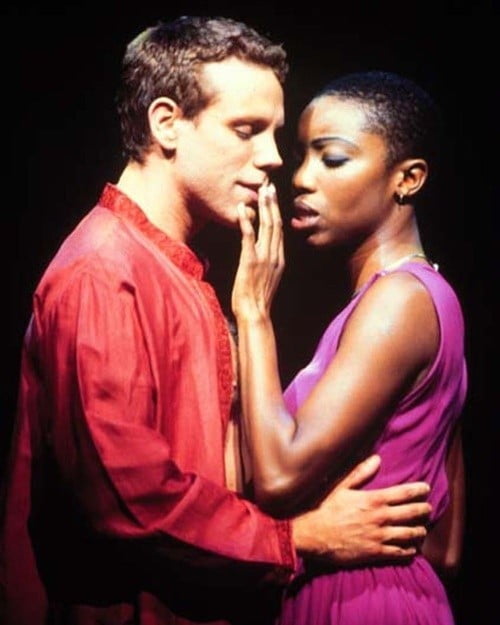 Sometimes when you see a celebrity that has touched your life, you just want to hug them as a show of appreciation. However, you might not have considered how they feel about being touched by someone they do not know.
Adam Pascal is one of the celebs who does not like it, so the Rent star took to social media to let his fans know how he feels. He wrote, "I don't know how or where else to address this so I'm doing here. I hope all the people that Need to see see it. If you are not a close friend or a member of my family don't fucking hug me I don't know you, it's an invasion of my space and a violation of my boundaries. Would you hug a stranger on the street because that's what l am. Use your head and have some respect."
I can see where he is coming from, but to that stranger, he might feel like something more. Especially, if it is someone who has seen Rent more than 525,600 minutes, I mean, times.

---
Taye Diggs did not want to do RENT Live
January 28th, 2019 under RENT. [ Comments: none ]

Last night, the original cast of RENT joined the one-night-only ones on Fox's RENT Live; but there was almost one holdout. After the show, Taye Diggs sang a song to the tune of Seasons of Love about it and he said he did not want to do it because he thought it would be cheesy. Instead, it turned out that he had a really good time with his old a$$ friends and actors that are old enough to be his kids.
Talking about the youngins, on Saturday night, Brennin Hunt broke his foot during the dress rehearsal and was only able to do the final song live. Before he came out for the finale, Tinashe wheeled him out in front of the crowd. You can tell by the applauds, they loved him. Which they should because that was no easy feet, I mean feat, to do a day after you break your tootsie. When I fractured mine, I was in bed downing pain pills for days. There was no way you could get me to do my big break after a big break. Thus, my shoe is off to him. I just have a problem with the person who told him to break a leg before the rehearsal. What were they thinking?
To see the original and the newest cast sing Seasons of Love, then click here!

---
No day but today to watch RENT live!
January 27th, 2019 under RENT. [ Comments: none ]

Tonight at 8p, Fox is going to the East Village in NYC to follow a group of friends who know how to make the most of five-hundred, twenty-five-thousand, six-hundred minutes. Translation they are bringing RENT the iconic music to live television.
A Broadway musical that defined a generation and now it will do the same for a new one. The production stars Kiersey Clemons as Joanne, Brandon Victor Dixon as Tom, Jordan Fisher as Mark, Vanessa Hudgens as Maureen, Brennin Hunt as Roger, Mario as Benjamin, Tinashe as Mimi and Valentina as Angel.
As the century was about to turn, a group friends were in living in a time of change. Where men could be women, women could be men and both sexes could be with who they wanted to. There was just one problem AIDS. These friends knew that all too well, but they were going to live life like La Vie Boheme. In others as free as they want to be because they cannot afford anything including the rent.
Will this production light my candle or will it only be one song glory? We find out soon enough.

---
The things Taye Diggs will do to get a Lyft!
December 28th, 2017 under RENT. [ Comments: 1 ]

How many times have you been waiting for a Lyft and to make the time go you shorter; you get up and dance? I have not either, but that is exactly what does Taye Diggs did. Well at least he says this video was for Lyft and not something he normally does when waiting for the car service. But let's be honest, I can totally see his Broadway roots coming through in situations like this. Couldn't you?
When it comes to his moves, he is a smooth criminal!

---