BTWF talk shows: Brad Garrett on Dick Clark's Nitetime
April 3rd, 2013 under 70s, Before They Were Famous, Brad Garrett. [ Comments:

none

]

Before Brad Garrett was a guest on talk shows, he was doing stand up on Dick Clark's Nitetime. Is just me or does the 25 year old's voice sound different back in 1985 than it does now?
---
Jason Alexander is a bigger man than Brad Garrett!
September 19th, 2011 under 70s, Brad Garrett, Jason Alexander, Seinfeld. [ Comments:

none

]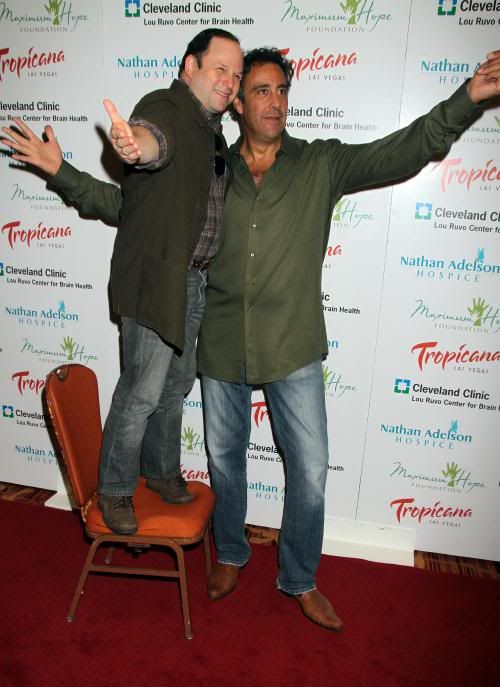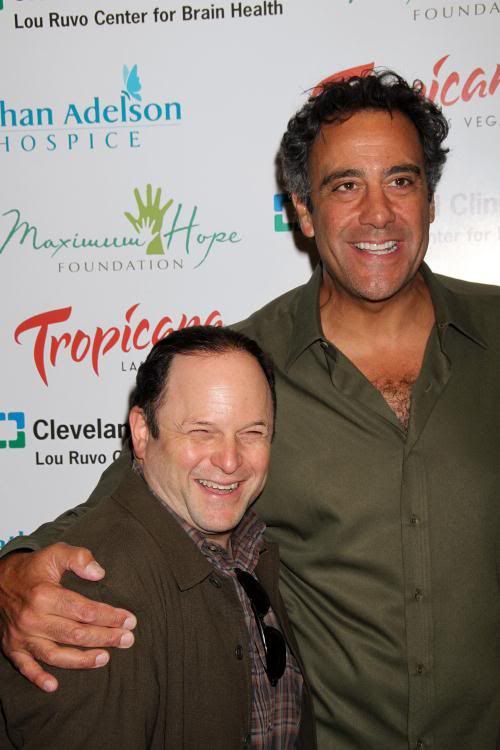 Fame Pictures
Jason Alexander in 5'5″ and Brad Garrett is 6'8″, so for the Seinfeld star to look the Everybody Loves Raymond star in the eye he needs a little help from a chair. I love these pictures of the two sitcom actors trying to be the same height that I had to share them with you.
The two of them were in Vegas for Brad Garrett's All-In For All-Good Charity Poker Event which raised money for Maximum Hope Foundation, a non-profit organization that offers compassionate, practical assistance to families caring for a child with life-limiting illness. Who knew the Til Death star has a heart and did good for others?
---
Brad Garrett still loves Raymond!
April 29th, 2011 under 70s, Brad Garrett, Ray Romano, Reunions. [ Comments:

1

]

Fame Pictures
Brad Garrett and his TV brother Ray Romano got together for lunch yesterday and the Everybody Loves Raymond stars showed they still have brotherly love for each other! Seriously don't they look as close now as they did when they were playing brothers on the hit comedy that debuted almost 15 years ago. Can you believe it has been that long because they both still look great!
BTW co-creator Phil Rosenthal's new movie Exporting Raymond about his journey of trying to make the show in Russia is in theaters today!
---
BTWF roles: Brad Garrett on Roseanne
March 29th, 2010 under 70s, Before They Were Famous, Brad Garrett. [ Comments:

none

]

(starts at 4:20 in)


Before Brad Garrett was a teacher on Til Death, he worked for a bank on Roseanne. Don't you love the 30 year old's '80s hair in that 1991 episode?
---
Brad Garrett attacks the paps again
November 12th, 2008 under 70s, Bad Paparazzi, Brad Garrett. [ Comments:

none

]




In Brad Garrett's defense he said enough, although he was wrong to attack the paparazzi. I don't know about you but when a 6'7″ man says enough, I think it is wise to listen.
UPDATE: TMZ is saying that law enforcement will open a criminal investigation against Garrett.
---