Mischa Barton looks good
May 4th, 2012 under Mischa Barton. [ Comments: 2 ]

WENN.com
To say that Mischa Barton has had her share of fashion faux pas would be an understatement, but yesterday she actually looked gorgeous at the Women for Women Gala in London. Whomever is styling her now deserves a fashion award because they worked a miracle on her. Don't you think?

---
Mischa Barton actually looks good in a bikini!
December 27th, 2011 under Mischa Barton. [ Comments: none ]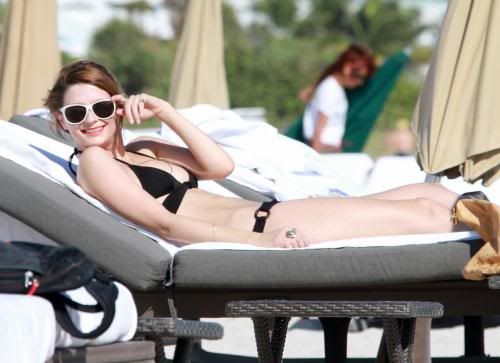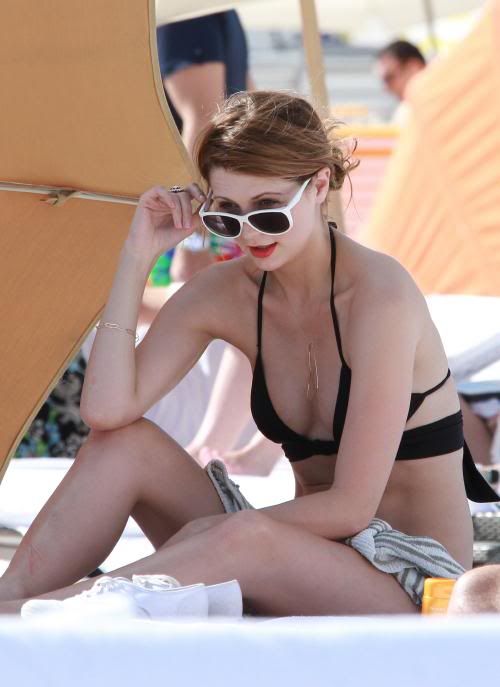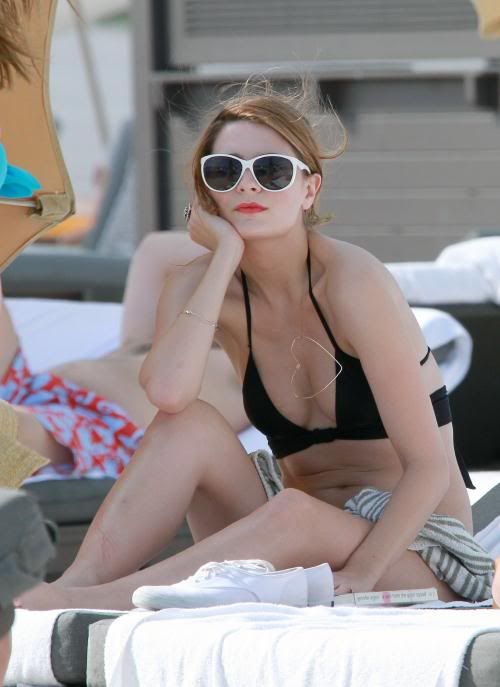 Fame Pictures
Mischa Barton is soaking up the sun in Miami and dare I say it she actually looks good in a bikini! The OC actress has had her issues in bikinis, but it looks like she over them and now she is having fun showing off her body in a little black 2-piece.
Now that she has worked out her bathing suit kinks, hopefully her fashion sense will improve too.

---
What crawled on Mischa Barton's head and died there?
October 11th, 2010 under Mischa Barton. [ Comments: none ]

WireImage
Was it a skunk? Was it a bird? I don't know what crawled on Mischa Barton's head and died there, but the one thing I do know is ugly. Seriously what was The OC star thinking when she put that thing on her head? There is not one angle that makes that thing look even halfway decent. But then again it is Mischa and she is known for wearing bad hairpieces.

---
The many faces of Mischa Barton!
July 7th, 2010 under Mischa Barton, The Many Faces of. [ Comments: none ]

WireImage
Mischa Barton was photographed pumping her own gas yesterday and I have not the actress show that emotion since…well I can't remember when. Seriously what is up with all those faces. If all it took to get her to show that much expression in her movies was to fill her own tank, then maybe they should have her do that before every scene.
BTW those pants so need to go. Those red jeans are so unflattering on her figure or basically anyone's figure.
On a positive note as least she brushed her hair.

---
Mischa Barton comes cleans about her hospital stay
December 2nd, 2009 under Mischa Barton. [ Comments: 1 ]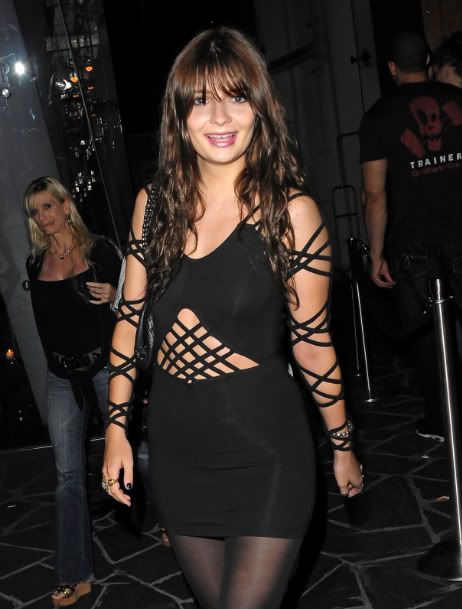 (photo from Splash News Online)


Mischa Barton finally comes clean about her hospital stay over the summer to Heat Magazine according to Bang Showbiz.
She said: "I went to the hospital because of pain with my wisdom teeth and I ended up getting 'put in', but that's because I was so overwhelmingly stressed out and upset.
"I think it was my teeth and the stress of having a new job and travelling. I was miserable. Actresses aren't given the time to recover after stuff like that – you're expected to bounce back from surgery and work right away again.
"I was shocked it went that far but I think it was necessary for me to take that time out. I'm so much more settled and calm now.
"Ultimately, it was a positive thing."
She added to Heat magazine: "It's something that could've happened to anyone – going into hospital and having a bad experience then being held on an involuntary psychiatric hold. It happens to more people than you'd know. It's a common thing."
It took her a while to come clean about why she was hospitalized, but at least she finally did. Although it isn't only actresses who are not given time to heal, it really is everyone. And she had more time off than the average person when they have oral surgery, but she wouldn't know what that is like because she has never really been anything but an actress.

---