Brenda Lee is the new Queen of Christmas
December 5th, 2023 under Christmas Music, Mariah Carey. [ Comments: 1 ]
That ear-piercing screech you heard that broke some of the glasses in your house has now been explained.
It was Mariah Carey's reaction to Brenda Lee's Rockin' Around the Christmas Tree, knocking her song All I Want For Christmas Is You from the top of the Billboard charts.
That's right, the 65-year-old tune is #1 on the Top 100 charts for the first time ever. Knocking Carey down to #2.
And now I know why it is so cold in Los Angeles, hell froze over. And Carey went from Santa's little helper to Satan's. So, in the words of Geena Davis in The Fly, "Be afraid. Be very afraid."
Congrats to Lee. She is proving at 78 you are never too old to live out your dream!

---
Was Mariah Carey always a Kardashian?
November 20th, 2023 under Mariah Carey, The Kardashians. [ Comments: none ]
Kris Jenner took her daughters, Kim and Khloé Kardashian, and her grandchildren to see Mariah Carey's Merry Christmas One and All, and we got this photo with the Queen of Kristmas.
And now I am wondering if we should change the spelling of Mariah's last name to Karey because she looks like a Kardashian.

---
Barry Manilow's All I Want for Christmas Is You cheesy greatness!
November 17th, 2023 under Barry Manilow, Mariah Carey. [ Comments: none ]
Mariah Carey is the Queen of Christmas because of her hit All I Want for Christmas Is You. Therefore, a lot of artists want to cover the modern Christmas Carol.
This year, Barry Manilow did his own version of the holiday's top song. And you know what? And I am risking coal in my stocking. But I think it is better than the original!
I can picture dancing to this at the work holiday party with an egg nog in my hand and a Santa hat on my head.
Seriously, isn't his take more fun?
Dear Santa, Please don't put me on the naughty list for saying this. Unless being on the naughty list gets you naughty adult toys! They are my purrfect stocking stuffer! And by that, I mean, well, you know what I mean.

---
All Mariah Carey wants for Christmas is her Barbie doll
November 17th, 2023 under Barbie, Mariah Carey. [ Comments: none ]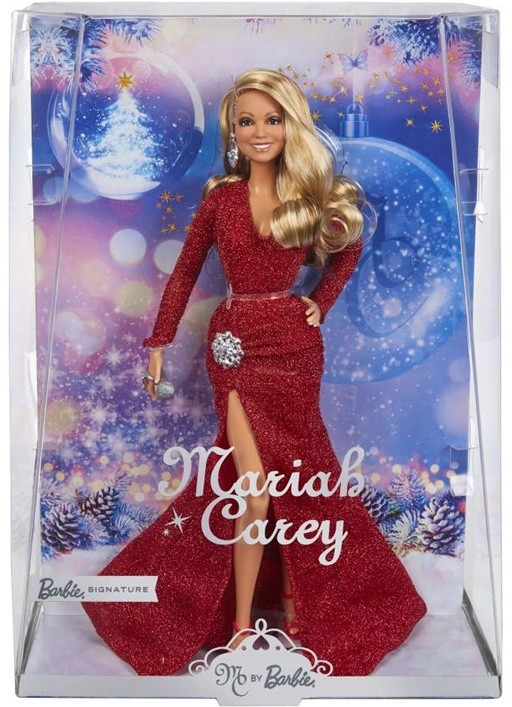 Barbie
It is Christmastime, and children all over the world want a Barbie doll under their tree. This year, they can get the Queen of Christmas as a gift. That is because Barbie turned Mariah Carey into one of their own.
The beautiful doll is wearing Mimi's signature red gown, red heels, and her oversized butterfly ring.
As perfect as she is for little girls, I think she is going to be bought by big girls who are going to display her Christmas as they play her song All I Want for Christmas is You.

---
Jimmy Kimmel got a visit from the Queen of Christmas in his bedroom
November 3rd, 2023 under Jimmy Kimmel, Mariah Carey. [ Comments: none ]
Jimmy Kimmel got a wake-up call in the middle of the night this week. It was not on the phone. Instead, it was in person, and that person was Mariah Carey.
The singer wanted him to know that it is Christmastime. So, just like Santa Claus, she came into his house in the middle of the night. But unlike Old Saint Nick, she only gave him one present, and that present was her singing her Christmas Carol, All I Want for Christmas Is You.
Some might say this is a dream come true. But others would say this is a nightmare. And I think that Kimmel would go with the latter.
Would you want Mariah to visit you in your bedroom, singing her holiday tune? I would rather get a visit from the Ghosts of Christmas Past, Present, and Future.

---