Mariah Carey reminds us what November 1st means
November 1st, 2019 under Mariah Carey. [ Comments:

none

]

Mariah Carey went to sleep in her Halloween costume and woke up ready for Christmas because it is November 1st. That means for the rest of the year, all she wants for Christmas is you thinking of her song.
I miss the days when we did not get into the holiday spirit until after Thanksgiving. Now, we start to get into it before Labor Day.
Another reason why Mimi wanted you to know that today is the start of Christmas is that she released the 25th anniversary of her legendary holiday album today. The two-disc set comes with unreleased recordings, bonus material, and new packaging. Along with Cassingles come in red or green cassettes featuring "All I Want For Christmas Is You" and festive, collector's pop-out decorations on the packaging. The 12″ Vinyl and 7″ Vinyl also include the festive pop-out decorations.
---
Listen to Mariah Carey sing the Mixed-ish theme song
September 17th, 2019 under Mariah Carey. [ Comments:

none

]

ABC recently announced that Mariah Carey is going to sing the theme song for the Black-ish spinoff Mixed-ish. Today, they released her song In The Mix and maybe getting her was not the best idea.
She sounds like Daryl Hannah in Splash when she tries to say her name. In other words, it just sounds like screeching tires and that hurt my ears. I miss the days when she did earworms instead of ear bleeders.
Do you like it?
Mixed-ish debuts next Tuesday.
---
Is Mariah Carey really 49?
September 3rd, 2019 under Mariah Carey. [ Comments:

none

]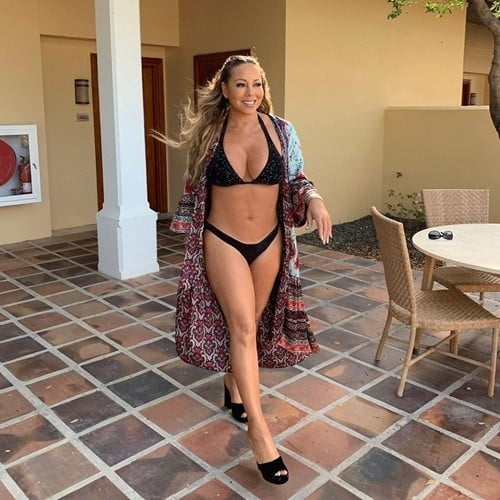 Mariah Carey is 6 months away from turning 50. However, you would not know that looking at this photo of her in a bikini. This is what her song Sweet Fantasy is all about. Actually, I only remember the chorus, so I am assuming that is what the tune is about.
Seriously, doesn't Mimi look fantastic? She looks better now than she has in year's past.
---
Mariah Carey does the #BottleCapChallenge the way only she can
July 8th, 2019 under ALS Ice Bucket Challenge, Mariah Carey. [ Comments:

none

]

While those muscular men did the #BottleCapChallenge by kicking the cap off of the bottle. Mariah Carey is not them. The singer is not a dog, so she is not going to lift her leg to mark her territory in the challenge.
However, she did leave a mark in a way that is so Mimi. She blew the lid off by hitting a high note. John Mayer, I'd like to see you try to do that. Betcha can't.
It takes more muscles to do what she did than it does to do a round kick. I know it hurts, but y'all were beaten by a girl! A girl who knows she has the vocals to do things very few humans can do.
She is not too humble to show it. Her reaction at the end is so the diva.
---
Imagine a impromptu sing-a-long with Mariah Carey
May 29th, 2019 under Mariah Carey. [ Comments:

none

]

Ever since I saw that impromptu sing-a-long in My Best Friend's Wedding, I have always wanted to be part of one. It still has not happened for me, but it did happen for Mariah Carey and some of her friends.
Last night, while she was out having dinner, her song Fly Like a Bird came on. What did they do? They all sang along with the songstress. Of course, when it came time for her to hit that high note, they let her have it all to herself. Because no one's voice can fly like a bird like hers.
---