Mariah Carey did what no other artist has ever done
December 31st, 2019 under Mariah Carey. [ Comments:

none

]

Mariah Carey did something that Elvis Presley, Barbra Streisand, Dolly Parton, Willie Nelson, Whitney Houston, Lionel Richie, Billy Joel, David Bowie, Frank Sinatra, Aretha Franklin, Kenny Rogers, Reba McIntyre, Paul McCartney, Tina Turner, Celine Dion nor Bruce Springsteen have done. In fact, Stevie Wonder, Michael Jackson, Elton John, Janet Jackson, Madonna, Christina Aguilera, Britney Spears, and Usher have come close but they are no Mariah
So what did she do that they didn't do? She is the first solo artist to top the Billboard 100 charts in four different decades. She had #1 hits in the 1990s, 2000s, 2010s and she will have one come 2020. All I Want for Christmas, a song that is 25 years old, is sitting on top of the chart today and will do so until January 4th. Talk about hitting a high note.
Personally, I cannot believe she is the first amongst all of those legends. However, she does release catchy songs that warrant being #1, so it makes sense.
---
Mariah Carey hits the streets with Billy Eichner
December 26th, 2019 under Billy Eichner, Mariah Carey. [ Comments:

none

]

Billy Eichner asked Mariah Carey to walk the streets of Manhattan with him and she actually said yes. How did the people of NYC react to seeing the Queen of Christmas? As excited as they are to hear All I Want For Christmas for the first time every year. How do we react to the bit? Just like when we hear the tune for the 1 millionth time every year. It slowly gets on your nerves the longer it goes on.
---
Mariah Carey reminds us what November 1st means
November 1st, 2019 under Mariah Carey. [ Comments:

none

]

Mariah Carey went to sleep in her Halloween costume and woke up ready for Christmas because it is November 1st. That means for the rest of the year, all she wants for Christmas is you thinking of her song.
I miss the days when we did not get into the holiday spirit until after Thanksgiving. Now, we start to get into it before Labor Day.
Another reason why Mimi wanted you to know that today is the start of Christmas is that she released the 25th anniversary of her legendary holiday album today. The two-disc set comes with unreleased recordings, bonus material, and new packaging. Along with Cassingles come in red or green cassettes featuring "All I Want For Christmas Is You" and festive, collector's pop-out decorations on the packaging. The 12″ Vinyl and 7″ Vinyl also include the festive pop-out decorations.
---
Listen to Mariah Carey sing the Mixed-ish theme song
September 17th, 2019 under Mariah Carey. [ Comments:

none

]

ABC recently announced that Mariah Carey is going to sing the theme song for the Black-ish spinoff Mixed-ish. Today, they released her song In The Mix and maybe getting her was not the best idea.
She sounds like Daryl Hannah in Splash when she tries to say her name. In other words, it just sounds like screeching tires and that hurt my ears. I miss the days when she did earworms instead of ear bleeders.
Do you like it?
Mixed-ish debuts next Tuesday.
---
Is Mariah Carey really 49?
September 3rd, 2019 under Mariah Carey. [ Comments:

none

]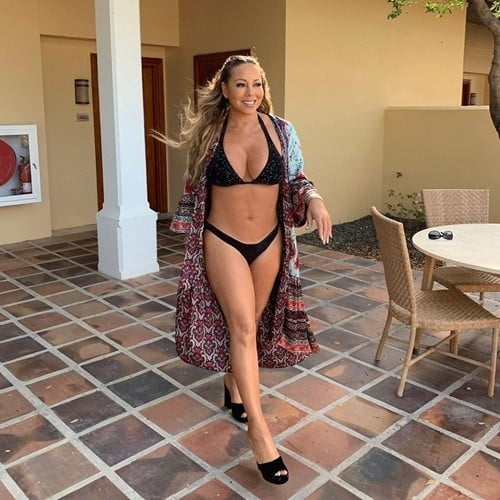 Mariah Carey is 6 months away from turning 50. However, you would not know that looking at this photo of her in a bikini. This is what her song Sweet Fantasy is all about. Actually, I only remember the chorus, so I am assuming that is what the tune is about.
Seriously, doesn't Mimi look fantastic? She looks better now than she has in year's past.
---