Tina Turner is a Barbie
October 14th, 2022 under Barbie, Tina Turner. [ Comments: none ]
View this post on Instagram
There are so many ways that we can say that Tina Turner has made it through her impressive long career. And having her '80s likeness turned into a Barbie doll is just the latest way!
So when she asks, "What's Love Got to Do With It?" The answer is everything because we love the private dancer.
You can get the beautiful doll for $55 while supplies last. I am sure it will sell out, just like all of her albums!
Turner's Barbie is the perfect addition for all the little girls out there because they can learn what strength is through the singer's story. Turner had been through so much, but she overcame it all and came out a better person than she was. And we should teach girls no man or person can hold us down and that we always have to get back up.

---
Gloria Estefan gets a Barbie doll for his 65th birthday!
September 1st, 2022 under Barbie, Gloria Estefan. [ Comments: none ]
Today is Gloria Estefan's 65th birthday, and Mattle gave her a very special present. They created a Barbie doll in her likeness.
Mattel explains why they choose the singer. "Taking inspiration from her Cuban heritage to blend Latin rhythms with pop and dance beats, Estefan's unique sound catapulted her to stardom, making her one of the most successful crossover artists in the world," they write, "Gloria Estefan Barbie® doll celebrates the chart-topping 1989 hit, 'Get on Your Feet.' Inspired by the iconic music video, Barbie® doll's black jacket features intricate gold detailing with jeweled accents and a dramatic, oversized lace sleeve. A soft leopard belt is accentuated with a gold waist chain, while bold thigh-high boots and gold accessories complete her look. A microphone accessory and doll stand make this posable doll ideal for display."
As someone, who lived in Miami, went to the University of Miami, and interned with a company that worked with Estefan (on this music video), I can tell she deserves this honor. She gives back to the community, Miami and Cubans, more than she gets from it.
Congrats and happy birthday!

---
Laverne Cox got her own Barbie doll!
May 25th, 2022 under Barbie, Laverne Cox. [ Comments: 9 ]
In a time when Transgender people, especially children, are watching their rights being taken away from them, Mattel and Barbie found a way to stand with the Trans community. The toy company released a Laverne Cox Barbie doll so that every Transgender person can say there is a Barbie in their image.
Mattel Creations described the $40 doll: "As a four-time Emmy-nominated actress, Emmy-winning producer, and the first transgender woman of color to have a leading role on a scripted TV show, Laverne Cox uses her voice to amplify the message of moving beyond societal expectations to live more authentically. She wears a triple-threat original design, featuring a deep red tulle gown gracefully draped over a dazzling, silver metallic bodysuit. Her hair is swept into glamorous Hollywood waves while dramatic makeup completes her look."
This morning the actress spoke to Today about why her mini-me is so important to her. "I was talking to my therapist how I was really shamed by my mother when I was a kid when I wanted to play with a Barbie doll but I was denied. And I had a lot of shame and trauma about that. And my therapist said to me, 'It is never too late to have a happy childhood.' She said, 'Go out and buy yourself a Barbie and play with her. There's a little kid that lives inside of you. Give her space to play.' And I did.
I told my mother about it, and the next Christmas my mother bought me a Barbie doll. And on my next birthday, my mother bought me another Barbie doll. For the next several years, she would always give me Barbies. My mommy finally got me a Barbie. And there's a kid in me, in all of us.
"Barbie has been a really healing experience for me as an adult and I hope Barbie fans of all ages can find healing and inspiration in this doll."
I hope that every little boy and girl can find inspiration in her Barbie because the real Laverne Cox is an inspiration to me and so many people.
Cox's doll is just as beautiful as she is, and any little boy and girl would be lucky to have her in their collection. Plus, this little girl at heart wants the outfit they gave her. How creative and gorgeous is that interchangeable look?

---
American Girl is telling an important story on HBO Max and Cartoon Network
May 11th, 2022 under Barbie, HBO Max. [ Comments: none ]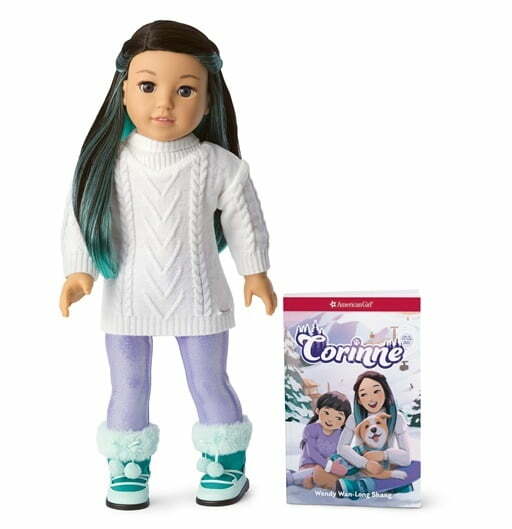 With half of all marriages ending in divorce, that means there are a lot of kids who will grow up without a two-parent household like their friends. Unfortunately, there is not a lot on TV that is made for them.
However, American Girl and Mattel teamed up with HBO Max, Cartoon Network, and MarVista to tell the story of Corrine Tan who is dealing with her parents' recent divorce with two 60-minute specials.
The first 60-minute special follows 13-year-old ski enthusiast Corinne Tan as she navigates her parents' recent divorce while her 10-year-old sister, Gwynn, dad, mom, and stepdad Arne have adjusted to their new roles in this blended family. She discovers a new purpose when she challenges herself to train a rambunctious puppy named Flurry to become a search and rescue dog. American Girl: Corinne Tan tells the inspirational story of a proud big sister as she comes to understand family, perseverance, and self-acceptance.
Fred Soulie, Senior Vice President and General Manager, Mattel Television. "Corinne is a strong role model, encouraging viewers to be their true, authentic selves. We are proud to bring her rich story to life and inspire television audiences of all ages."
American Girl: Corinne Tan debuts in December on Cartoon Network and will stream the next day on HBO Max. The second special will air in 2023.

---
Doesn't the Queen Elizabeth II Barbie doll look like Helen Mirren
April 21st, 2022 under Barbie, The Princes of England. [ Comments: none ]
In honor of Queen Elizabeth II's Platnum Jubilee, Mattle released a Barbie doll of her on her 96th birthday.
The doll is gorgeous, but I think she looks more like Helen Mirren than the British Monarch. However, it is an honest mistake because the actress did win an Oscar for portraying Her Royal Highness in the movie The Queen.
If you were hoping to buy the beautiful Barbie, you are out of luck. The $75 is sold out.

---