The 75th Emmys move to January
August 10th, 2023 under Emmys, Fox. [ Comments: none ]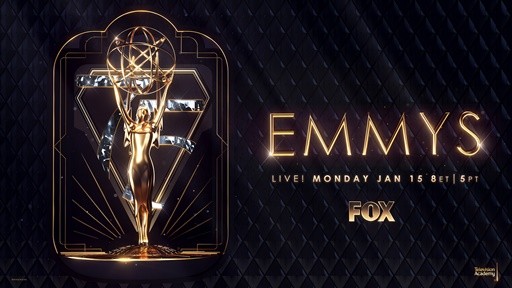 There were reports that the Emmys were being postponed due to the Actors and Writers strikes, and today Fox confirmed it. They announced the new date for television's biggest night to Monday, January 15th.
I think that means that we will not be seeing our broadcast scripted shows until January at the earliest. So we won't know who won't know how the season finales will be resolved until 2024. Damn you, AMPTP. Just come to the table and agree to a deal. It is not that hard. And every day costs you more than you are saving. It is not worth it to you, them, and us, the viewers.
Now, back to the Emmys. I bet you a dollar that Fox is going to ask Foxx, Jamie Foxx, to host. Since the actor is getting better, and he has the music game show, We Are Family, coming to Fox soon.

---
The Emmys are postponed because of the strikes
July 27th, 2023 under Emmys. [ Comments: none ]
The Emmys were slated to happen on September 18th, but that is not happening anymore because of the WGA and the SAG-AFTRA strikes, according to Variety.
That is because the actors and the writers cannot promote their shows or telemovies if they are part of a struck company. And almost every nominee is.
Therefore, NATAS is hoping for a November date, but Fox, who is airing the awards show, is planning for January.
But the problem with January is they will get lost in Awards season. However, the benefit is the networks would be able to promote their new and returning show during the Emmys. So I am thinking we will see Ted Lasso accept its final Emmys in 2024.
The last time the Emmys were postponed was in 2001 due to 9/11.

---
Susan Lucci finally wins her second Daytime Emmy
June 16th, 2023 under Emmys, Maury Povich, Susan Lucci. [ Comments: none ]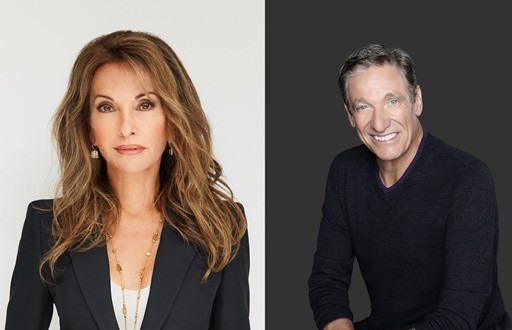 Susan Lucci is as known for losing Emmys as she is for her legendary career as the Soap Queen. And in the near future, those two things will come together for her.
That is because the woman who was nominated 21 times, and only one once in 1999, is going to get her second Daytime Emmy. But how? All My Children hasn't been on the air since 2011. That is because she is getting Lifetime Achievement Award at the 50th Daytime Emmys.
"I am truly humbled to receive this esteemed award from the Academy. Throughout my career, I have been incredibly fortunate to work alongside exceptional talents and embraced by my fans that have been with me every step of the way," the actress said. "This honor is not just a reflection of my journey, but a testament to the enduring power of storytelling and the profound connection we are so lucky to forge with audiences all over the world through television."
Lucci is not the only one getting the prestigious award this year. The recently retired Maury Povich is also getting it for his work with his daytime talk show, where many found out they are the father.
"I'm just blown away by this honor from the Academy," the host said. "I have always had great respect for its work as I served on the National Board and was President of the New York Chapter. I guess if you hang around long enough, some good things happen. It's been a 60+ year ride for me in this business, so I feel extremely blessed with this acknowledgment."
When will we see them get the awards? That date has yet to be decided due to the Writers Guild of America's strike. But when a date is set, I can't wait to see them get the honor they so richly deserve.

---
Days of our Lives' Victoria Grace rescinds her Daytime Emmy nom
April 29th, 2023 under Emmys, TV Soaps. [ Comments: none ]
On Wednesday, the Daytime Emmys announced their nominees, and there is already a lot of controversy going on for the Outstanding Younger Performer category.
It sounds shocking, but it is true.
You see, in the last few years, they changed the age eligibility from 25 to 21 to 18, which it is now. However, the people submitting didn't know that.
Therefore, 21-year-old Victoria Grace made an announcement yesterday. "I was honored to be nominated for a Daytime Emmy and to be recognized by the Academy. Unfortunately, there was a huge misunderstanding across the board regarding the rules for this year's category. This is obviously a surprise and I am heartbroken, but in fairness to all, I'll be rescinding my nomination," the Days of our Lives actress wrote. "I wish the best of luck to all the nominees. I will continue to work hard to earn another Daytime Emmy nomination next year!"
While she has opted to rescind her nomination, 19-year-old Eden McCoy doesn't sound like she is going to do that. "Oh am I supposed to be embarrassed by my nomination now? Shame on anyone tweeting that," the General Hospital star wrote in response to a now private Tweet. "Regardless of the changing rules in the Younger Performer category, I stand by the quality of my work in ANY of my years at GH (going on 8 btw). My two prior nominations were in years where the category was 25 and under. Multiple talented actors my age who did amazing work submitted this year, and these 'kids' whose work you are t were nohminated ahead of them. I'm proud of Henry and Cary. Your lack of respect is what's embarrassing. The facts are that everybody earned what they got. Do better."
Personally, I think the Academy fucked up. They should have checked the ages of the actors they were nominating before they nominated them. Then, none of this would be happening. Since they fucked up, they should keep the category's nominees, including Days of out Lives' Cary Christopher and The Bold and the Beautiful's Henry Joseph Samiri, as it was on Wednesday. And next year, do better.

---
Is it wrong that I'm disappointed Jerrod Carmichael won an Emmy?
September 13th, 2022 under Emmys, The Carmichael Show. [ Comments: none ]
First off, I love Jerrod Carmichael ever since I saw the pilot for The Carmichael Show. Personally, I think he and his sitcom were robbed of the recognition and the awards they deserved for the show.
Now, having said I wish he would've lost at the Emmys yesterday instead of winning Outstanding Writing for a Variety Special for Jerrod Carmichael: Rothaniel. What? How can you say that?
Before the show started, the comedian told Vanity Fair what would happen if he lost. "I want to make clear. I want to win. And I am not just happy to be nominated. That is a lie. That is like bullshit. I am only here to win," he said. "And if I lose, I will leave immediately. Like there will be an empty seat at a table. I am a sore loser. I will not be a fair sport. And I will get the fuck out of here. I'll be out here eating In'n'Out. If I lose, I will see you in the drive-thru."
Could you imagine if he lost? Carmichael would've used P Diddy's fur coat as a cape and flown out of there faster than you could've said Rothaniel. But he won an award, and we were robbed of the opportunity. Maybe next time…

---