Would you pay to see Roseanne Barr and Andrew Dice Clay together?
June 23rd, 2019 under Andrew Dice Clay, Roseanne. [ Comments: none ]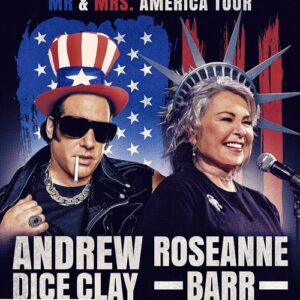 Back in the '80s, Roseanne Barr and Andrew Dice Clay were two of the most controversial comedians out there. Not much has changed. Except that fewer people want to see them perform live now than they did then. Which could be why the two friends of over 30 years are taking their act on their road.
Clay announced on Fox News today that "Mr. & Mrs. America" will be touring together starting in September. Talk about a double bill from hell.
How does he feel about their comedic partnership, he said, "We're both excited because we both don't give a sh!t what anybody thinks about anything." Expect them to say whatever they want on these tour dates which could further alienate them from the mainstream. What do they care? They are stronger together than by themselves. How much stronger? Only ticket sales will answer that question. Thus, my question for you is will you pay to hear what they have to say.
Hickory, Dickory, Dock, Hope you don't go into hock. Because if you do, then you might become Little Boy Blue.

---
Roll the Andrew DICE Clay tonight on Showtime!
August 20th, 2017 under Andrew Dice Clay, Showtime. [ Comments: none ]

Andrew Dice Clay's series that is very loosely based on his life is back on Showtime tonight at 10:30p and it actually makes you like the controversial comic because he is so self-deprecating about himself.
On the season premiere of Dice, he meets a rabbi who shows him what life would be like if he never created his alter ego. Everyone but him is better off without the Diceman in their lives. But are the lives of his girlfriend Carmen (Natasha Leggero),his best friend Milkshake (Kevin Corrigan) and David Arquette really better without him? You do not want to miss this episode that shows what Andrew Clay Silverstein would be without comedy.
Then next week, you meet his manager (Cedric Yarbrough) who sucks at his job, and his stalker (Billy Gardell) who has moved on from stalking him. Dice cannot handle not having an obsessed fan and goes too far to prove that he is still stalking him.
On the third episode, Ron Livingston plays a role you have never seen him play before and I want to see him act like that more often. That is all I will say because it is something you need to experience for yourself along with the Tony Orlando performance!
They say what happens in Vegas, stays in Vegas. I am so happy this comedy did not stay there.

---
BTWF roles: Andrew Dice Clay on M*A*S*H
August 10th, 2017 under Andrew Dice Clay, Before They Were Famous. [ Comments: none ]

Before Andrew Dice Clay was a detective in The Adventures of Ford Fairlane, he was a a corporal on M*A*S*H. How shocked are you to find out that in 1982 when he was just 25 years old, he guest starred on the war time comedy?

---
Did Donald Trump steal Andrew Dice Clay's act?
January 19th, 2017 under Andrew Dice Clay, Conan O'Brien, Donald Trump. [ Comments: none ]

Andrew Dice Clay told Conan O'Brien tonight that he thinks that Donald Trump stole his act, and I think he is right. I mean, as soon as the Diceman said that, it was like it all makes sense now. The stuff Drumpf says, is stuff that sounds like it is coming from Dice's mouth, but it isn't. It is coming out of the other one's lips. Which makes it that much more scary. Dice knows it is a joke and it's not real, the other one does not.

---
My Kitchen Rules totally rules!
January 12th, 2017 under Andrew Dice Clay, Brandy and Ray J, Fox, Lance Bass. [ Comments: none ]
https://www.youtube.com/watch?v=Cu9hvJlB31U
I try to watch some screeners without knowing anything about them, and I am glad that My Kitchens Rules was one of them. That was me and I am going to tell you why you need to watch this Fox show tonight at 9p.
Brandy and Ray J Norwood, Lance Bass and his mom, Andrew Dice Clay and his wife (yes he has one), Naomi Judd and her husband Larry Strickland, and Brandi Glanville and her ex-husband's wife's ex-husband Dean Sheremet all cook for the other ones and only one team will win.
On tonight's season premiere Brandy and Ray J host the first dinner party at their home for everyone including professional Chefs Cat Cora and Curtis Stone followed by the Basses at their abode for the second outing. Each team has to prepare an appetizer and a meal for everyone, and then the dinner party guest and the Chefs vote how yummy the food was. The team with the lowest scores after everyone has entertained goes home until there is one.
Those are the logistics, here's what's not in the description. Brandi Glanville is that bitch you didn't want to invite but had to and all she does is say stuff that insults everyone that is there. You just want to kick her out, but you can't. She is just horrible and at each party she says something so shocking and rude you wonder why they don't say anything to her. Since you are not there, it is fun to watch.
The rest of them are also entertaining, just not as much. Andrew Dice Clay is much nicer than you thought and funnier. Larry Strickland is the coolest one of the bunch. Ray J will surprise you while Brandy with a y isn't taking Brandi with an i's sh!t! Then there's Lance Bass and he is just as you would expect. But then again his mom is there, so he has to be on his best behavior.
All of this as we find out that celebrities can cook. But the best dish served is this show, so make a reservation because you don't want miss it.

---