Roseanne, is that you?
April 6th, 2020 under Roseanne. [ Comments:

none

]

We have rarely seen Roseanne since she was fired from her show back in 2018. This weekend, she shared a photo of herself during the quarantine, and she looks different. She looks more like Kelly Ripa than herself. Which is not a bad thing for the 67-year-old comedian. However, for the daytime talk show host, it is a different story.
---
BTWF: Sara Rue on Roseanne
October 23rd, 2019 under Before They Were Famous, Roseanne. [ Comments:

none

]

Before Sara Rue was a rich woman on Malibu Country, she was a young Roseanne on Roseanne. She looks the same now as she did when she was 13 on that 1992 episode.
---
Sara Gilbert explains the crazy reason why they are not using original couch
September 19th, 2019 under Roseanne, Seth Meyers. [ Comments:

none

]

The couch from Roseanne is as iconic as the show itself. Therefore, when they were getting ready to do the revival of the sitcom, Sara Gilbert tried to get the original couch to be on the show. However, she was not successful.
Yesterday she told Seth Meyers on Late Night, it was actually at the Smithsonian Museum for a while. Then a guy got his hands on it and it added it to his television museum. When the show got picked up, they called him to see if they could use their couch.
He said that he could but with some restrictions. He wanted them to get extra insurance on it worth thousands of dollars, it could only be on the set on filming days, it had to be cleaned and it needed its own security guard. For some reason, the producers said no, but Gilbert still wanted it.
She did not get her wish. And somewhere there is a guy looking at like it is something more than a couch.
---
Is Dan Conner ready to date again with Katey Sagal on The Conners?
September 9th, 2019 under John Goodman, Roseanne. [ Comments:

none

]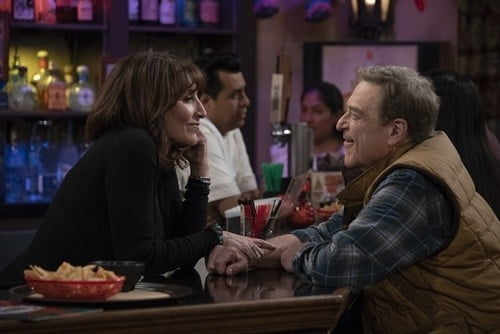 Last season, Katey Sagal guest-starred on The Conners as an old high school friend of Dan Conner's (John Goodman). He was not ready to date because it was so soon after Roseanne had died. This season, she will be back for a 10-episode arc on The Conners.
Which makes you wonder if she will be playing his love interest. ABC did not say that she is, but the press release did say, she "is catching up on lost time with him while in Lanford." What else can that mean?
She is not the only person returning to the show. Beverly Harris (Estelle Parsons) is back to torture her daughter Jackie (Laurie Metcalfe). Chuck Mitchell (James Pickens Jr.) is there comfort his friend and business buddy Dan. Finally, Darlene (Sara Gilbert) is still getting some from Ben (Jay R. Ferguson).
The Conners is back with all-new episodes on September 24th. Sagal joins for its third episode.
---
Would you pay to see Roseanne Barr and Andrew Dice Clay together?
June 23rd, 2019 under Andrew Dice Clay, Roseanne. [ Comments:

none

]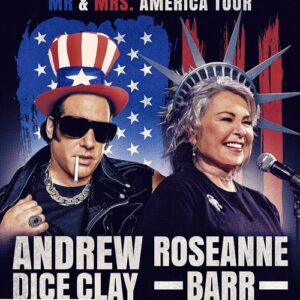 Back in the '80s, Roseanne Barr and Andrew Dice Clay were two of the most controversial comedians out there. Not much has changed. Except that fewer people want to see them perform live now than they did then. Which could be why the two friends of over 30 years are taking their act on their road.
Clay announced on Fox News today that "Mr. & Mrs. America" will be touring together starting in September. Talk about a double bill from hell.
How does he feel about their comedic partnership, he said, "We're both excited because we both don't give a sh!t what anybody thinks about anything." Expect them to say whatever they want on these tour dates which could further alienate them from the mainstream. What do they care? They are stronger together than by themselves. How much stronger? Only ticket sales will answer that question. Thus, my question for you is will you pay to hear what they have to say.
Hickory, Dickory, Dock, Hope you don't go into hock. Because if you do, then you might become Little Boy Blue.
---