[ # ] Would you pay to see Roseanne Barr and Andrew Dice Clay together?
June 23rd, 2019 under Andrew Dice Clay, Roseanne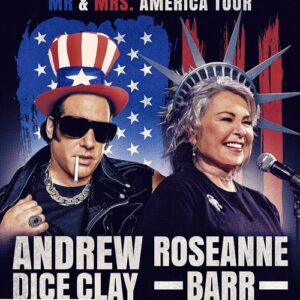 Back in the '80s, Roseanne Barr and Andrew Dice Clay were two of the most controversial comedians out there. Not much has changed. Except that fewer people want to see them perform live now than they did then. Which could be why the two friends of over 30 years are taking their act on their road.
Clay announced on Fox News today that "Mr. & Mrs. America" will be touring together starting in September. Talk about a double bill from hell.
How does he feel about their comedic partnership, he said, "We're both excited because we both don't give a sh!t what anybody thinks about anything." Expect them to say whatever they want on these tour dates which could further alienate them from the mainstream. What do they care? They are stronger together than by themselves. How much stronger? Only ticket sales will answer that question. Thus, my question for you is will you pay to hear what they have to say.
Hickory, Dickory, Dock, Hope you don't go into hock. Because if you do, then you might become Little Boy Blue.

---