A Salute Your Shorts reunion!
August 21st, 2019 under Nickelodeon, Reunions. [ Comments:

none

]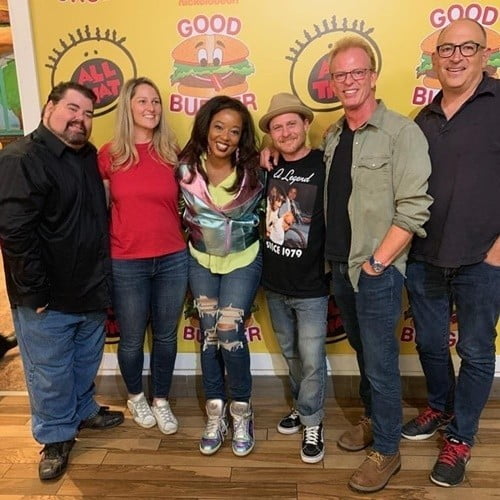 Last month, the original cast of All That reunited at the Good Burger pop up. Yesterday, it was the gang from Salute Your Shorts that got together for a hamburger.
What brought Michael Bower, Megan Berwick, Venus DeMilo Thomas, Danny Cooksey, Kirk Baily and creator Steve Slavkin together? Besides the food? Is Nickelodeon considering doing a revival of the show just like they did with All That and Are You Afraid of the Dark? As of now, they just joined their fans to play trivia all about the sitcom that aired from 1991-1992.
However, maybe after Nick's President Brian Robbins sees how good they look, he will think about going to summer camp again. Who wants to see Donkey Lips, Telly, ZZ, Budnick, UG and Dr. Kahn back at Camp Anawanna? This time they are all counselors and causing even more trouble. Why not just bring back all of SNICK while we are it?
---
All That's OGs with the new cast!
July 9th, 2019 under Alisa Reyes, Nickelodeon. [ Comments:

none

]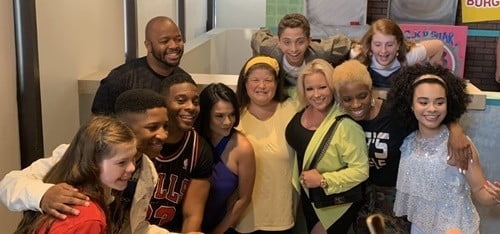 Yesterday, was the grand opening of the Good Burger pop-up and it brought together the original and new casts of All That. Seeing Kate Godfrey, Lex Lumpkin, Kel Mitchell, Alisa Reyes, Lori Beth Denberg, Katrina Johnson, Ryan Alessi, Angelique Bates, Reece Caddell, and Gabrielle Nevaeh Green together, makes me hope that they bring them all together for a skit on the show. That and Nickelodeon picks it up for a second season.
When it comes to the pop-up store, it opens up on July 10th. Make your reservations now because who doesn't want to try a real good burger?


To see larger photos of Alisa Reyes, Good Burger's #1 employee Kel Mitchell, and Gabrielle Nevaeh Green, then click here!
---
Good Burger, home of the Good Burger, is coming to life!
June 13th, 2019 under Nickelodeon. [ Comments:

none

]

Let's be honest, ever since Kenan Thompson and Kel Mitchell introduced us to Good Burger, we have all wanted to try one. Come this July, you will be able to do so if you are in Los Angeles.
Just like Saved By the Max was, the popular restaurant is open for real business. While you are there you can order a Good Burger, Good Chucks and Good Shakes. Not only that, but there will also be "themed service experiences, merchandise, games, secret sauce and more."
This is a must for any fan. So mark your calendars, tickets go on sale June 17th and doors open July 10th. Don't forget All That is back with a new generation of kids this Saturday on Nickelodeon.
UPDATE: Here is Kel Mitchell reprising his role in Good Burger on the season premiere with special guest stars the Jonas Brothers.
---
Nickelodeon hates us doo doo doo doo doo doo
June 5th, 2019 under Nickelodeon. [ Comments:

none

]

Remember when toddlers all over the World could not stop singing Let It Go from Frozen? Parents rejoiced when the fad finally died down. As kids finally let that song go, another one came out of nowhere and was even more addictive. Doo doo doo doo doo doo.
That is right, it is Baby Shark. Doo doo doo doo doo doo. Just when you hoped that someone would harpoon the earworm, Nickelodeon is giving it its own animated series. Doo doo doo doo doo doo.
If that is not bad enough, Pam Kaufman, President, Viacom Nickelodeon Consumer Products said, "Our outstanding creative teams are moving fast to get more Baby Shark product across multiple categories to retailers, and our content team is excited to develop a terrific original animated series that will bring this property to new heights and even more fans." Doo doo doo doo doo doo.
It will never go away. No matter where we are, we are going to hear that Doo doo doo doo doo doo. It will haunt us when we sleep and follow us when we are awake. There is no escaping it. Forget Jaws this is the scariest shark out there. Doo doo doo doo doo doo.
And Nickelodeon, bringing back All That does not make up for this. Brian Robbins, you owe us for this. Doo doo doo doo doo doo. How about an All That with all the OGs and a revival of Head of the Class? They are all teachers now teaching the next set of geniuses. A bunch of your classmates are getting together at the Hollywood Show at the end of the month, you can make the offer then. Doo doo doo doo doo doo.
---
Are the new All That kids all that?
May 29th, 2019 under Alisa Reyes, Nickelodeon. [ Comments:

none

]

Ever since Nickelodeon announced that they are working on a reboot for All That, we have wanted to know who is going to fill those big shows that were worn by the original seven.
Today, we got our answer and they remind me of the OGs. Lex Lumpkin reminds me of Kel Mitchell, Gabrielle Green is a mini-Alisa Reyes, Chinguun Sergelen has Kenan Thompson's personality, Reece Caddell is vivacious like Lori Beth Denberg, Ryan Alessi is goofy like Josh Server and finally Kate Godfrey is so like Katrina Johnson.
Now that we know that they did a great job on the casting, it makes me more excited for its return on June 15th at 8:30p. What about you?
While it is nice to see Mitchell, Denberg and Server together again, what about Alisa Reyes too? She was my favorite of the lucky 7! Her and Kenan Thompson should do an episode together with the new kids on the block.
To read more about the new cast, then click here!
---