All That's Island Girl Alisa Reyes reveals what she'd take to a deserted island
February 14th, 2020 under Alisa Reyes, Nickelodeon. [ Comments:

none

]
https://www.instagram.com/p/B8ecEWppSyE/
Tomorrow night at 8:30p on Nickelodeon, All That is celebrating the 25th anniversary of their popular sketch Island Girls with Alisa Reyes and Lori Beth Denberg reprising their roles as Kiki and Fran.
In all of that time, have they gotten off of the island, or are they still there? Just like Gilligan and his five friends and the surviving passengers of Oceanic Flight 815, they are still marooned there. Will tomorrow be the night that they finally go home or will they live there forever and ever and ever and ever and ever? You will have to tune in to see.
Yesterday, I was watching someone ask someone what three things they would take to a deserted island with them, so I called Alisa and asked the Island Girl what she would bring with her?
These are her three things:
1- My iPhone for if nothing else to take selfies…until I lose power 😃
2- A good concealer with at least an SPF 50.
3- And my husband for…survival type of stuff.
Now that we know what the actress would take, what does she think the three things are that her character Kiki needs?
1- The Kitchen Sink – how else are you gonna wash your dishes silly?
2- A toaster because I don't like cold bread.
3- And last but not least a paper straw for my co-co-nut! Duh! #savetheturtles
Those are three things no one can live without when they are deserted in paradise all by themselves and one other person. The Professor would approve. His co-islander, Mary Ann, would totally give a thumbs up to Kiki's outfit.
Tomorrow, we will give All That a thumbs up for bringing back this skit to the revival series.
---
The Island Girls are back on All That this week
February 11th, 2020 under 70s, Alisa Reyes, Nickelodeon. [ Comments:

none

]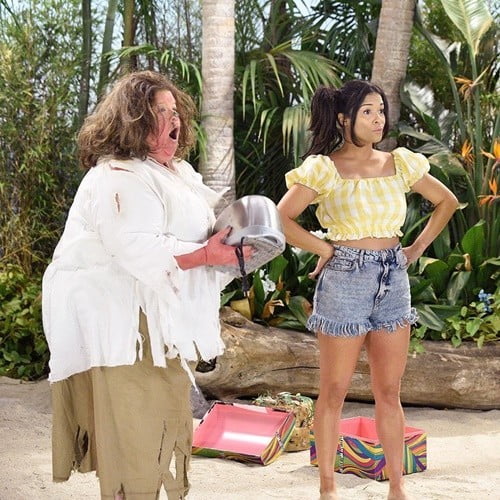 Back in 1995, All That introduced us to the Island Girls. Now, after almost 25 years, they are still stuck on that damn island.
This Saturday at 8:30p on Nickelodeon, we will find out how Fran (Lori Benth Denberg) and Kiki (Alisa Reyes) have survived all of this time there. Better yet, maybe we will discover how it is that the uptight Fran has not killed her very annoying, hyper and bubbly roommate.
There is one mystery that will not be solved, and that is how the actresses still look the same after a quarter of a century. Don't believe me. Watch the skit from the original version. To see it, then click here!
---
A Salute Your Shorts reunion!
August 21st, 2019 under Nickelodeon, Reunions. [ Comments:

none

]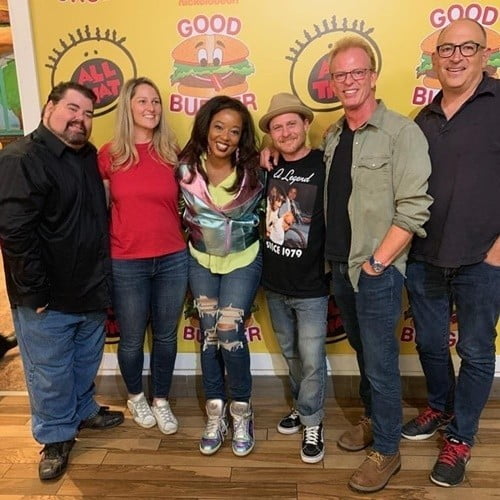 Last month, the original cast of All That reunited at the Good Burger pop up. Yesterday, it was the gang from Salute Your Shorts that got together for a hamburger.
What brought Michael Bower, Megan Berwick, Venus DeMilo Thomas, Danny Cooksey, Kirk Baily and creator Steve Slavkin together? Besides the food? Is Nickelodeon considering doing a revival of the show just like they did with All That and Are You Afraid of the Dark? As of now, they just joined their fans to play trivia all about the sitcom that aired from 1991-1992.
However, maybe after Nick's President Brian Robbins sees how good they look, he will think about going to summer camp again. Who wants to see Donkey Lips, Telly, ZZ, Budnick, UG and Dr. Kahn back at Camp Anawanna? This time they are all counselors and causing even more trouble. Why not just bring back all of SNICK while we are it?
---
All That's OGs with the new cast!
July 9th, 2019 under Alisa Reyes, Nickelodeon. [ Comments:

none

]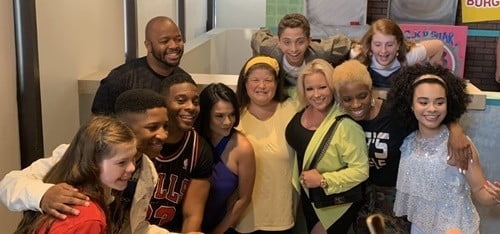 Yesterday, was the grand opening of the Good Burger pop-up and it brought together the original and new casts of All That. Seeing Kate Godfrey, Lex Lumpkin, Kel Mitchell, Alisa Reyes, Lori Beth Denberg, Katrina Johnson, Ryan Alessi, Angelique Bates, Reece Caddell, and Gabrielle Nevaeh Green together, makes me hope that they bring them all together for a skit on the show. That and Nickelodeon picks it up for a second season.
When it comes to the pop-up store, it opens up on July 10th. Make your reservations now because who doesn't want to try a real good burger?


To see larger photos of Alisa Reyes, Good Burger's #1 employee Kel Mitchell, and Gabrielle Nevaeh Green, then click here!
---
Good Burger, home of the Good Burger, is coming to life!
June 13th, 2019 under Nickelodeon. [ Comments:

none

]

Let's be honest, ever since Kenan Thompson and Kel Mitchell introduced us to Good Burger, we have all wanted to try one. Come this July, you will be able to do so if you are in Los Angeles.
Just like Saved By the Max was, the popular restaurant is open for real business. While you are there you can order a Good Burger, Good Chucks and Good Shakes. Not only that, but there will also be "themed service experiences, merchandise, games, secret sauce and more."
This is a must for any fan. So mark your calendars, tickets go on sale June 17th and doors open July 10th. Don't forget All That is back with a new generation of kids this Saturday on Nickelodeon.
UPDATE: Here is Kel Mitchell reprising his role in Good Burger on the season premiere with special guest stars the Jonas Brothers.
https://www.youtube.com/watch?v=cLZxfJrsGCs&feature=youtu.be
---