Mick Jagger is no longer singing the Ventilator Blues
April 12th, 2019 under Rolling Stones. [ Comments:

none

]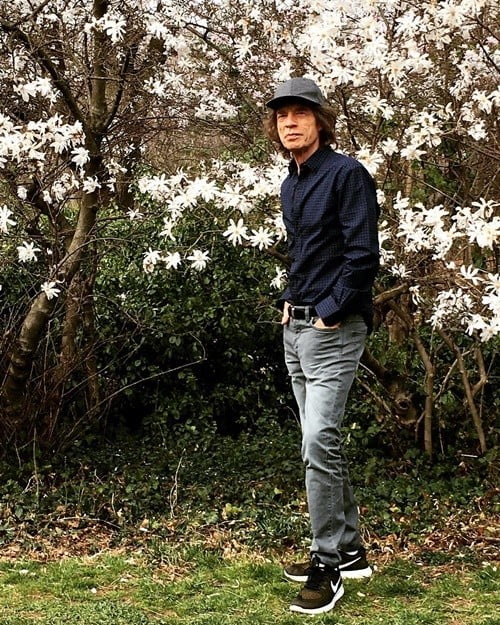 Last week, Mick Jagger underwent heart surgery to replace a valve and today his taking a walk in the park like nothing ever happened.
At this rate, I think the 75-year-old will outlive us all. Our grandkids will be going to see The Rolling Stones on their 100th tour long after we are gone.
---
'Mick Jagger has successfully undergone treatment'
April 5th, 2019 under Rolling Stones. [ Comments:

none

]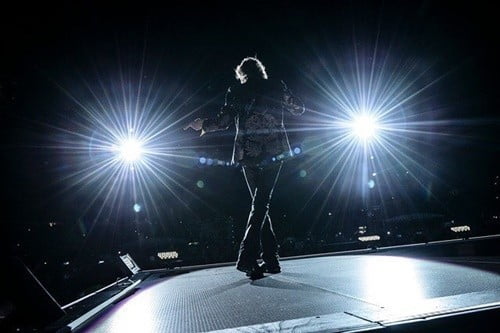 Over the weekend, Mick Jagger announced that The Rolling Stones were postponing their upcoming dates because of a mystertious health issue. By Monday there were rumors that he was going to have heart surgery to replace a valve, but neither he nor his people confirmed it.
Today, his rep released the following statement, "Mick Jagger has successfully undergone treatment. He is doing very well and is expected to make a full recovery."
The 75-year-old singer followed it up with, "Thank you everyone for all your messages of support, I'm feeling much better now and on the mend – and also a huge thank you to all the hospital staff for doing a superb job."
Glad he is on the mend and I am sure will be back on the road before we know it. Nothing can keep them down.
---
Rolling Stones postpone their North American dates cause of Mick Jagger
March 30th, 2019 under Rolling Stones. [ Comments:

none

]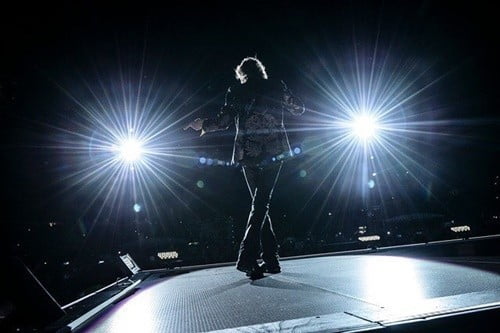 Mick Jagger announced today that The Rolling Stones are going to have to postpone their US and Canadian dates that were going to start next month.
We apologise for any inconvenience this causes those who have tickets to shows but wish to reassure fans to hold onto these existing tickets, as they will be valid for the rescheduled dates, which will be announced shortly.

Mick has been advised by doctors that he cannot go on tour at this time, as he needs medical treatment. The doctors have advised Mick that he is expected to make a complete recovery so that he can get back on stage as soon as possible.

"I'm so sorry to all our fans in America & Canada with tickets, I really hate letting you down like this. I'm devastated for having to postpone the tour but I will be working very hard to be back on the road as soon as I can. Once again, huge apologies to everyone." – Mick Jagger
The band did not say what is ailing Jagger, but let's hope he is better soon. The Stones are like roaches and they will never die. That and I have never seen them live and it is all about me.
---
Harry Styles has looks like Jagger!
September 27th, 2016 under One Direction, Rolling Stones. [ Comments:

none

]

Harry Styles posed as Mick Jagger for three of AnOther Man Magazine's covers and it remarkable how much he looks like the Rock'n'Roll legend! In a way, if you think about, One Direction is The Rolling Stones of this decade, so the covers are fitting. That is what makes him beautiful to us!
---
Keith Richards wants his daughters to snort his ashes!
September 10th, 2015 under Rolling Stones. [ Comments:

none

]

When legendary former-druggie Keith Richards was asked what is the strangest thing he ever snorted, he said it was dad. He explained that when some of his dad's ashes spilled out, he decided to put some of them up his nose and the rest around a tree.
Somehow the Mirror asked him about that and he said that when he dies, he would be happy if his daughters, Theodora and Alexandra, snorted his ashes, just like he snorted his dad. In fact, he told the paper, "I'll give them a straw."
No word how they feel about it, but I am sure they are like no, no, no and NO! Seriously, who would want to inhale a loved one? Would you?
When it comes to the Rolling Stones guitarist, they definitely don't make them like him anymore which is a sad thing.
---