Hallmark Channel releases a Christmas album
November 29th, 2019 under Christmas Music, Hallmark. [ Comments: none ]

It would not be Christmas without the holiday movies on the Hallmark Channel. Those telemovies would not be the same without music for the season. This year, they teamed up with Warner Music Nashville to release an album.
The record includes covers and original songs that were recorded for their movies. Now you can have a Hallmark Christmas 365 days a year. Because who doesn't want to enjoy the most wonderful time of the year all year round.
To see the tracklist, then click here!

---
Caption Jennifer Garner!
November 29th, 2019 under Caption the Celeb, Jennifer Garner. [ Comments: none ]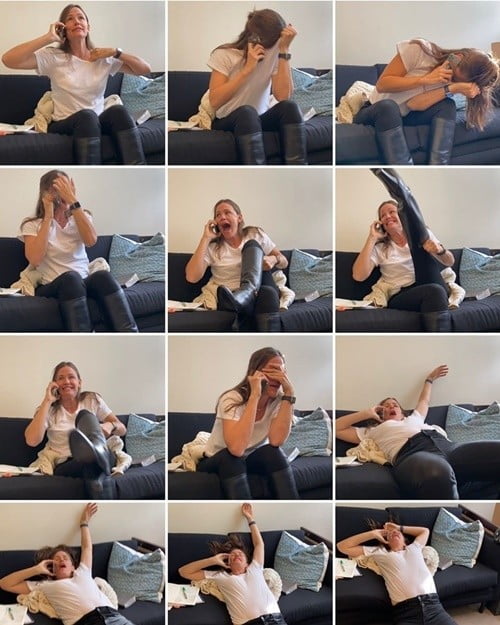 This montage of photos of Jennifer Garner has caption me written all over it, so go ahead and do it.

---
Sia was Santa Claus on Thanksgiving!
November 29th, 2019 under Admirable People. [ Comments: none ]

Christmas came early yesterday in Palm Springs thanks to Sia. The singer went to a Walmart and a T.J. Maxx there and paid for several people's bills. Just like when she wears a wig during her performances, she attempted to do it anonymously. Sia told everyone she was a lottery winner and was paying it forward. They believed her until Adri Buckles revealed who the Thanksgiving giver is.
Sia is as beautiful as her music. She made several people remember what Thanksgiving is all about. Being thankful and helping others.

---
E.T. and Elliott together again
November 29th, 2019 under Reunions. [ Comments: none ]

Back in 1982, E.T. the Extra-Terrestrial made moviegoers wish they had an alien as a friend. It was love at first sight that has lasted 37 years and has been shared with two generations of fans to adore.
Now, Elliott and E.T. have been reunited thanks to Xfinity. There have been a lot of changes since the film came out like the internet, cable television, smartphones, tablets and Elliott is all grown up with a family of his own, His kids love the extra-terrestrial as much as their dad. Maybe Steven Speilberg will love the idea and give us the full sequel we will all want. It is about time.

---
Happy Thanksgiving!
November 28th, 2019 under SOW Greetings. [ Comments: none ]

This year, more than any other, I have a lot to be thankkful for. Most importantly, I am thankful for all of you.
I am also thankful for this Thanksgiving episode of WKRP in Cincinnati. The episode that taught me that turkeys could not fly. Did you know it is based on a real radio promotion in Atlanta? They thought they would throw live turkeys out of a truck to people at a shopping mall and the shoppers could take them home their prize to cook. It went almost as badly as above, just less splat.
Take 25 minutes out of our Turkey Day to watch this show, it will make everything better. Even spending time with your politically opposite family members. Which I won't be!

---