Wonder is the first live action US film to have an ASL interpretation
February 13th, 2019 under Admirable People. [ Comments:

none

]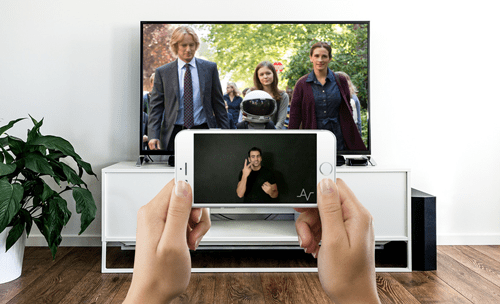 Lionsgate and Actiview teamed up with Nyle DiMarco to make Wonder the first live action movie that Deaf people can enjoy with an ASL interpreter. All they have to do is download the app, start the movie, open it up (it will sync to the film) and then watch as the Dancing with the Stars winner interprets what the actors are saying.
Lionsgate is not only doing this for this film, but they are also doing it for all four of the Hunger Game movies. It is a good start, and I hope more studios do this for their movies. Maybe someday soon they will even do it for the movies in the theaters and not just the ones on home video.
Actiview also has ways for people who are visually impaired to enjoy films too.
---
Last Man on Earth's Mel Rodriguez is looking fitter and trimmer!
January 8th, 2019 under Admirable People. [ Comments:

none

]

A few years ago, Ron Funches went from Bunches of Funches to just a bunch. As in he lost a lot of weight. The Undateable star's weight loss was such an inspiration to his Enlisted co-star that Mel Rodriguez decided to do the same.

Gone is the Todd we knew on Last Man on Earth, and hello is the man you want to be Getting On with. If he looked like that on LMoE, Tandy would have a lot more competition with the last ladies on Earth. Who am I kidding? I always had a problem choosing between him and Will Forte because both were equally as sexy!

Congrats on the weight loss, Mel! You look absolutely fantastic. Now if only we get a network to give you and Funches a buddy comedy, all would be great in the World. Actually, what would be even better, is if someone would let Last Man on Earth end on a proper note instead of an oh farts cliffhanger.
---
NYPD reunited recently engaged couple with their lost ring!
December 2nd, 2018 under Admirable People. [ Comments:

none

]

John proposed to his girlfriend Daniella in Central Park, and all was great for the newly engaged couple. After that moment of joy, they went to see the sites of NYC like Times Square. There was just one problem. The ring was too big, slipped off her finger and fell though a subway grading. They tried to retrieve it to no avial.
Someone at the NYPD saw the video and the next day ESU Det. Bucchignano & Glacken went back to get it for the couple. They were able to find out, but now the couple was lost. They posted several tweets asking for someone to identify the soon-to-be-married couple and eventually the case was closed.
The couple, who are now back in the UK, joined Twitter to say something. Danielle wrote, "Thank you again @NYPDNews we will never forget how much effort you went to. Love New York ❤️"
Say what you want about NYers, but we are always there for you when you need us.
---
Alan Alda reveals he has Parkinson's disease
July 31st, 2018 under Admirable People. [ Comments:

none

]

Alan Alda is a beloved actor best known for playing a doctor on M*A*S*H and now the doctor is a patient. Today, the 82-year-old revealed to CBS This Morning that he was diagnosed with Parkinson's disease three and a half years ago, and he is not letting that get him down.
He told them a few years ago, he started acting out his dreams while he was sleeping and he read an article that said that is a symptom of the disease, so he went to his doctor to get tested. The doctor asked him if he had any other symptoms and he said no. Which made the doctor wonder why he wanted to get tested, but he still did the test. Turns out he does have it and since then he has been living a fuller life than before he had it.
On Twitter today, he wrote, "I decided to let people know I have Parkinson's to encourage others to take action. I was Diagnosed 3 and a half years ago, but my life is full. I act, I give talks, I do my podcast, which I love. If you get a diagnosis, keep moving!" Then he added, "I take boxing lessons 3 days a week, play singles tennis twice a week, and take a mild pill – all Dr. recommended. I even juggle a little. And I'm not entering dementia. I'm no more demented than I was before. Maybe I should rephrase that. Really, I'm good."
How many 28-year-olds are that active, let alone people that are the reverse age? But it is his positive attitude and early diagnosis that is helping to slow his progression down.
By getting his story out there, it might help someone else. That is part of the reason why he revealed it today. That and to promote his podcast Clear & Vivid on Apple.
Alda is not the first legend this year to reveal that he has it, Neil Diamond also revealed in January, that he was also diagnosed with it.
---
This Sign Language Interpreter really knows how to rock!
July 18th, 2018 under Admirable People. [ Comments:

none

]

A few weeks ago, Freddie Ibarra went to the Slayer Final Tour in Austin, Texas but he was more mesmerized by Sign Language Interpreter than the band, Lamb of Gd, that was on stage. That is because Lindsay Rothschild-Cross really rocked out to the Death Metal band as she was translating the music to the deaf fans in the audience.
The high school American Sign Language teacher told GMA why she was so passionate as she signed, "The key is you have to impersonate the singer. The meaning of the song is a lot of anger. I just took on that feeling of someone that has hurt me before."
It is because of that that the hearing impaired people in the audience were not only able to feel the vibration of the music, they were also able to feel the meaning of it through her interpretation. To be honest, she was able to convey their message to me better than the band themselves. I speak a little Sign, and I can tell you is freaking awesome! She needs to travel with musicians because she is really amazing at translating the vibe of the music.
---