Kevin Hart went as a teenage The Rock for Halloween
October 30th, 2019 under Kevin Hart, The Rock. [ Comments:

none

]

Tomorrow is Halloween! However, we know today what Kevin Hart is going as today. He dressed up as The Rock when he was a teenager and wore a fanny pack. You know what, he looks like a mini version of DJ. Thus, it makes sense that all he got was a bite-size candy bar.
Not only is this video a treat, but it will also be one when we watch the king-sized trailer for Jumanji: The Next Level on Halloween. Am I the only one who can't wait to see the sequel?
UPDATE: To see the trailer, then click here!
---
BTWF: Adam Scott in Hellraiser IV: Bloodline
October 30th, 2019 under Before They Were Famous. [ Comments:

none

]

Before Adam Scott was killed by Krampus, he witnessed the birth of Hellraiser in Hellraiser IV: Bloodline. He looks the same now as he did when he was 22 in that 1996 movie.
---
Lego Master is hosting Lego Masters
October 30th, 2019 under Will Arnett. [ Comments:

none

]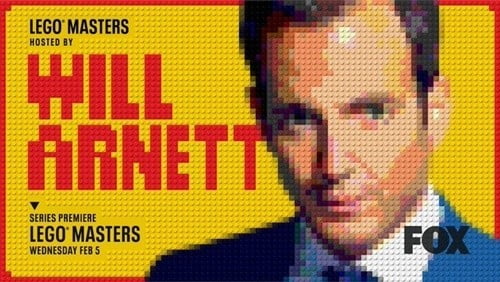 On February 5th, Lego enthusiasts are going to compete on Lego Masters and today Fox announced who will be hosting the competition show. It is Batman. As in Lego Batman aka Will Arnett. The plastic superhero had this to say about his new job, "It gives me piece of mind to be able to continue building my relationship with The LEGO Group."
What exactly is the game show? It will bring imagination, design and creativity to life when teams of LEGO enthusiasts go head-to-head, with infinite possibilities and an unlimited supply of LEGO bricks. Teams of two will compete against each other in ambitious brick-building challenges to be crowned the country's most talented amateur LEGO builders. In each episode, the competing pairs who impress the judges the most will progress to the next round, until the finale.
As someone who knows people who are addicted to Lego, I cannot wait to see what they do on the game show. It is incredible what they can do with those little plastic blocks that hurt to step on.
You know what would be awesome? Is if each week, the eliminated pair had to walk over a Lego carpet as they bid adieu.
---
Ed Norton goes all Fight Club on James Corden
October 30th, 2019 under Ed Norton, James Corden. [ Comments:

none

]

James Corden hung out with Ed Norton and the CBS late night host wanted to live out a dream. He wanted to know what it was like to be in Fight Club. Therefore yesterday on The Late Late Show, Corden took Norton to a fight club like place and wanted to fight. There was one problem, the star did not want to do it.
Thus the Cats star started bashing his guest's movies, hoping that would rile him up. Eventually, Norton went all The Narrator and punched Corden. There was no fight. Just two hits, the actor hitting the host and the host hitting the floor. Living out a dream for other people.
---
The Doctors debate if Kanye West ate his own ear wax
October 30th, 2019 under The Doctors. [ Comments:

none

]

The Doctors deal with a lot of medical issues on their talk show and they recently took up the case of if Kanye West ate his own ear wax in a viral video. Dr. Andrew P. Ordon thinks he had something else in his hand and ate that. However, I think he ate it.
Then when the debate was over they discussed if it is healthy to eat the stuff that comes out of your ears. It is. Next up, was talking about the color of it. The lighter the better. If it is greenish or black, it is time to go to the doctor and not The Doctors.
After watching that video, how many of you stuck your finger in your ear to see what color your wax is? I will start it and I say I did.
---