BTWF ads: Corey Feldman for McDonald's
May 12th, 2016 under Before They Were Famous, The Two Coreys. [ Comments:

none

]

Before Corey Feldman had a horrible childhood in Stand By Me, he had the perfect one thanks to McDonald's. How awwwwdorable was the 4 year old in that 1975 ad?
---
BTWF ads: Corey Feldman for Heinz
August 20th, 2015 under Before They Were Famous, The Two Coreys. [ Comments:

none

]

Before Corey Feldman was smooth with the ladies, he noticed how smoothly Heinz ketchup flowed out of the bottle. He looks the same now as he did when he was 8 years old in that 1979 commercial.
---
Yesterday's Celebrity Wife Swap was the most bizarre one yet
August 20th, 2015 under The Two Coreys. [ Comments:

none

]

Yesterday on Celebrity Wife Swap, Tommy Davidson's fiancee swapped with Corey Feldman's Maingel. The fact that you just read Maingel has you going what? That is just the beginning of his madness. Feldman has 3 women living with him in his Feldmansion and they are part of his Angel program. They do what he says which pretty much mean walking around in lingerie or bathing suits, working out in front of him and eating mostly fruit. They are happy with, but I just find it so bizarre. I just don't know what to make of it. Just watch the episode and see if you can make sense of it.
I would say more, but I sincerely don't know what to say.
---
I guess Corey Feldman is not a fan of Weird Al Yankovic?
October 28th, 2013 under The Two Coreys, Weird Al Yankovic. [ Comments:

1

]

Weird Al Yankovic Instagrammed this photo of Corey Feldman punching him in the gut and I guess the singer won't be having a dream a little dream about the surviving Corey. In fact, I think he will be having nightmares instead because that fake punch looked like it hurt. Ouch!
Oh well, hopefully Weird Al got over the pain as he soon as he saw Larry Storch. Where was the 90 year old F-Troop star when he really needed him? BTW doesn't Corporal Randolph Agarn look amazing?
---
Two Lost Boys found together!
December 19th, 2012 under Kiefer Sutherland, The Two Coreys. [ Comments:

1

]

Over a quarter of a century ago Corey Feldman and Kiefer Sutherland filmed a little movie together called Stand By Me, and the latter tormented the first one. Then shortly afterwards they did another movie together called The Lost Boys and the same thing happened, but this time the first guy got a bigger stake in their fight. So it should be no surprise that since those two movies, the two men have not be seen together. That is until yesterday when Ace Merrill and Edgar Frog ran into each other. According to Teddy Duchamp "Lost Boys reunited: after 25 yrs I ran n2 Keifer 2nite! Making this the 1st and only foto ever taken of us off screen!" And then he posted the second picture.
I think these two should meet up more often because the 41 year old Feldman and the 45 year old Sutherland look just like they did when they made those two cult classics back in the mid-80's! Seriously wouldn't you like to see them work together again? I know I would!
---
Corey Feldman and his Ho, Ho, Hos!
December 17th, 2012 under The Two Coreys. [ Comments:

none

]

Corey Feldman dressed as Santa Claus for the Hark the Angels Christmas party and I have no words. If you do, please let me know what they are!
---
Mirror, Mirror on the wall, Corey Feldman is the worst dressed of them all!
December 5th, 2012 under The Two Coreys. [ Comments:

none

]

WENN.com
Corey Feldman went to see Aerosmith last night in a black fur hat, an extremely low cut frilly shirt revealing his chest and burnt orange jeans. And the ugliest part of that fugly outfit is the cigarette dangling from his mouth. Corey take off the shades because in that get up your future is not bright enough to warrant them.
---
Corey Feldman's wish for Corey Haim
June 1st, 2012 under The Two Coreys. [ Comments:

4

]

It has been two years since Corey Haim died and his fans are trying to get him a star on the Hollywood Walk of Fame. One of his biggest fans posted a message on Twitter joining in on the cause. Corey Feldman Tweeted, "FYI: Corey and I were writing an EP on The 2 Corey's where r goal was 2 get a star on HWOF! That was 2 b a competition… now its his time!" Personally I think it would be cool if The Two Coreys shared a star, so this way they both won.
It is a shame that that episode never came about, it sounds like it would've been a good one.
If you think that Corey Haim should get a star on the Hollywood Walk of Fame, then you can add your name to the Online Petition here. If you would like to donate to the cause, you can do so here.
---
I wonder what Corey Feldman's fan is trying to offer here?
January 25th, 2012 under The Two Coreys. [ Comments:

none

]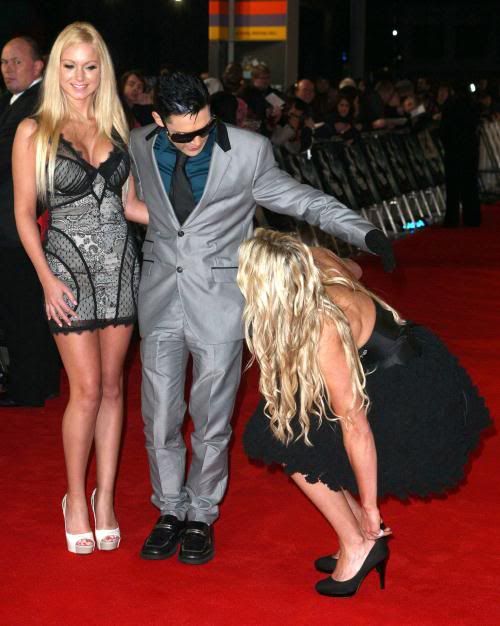 Fame Pictures
As excited as Corey Feldman was to attend the premiere of The Woman in Black, a woman in black was even more excited to see him which I am sure in turn made him even more excited. I guess you can say her Dream a Little Dream is coming true?
---
Corey Feldman is blinding
June 26th, 2011 under The Two Coreys. [ Comments:

none

]

WireImage
Corey Feldman attended the 6th annual Kandyland event at The Playboy Mansion and hopefully one of those bunnies will snatch him up and show him how to dress. Seriously that has to be one of the ugliest outfits I have ever seen. Did he get the fabric for the suit from a '70s motel that is going out of business? It isn't only the suit that is beyond hideous, but WTF is up with that furry hat. Just fug-and-ly.
---