Emily Osment is getting married!
June 26th, 2023 under Young and Hungry. [ Comments: none ]
Emily Osment's characters on Young & Hungry and Young Sheldon never seems to be able to walk down the aisle. Hopefully, she will have better luck in real life.
Over the weekend, the actress' boyfriend, Jack Anthony, proposed to her and she said yes!
Actually she said, "This magical, beautiful, kaleidoscope of a person asked me to marry him this weekend. I did not know life could be this sweet or I could ever be this deliriously happy. I am so proud of the life we have built together and the people we have become over the last few years. This love is so big and so uniquely ours and I know it can do anything. I am so honored to stand next to you every day. I love you, Jack."
Congrats to the betrothed couple!

---
Marla Gibbs shares an image from History of the World: Part II
September 16th, 2022 under Hulu, Marla Gibbs, Mel Brooks, Wanda Sykes, Young and Hungry. [ Comments: none ]
About a year ago, Hulu announced that they were teaming up with Mel Brooks to finally give us History of the World: Part II. Since then, we have not heard a lot about it.
However, this week, Marla Gibbs shared a photo on the set with Wanda Sykes, who is a writer on the show, and Kym Whitley. The three women and a mystery actor (no one I know could place him) are telling Shirley Chisholm's story. She is the first African-American woman Congressperson and the first African-American to run for President in a majority party.
There is still no word when the series will debut. But this image makes me even more excited about it. Do you feel the same way?

---
Jonathan Sadowski gives us a huge reason to watch Sex/Life
May 9th, 2022 under Young and Hungry. [ Comments: none ]
Remember when we all tuned in to Sex/Life's third episode at 19:40 to see Adam Demos' colossal schlong? Well, now we need a reason to watch season 2 of the Netflix.
Today, Jonathan Sadowski gave us that reason when he shared a photo of himself naked and wrote, "Can't wait for you all to see season 2 of @sexlife… we are bringing the HEAT!"
And now I can't wait, and I am all types of in heat. So, I am off to take a cold shower. So now we know the actor was the hungry in Young and Hungry because I am craving a taste of him.
So are you now tempted to watch the show after this tempting photo?

---
Wendy Williams will not be back in January
December 8th, 2021 under Sherri Shepherd, Wendy Williams, Young and Hungry. [ Comments: 1 ]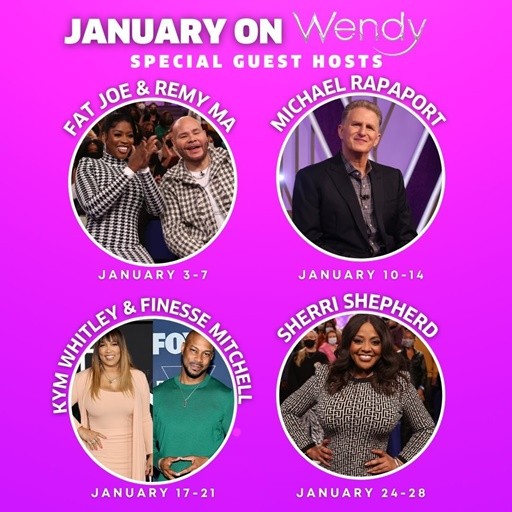 Wendy Williams/Instagram
Wendy Williams has not done her show since the season started in September due to her thyroid condition, and today we found out that she will not be back for all of January.
The Wendy Willams Show announced who will be sitting on her purple throne next month. Fat Joe and Remy Ma start it off, followed by Michael Rapaport for the second week, then Kym Whitley and Finesse Mitchell for the third, and finally Sherri Shepherd to close out the month.
At this point, I don't think they are going to renew Williams' contract that is up in 2022. I mean, she has missed more of the season than she could do. And that is saying if, which I doubt she will, returns in February. My gut says she won't be back at all. What do you think?

---
Elena of Avalor is coming to an end on August 23rd
July 21st, 2020 under Disney Kids, Jenna Ortega, Young and Hungry. [ Comments: none ]

A few years ago, I interviewed Aimee Carrero on the set of Young & Hungry, and she told me she was voicing a Disney's first Latinx Princess Elena of Avalor. As soon as she told me about it, I told my friends, so that my niece would watch it. Not only did she fall in love with the Princess, so did a lot of other little girls. She was an inspiration to all of them.
Now her journey is coming to an end on August 23rd at 7p. Disney Junior is giving her a primetime special as her sendoff. That is when we will see the Princess become a Queen in Elena of Avalor: Coronation Day. Before she gets the jeweled crown put on her head, we can watch her final days as a Princess starting this Sunday and every Sunday leading up the series finale at 5p.
The special will include all of the series regulars, Jenna Ortega, Chris Parnell, Yvette Nicole Brown, Carlos Alazraqui, Emiliano Díez, Julia Vera, Christian Lanz, Jillian Rose Reed, Joseph Haro, Jorge Diaz, Keith Ferguson, and Joe Nunez. They will be joined by guest stars Constance Marie, Lou Diamond Phillips, Jaime Camil, Justina Machado, Gina Rodriguez, Mario Lopez, Rachel Brosnahan, Tony Shalhoub, Jamie-Lynn Sigler, John Leguizamo, Cheech Marin, Whoopi Goldberg, Cloris Leachman, Chrissie Fit, Tyler Posey, Melissa Fumero, Stephanie Beatriz, Kether Donohue, Nestor Carbonell, Andrea Navedo, Eden Espinosa, Ana Ortiz, Gina Torres, Gaby Moreno, Jenny Slate, Mark Hamill, Fred Armisen, Andy Garcia, and Patrick Warburton. That is one star-studded goodbye party.
It is sad that her time is coming to an end, but at least she leaves a Queen, Disney's first Latinx Queen. Not bad for a girl from Avalor.

---