Sherri Shepherd loves showing off her new body
March 11th, 2019 under Sherri Shepherd. [ Comments:

none

]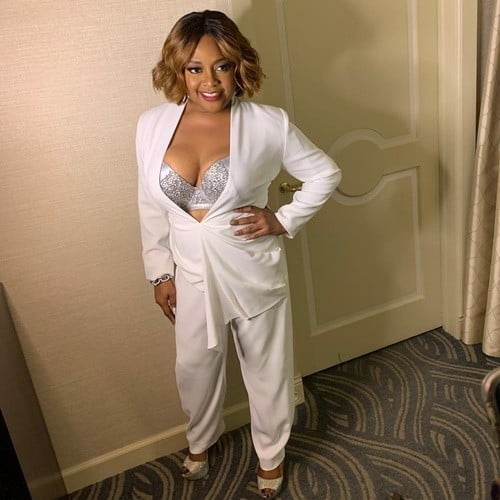 Sherri Shepherd recently lost some weight, and she loves showing off her weightloss. Here she is wearing a white pants suit with a silver bra looking fabulous. What do you think?
---
Sherri Shepherd knows how to get VIP treatment, say she's Octavia Spencer
February 26th, 2019 under Sherri Shepherd. [ Comments:

5

]

Let's be honest, we have all confused Sherri Shepherd for Octavia Spencer at least once because they look a lot alike. Well, the Trial & Error is not stupid and she knows that using the Oscar winner's name is better than using her own. Especially the day after the Oscars.
Therefore, when she was at the airport in New Orleans yesterday, she got some help from The Help star to get into Delta's VIP lounge. As in she used her name to be granted entry and enjoy the view. It worked, but then everyone wanted to know when she was going to win her next Academy Award.
Which should go to Shepherd for impersonating another celebrity so perfectly.
---
Sherri Shepherd shows off her bathing suit body
January 21st, 2019 under Sherri Shepherd. [ Comments:

none

]

Sherri Shepherd recently lost a lot of weight by giving up sugar and it gave the actress enough confidence to show off her beach bod for Swimsuits for All. She modeled the black one-piece in Shoal Bay Village, Anguilla and the view is incredible.

Se described the experience as "This #photoshoot was truly a dream come true and to you ladies over 40… please remember nothing is impossible if you focus and commit to the work♥️ God has not forgotten you. He sees those desires and dreams you have hidden deep in your #heart. I hope my #journey inspires you to commit to your health and face those #fears."

Hopefully, her experience with getting healthy will inspire other people to do the same. That is a great thing to be a role model for. Don't you agree?
---
Sherri Shepherd lost 25 pounds!
December 3rd, 2018 under Sherri Shepherd. [ Comments:

2

]

Sherri Shepherd has always been a little rounder than most, but that was then. The actress debuted her slimmer figure this weekend and she looks fantastic. Not only that she feels that way too.

How did she do it? She gave up sugar in March. Since then she says, "Can't begin to describe how #amazing I feel. Energy, clarity of thought and mind. Focused patient w my
son. Hearing from God a lot more clearly." Then she added, "This is not a fad- it's my life that is at stake,-It feels so good to feel #good."

Good for her. Glad she found a healthy way to take off the extra pounds.
---
Marlon brings some hilarious sisterly love, The Gong Show should be gonged
June 21st, 2018 under Sherri Shepherd, Wayans Brothers. [ Comments:

none

]

Tonight at 9p on NBC, Marlon's sisters come for a visit and someone needs to give Kym Whitley and Sherri Shepherd their own show ASAP.
Marlon loves his sisters, but there is something he has not told them. He has hidden from them the fact that he and Ashley (Essence Atkins) are divorced. Therefore, he asks his ex-wife to pretend like they are still married. How will that go over? Let's just say the 9:30p episode has the former couple going to divorce counseling.
Back to Whitley and Shepherd, these two play off of each other so well, someone needs to give them a sitcom where they can just be fabulously funny together.

What is not fabulously funny is The Gong Show that is back on ABC tonight at 8p. I still cannot get over that they have Mike Meyers in a Robin Williams clown suit as their host. I mean since the cat is out of the bag, why not just let Mike Meyers be Mike Meyers? That and he is not funny like a cheeky monkey as the host.
If I could get past that, then maybe the judges would have me laughing. Not tonight. While I adore Will Arnett, the flat Armisen and unfunny Rita Wilson make me want to gong the gong.
When it comes to the acts, it starts out with a contestant losing all of his clothes. And I do mean all. I thought OK, this is off to a good start. Mostly because I have liked this couple since I saw them on America's Got Talent. But then it gets kind of boring. The problem is that an hour is way too long for this show. After a while, it is like I cannot watch any more of this.
That is why the original worked. It was just 30 minutes and Chuck Berry was as wacky as the contestants. Meyers makes it too much about his character and not enough the contestants. I want to like this revival but I cannot. Maybe you will and I hope you do. But I suggest watching Marlon instead at 9p over on NBC.
---