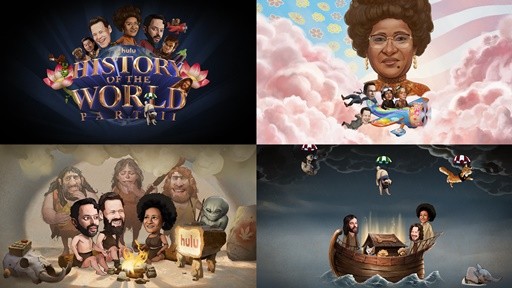 Are you sad that History of the World: Part II is over, and we have to wait until Hulu decides to greenlight History of the World Part III as they teased? Then I have some good news for you. They came up with an interactive game we can play until Jews in Space is a real thing. Although, MTG says that Jews are already up there shooting lasers down on us.
Anyways, back to the game. In the digital gaming experience, fans encounter the show's colorful characters voiced by the star-studded cast with Ike Barinholtz, Nick Kroll, Wanda Sykes, and of course, the formidable Mel Brooks. The show's mastermind is no stranger to video games, as Brooks has been involved with several previous gaming projects.
The interactive website version of the History of the World: Part II gaming experience embraces the crass humor and absurd silliness of the show (and makes no apologies) for an unforgettable, unique experience with plenty of memorable features like the fact that the world didn't begin with a 'big bang' – it was actually 'The Big Burp.' Players will feel like they're part of the show as they experience various historical recreations, from Amelia Earhart to Noah's Dog Park, and more.
The game will be available to download for free next week on Xbox until March 31st and for your desktop and mobile phone until July 6th. I have already played a few rounds, and I am loving it. Even though my cat hates Noah's Dog Park as much as she hated the bit in the series.

---
So, when I adopted my cat, I was told she was a Turkish Van. I knew nothing about the breed, so I looked it up online. I found out that her breed was on Noah's Ark. Therefore, she makes me watch all the movies and TV shows about those 40 days and 40 nights on the ark.
Therefore, we got all excited when we saw that Seth Rogen was playing Noah in History of the World: Part 2 on Hulu. And then we watched the sketch, which is one of the two episodes that started streaming today.
To say she got all catty with my TV set would be an understatement. That is because Rogen's Noah only brought dogs on the ark, and he got all mad when his daughter-in-law said she was a cat person. My cat didn't find that funny and told me I had to write a negative review about the episodes because she is pissed. And then she pissed on my bed. I was like, what did I do?
So here you have it, my cat is not a fan of History of the World: Part 2. And if she tells me to do something, I have to do it.
OK! She is in the other room. I thought that bit was hysterical, along with what they did during Alexander Graham Bell's first phone call, Jack Black singing as Stallon, Sigmund Freud seeing a patient, how Jesus met Mary Magdalene, and finally, the original pyramid scheme.
But don't tell my cat I said that, or I will be history to the world.

---
If you are like me and watched History of the World: Part 1 when you were a kid, then you have anxiously been waiting for the sequel ever since then. Well, thanks to Hulu, it is finally here as a 4-day, 8-hour event starting today! Each day, we will get two new episodes until the epic conclusion on Thursday.
The first episode starts off with Mel Brooks, the man who has been around since Adam and Eve. Now you know why he gave such an accurate account of history in his 1981 movie.
And on that note, he told the current producers that they could do what they wanted. However, no repeats. And they broke that rule, but I am not allowed to tell you how they did.
Anyways, after we get to see Brooks looking as sexy as he did in 1981, it is time to watch history come alive! They start it off with the Civil War and an appearance by the great President Abraham Lincoln! This is one of the sketches that will make more than one appearance during the event.
From there, we go to the Kama Sutra, being pitched as a book. Did you know it wasn't only a sex book?
Next up, we go to Russia to meet the Romanovs before they were killed off. The Tsar's daughter Anastasia got away during the mass shooting of her family, and we finally find out what happened to her as her story goes on for a few segments.
If that is not hot enough, it is time for fire to be created. But it is not as on fire as William Shakespeare's writers' room.
And now it is time for episode 2, and what a day it is. It is D-Day, and it is time for bathroom humor.
They will go there with Jesus because why not! No one is safe in this History of the World.
Before we go for the night, we get to meet Shirley Chisholm, whose life is like a sitcom as they turn the first African American woman who runs for President's life into one. And it works.
Everything works! Well, except for a bit they do tomorrow, but I will tell you about that then.
Seriously, good things come to those who wait, and something really good came from waiting.
Especially for the cast, which includes Wanda Sykes, Nick Kroll, Ike Barinholtz, Pamela Adlon, Tim Baltz, Zazie Beetz, Jillian Bell, Quinta Brunson, Dove Cameron, D'Arcy Carden, Parvesh Cheena, Ronny Chieng, Rob Corddry, Danny DeVito, David Duchovny, Hannah Einbinder, Jay Ellis, Josh Gad, Kimiko Glenn, Brandon Kyle Goodman, Jake Johnson, Richard Kind, Johnny Knoxville, Lauren Lapkus, Jenifer Lewis, Poppy Liu, Joe Lo Truglio, Jason Mantzoukas, Ken Marino, Jack McBrayer, Zahn McClarnon, Charles Melton, Kumail Nanjiani, Brock O'Hurn, Andrew Rannells, Emily Ratajkowski, Sam Richardson, Nick Robinson, Seth Rogen, Sarah Silverman, Timothy Simons, J.B. Smoove, David Wain, Taika Waititi, Reggie Watts, and Tyler James Williams. I am sure they all grew up watching the movie, and now they get to appear in the hilarious sequel.
If you are going to go enormous, then you have to have a cast that is as big as the biggest dinosaur.

---