Wendy Williams files for divorce
April 11th, 2019 under Wendy Williams. [ Comments:

none

]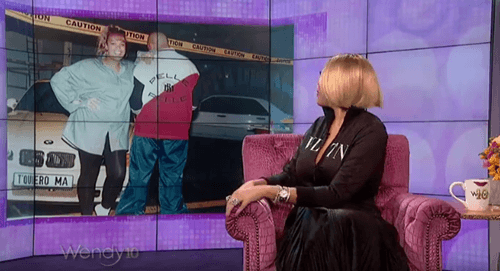 After months (or years) of rumors that Wendy Williams' husband is cheating on her, she filed for divorce from him this morning. According to Page Six, he was handed the papers 6:30a.
She and Kevin Hunter had been together for nearly 22 years and have a 19-year-old son together.
The daytime talk show host was very open that even though their marriage was not perfect, they worked hard to stay married. I guess she was sick of working on it, especially since it is rumored he recently had a child with his mistress. Plus, I am sure she has become a lot stronger now that she has spent several weeks away from him in sober living.
No word if she will take another break from her show, but I would not be surprised if she did.
---
Wendy Williams says she's not frail
April 8th, 2019 under Wendy Williams. [ Comments:

none

]

Wendy Williams was photographed over the weekend wearing a robe, sitting in a cart at a Walmart in Ellenville, New York at 4a, so people were like she looks frail. Today, on her show she explained what happened.
Some friends from her Sober Living House went to upstate NY to do some real camping. In the middle of the night, she went to Walmart and someone recognized her. He asked to take a photo and she decided to pretend like she was shopping. Well, the guy was not a photographer and the photos came out making her look like crap. Nothing more to it.
There is the story in a nutshell. It took her over 7 minutes to tell us all of that. I would rather be camping than listen to that again. And I hate camping.
---
Wendy Williams returns to her show and talks about her marriage
March 4th, 2019 under Wendy Williams. [ Comments:

none

]

For the first time in 2019, Wendy Williams hosted her daytime talk show. The host took some off time to deal with her thyroid issues. Although, there was speculation she did it to save her marriage. The speculation was over rumors that her husband, Kevin Hunter, was having an affair.
Today, she dedicated part of her Hot Topics to herself. She told the audience that as long as her wedding ring is on, don't ask her about her marriage. She says that being married is not easy and that she is still very much in love with the man she has been with for 28 years.
There you have it, her marriage is fine, so you know it. That is how she would out it, right?
---
Wendy Williams returns to her show in March
February 21st, 2019 under Wendy Williams. [ Comments:

none

]

Wendy Williams has not hosted her daily show in 2019 yet due to health issues, but that is about the change. They announced today that her first show back will be March 4th. Until then the talk show will be in repeats.
Debmar-Mercury, who produces the show said, "We so appreciate all of the guest hosts and panelists who filled in for Wendy during this time. These people are, and always will be, true family to the show. And we want to thank all of the loyal and supportive fans who have been with us for 10 years now."
I wonder if she decided to come because there have been a lot of rumors that her staff has been much happier without her there. That and people have been wondering if the network was planning on replacing her.
---
Jerry O'Connell does a mean Cardi B!
February 16th, 2019 under Jerry O'Connell/Rebecca Romijn, Wendy Williams. [ Comments:

none

]

Jerry O'Connell filled in for Wendy William this Thursday and Friday. That was not the only woman whose shoes he filled, he also put his feet up to his head in Cardi B. Who knew a boy from Manhattan could be so good at doing a girl from The Bronx. And I would know because I am from there.
BTW Why doesn't someone give him a daytime talk show already? He is natural.
---