Bloodshot looks like it will be indestructible at the box office
October 21st, 2019 under Sam Heughan, Vin Diesel. [ Comments: none ]

The first trailer is out for Bloodshot. The movie stars Vin Diesel as a soldier who is turned into an indestructible machine. While that has been done before, this one has a twist. They are manipulating his memories to have him kill their targets. What will he do when he finds that out? That is what we will find out on February 21st, when the movie based on Kevin VanHook, Don Perlin and Bob Layton's popular comic book, comes out.
Dick Flicks are not normally my thing, but I want to see it because of how f*cked up it is that mess with his memories. That and it really looks bad a$$.

---
Dr. Ruth Westheimer is still a man magnet!
March 15th, 2019 under Dr Ruth, Vin Diesel. [ Comments: none ]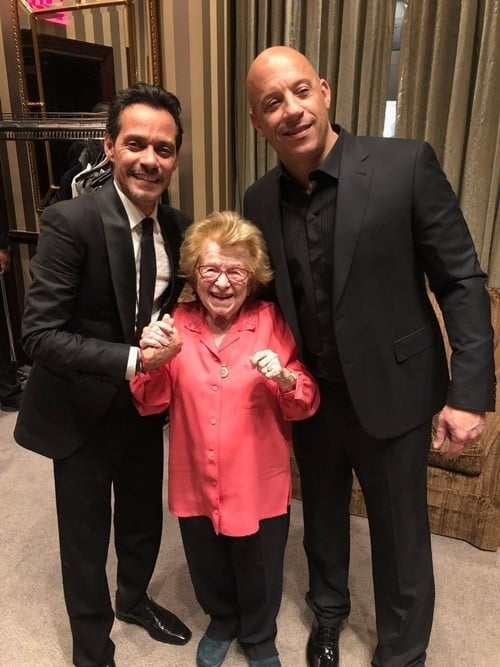 Dr. Ruth Westheimer might be 90, but that does not mean she is too old to go to a concert. Yesterday, the sex Guru went to see Marc Anthony sing and she shared a sweet story from the performance. She said, "Some nice gentleman helped me stand on a chair so I got a great view." That was the first man to be attracted to her.
After the show, she posed in a photo with the singer and Vin Diesel. Two men, who were also drawn to her. Can you blame them, she is the most vibrant 90-year-old out there. Who doesn't love the woman who knows all about lovemaking and doesn't mind sharing her vast knowledge on the topic? I am sure she gave them some tips about how to use their tips.

---
Imagine The Fast and The Furious with Timothy Olyphant?
March 29th, 2018 under Andy Cohen, Drew Barrymore, Timothy Olyphant, Vin Diesel. [ Comments: 1 ]

Did you know that Vin Diesel was not the original choice for Dominic Toretto in The Fast and the Furious? Originally, they wanted Timothy Olyphant to play the lead role, but he turned it down.
Yesterday, when he was on Watch What Happens Live, a caller wanted to know if he regretted turning down the part. But first Andy Cohen wanted to know why he decided not to do the movie. The actor said, "I just thought well this will just be stupid." Then he added, "And I thought that no one is going to want to see this movie eight or nine different times. I mean by the third or fourth sequel people are definitely going to get bored of it." As we know, he was wrong because they have released eight movies with a spinoff and ninth movie in the works. Hey, we all make mistakes, just some make much costlier mistake.
Talking about turning down roles, did you know Drew Barrymore, Olyphant's Santa Clarita costar, turned down Showgirls. Although she claims it was a mutual decision between her and the director Paul Verhoeven. That turned out to be a smart decision on her part.
The best part of them turning down those movies, is we get to watch them Santa Clarita Diet that starts streaming its second season tonight on Netflix.

---
Watch Vin Diesel get rejected three times during awkward interview
December 23rd, 2016 under Vin Diesel. [ Comments: none ]

Vin Diesel was being interviewed by Carol Moreira in Sao Paulo about his movie XXX, and their chat get very XXX. Well at least for him it did because he declared his love for her not once, not twice, but three times. She on the other hand very politely tried to turn him down by trying to continue the interview. He didn't get the hint, and now you have to wonder if his baby mama will too?

---
Is Vin Diesel threatening to bad mouth The Rock?
August 11th, 2016 under The Rock, Vin Diesel. [ Comments: none ]

The other night, The Rock wrote an Instagram post basically saying that one of his male co-stars on Fast and Furious 8 was a candy a$$ for being unprofessional on the set. But he did not say who it was. Within hours several sources started saying that it was Vin Diesel, but the two actors didn't confirm or deny it.
That all changed last night, when Diesel posted an Instagram video saying, "So give me a second and I will tell you everything. Everything!" Is that his way of confirming it was him who pissed off The Rock?
If so, he would be making a huge mistake. DJ is one of the most loved actors in Hollywood and the Highest Paid one for good reason. He works like a dog and never complains. He wakes up early to work out, play with his dog, change his daughter's diapers, star and produce in movies and television shows and produce ones he is not even in. If that is not enough, he always makes time for his fans and even visits them in the hospital without fan fare. How can you not choose his side?
I have remained silent on this because I knew whatever happened had to be really bad to piss of Dwayne Johnson that much. No one messes with him! DJ and I bleed burnt orange, Biscayne green and white, and no one hurts the University of Miami family.
Vin needs to take the high road because he is in a losing battle, no matter how many Facebook followers he has.
As you can tell I am #TeamRock, whose team are you on?

---