BTWF: Sam Heughan in A Very British Sex Scandal
February 13th, 2020 under Before They Were Famous, Sam Heughan. [ Comments:

none

]

Before Sam Heughan was going back and forth in time on Outlander, he was stuck in the 1950s in A Very British Sex Scandal. That era is a good look for the then 26-year-old actor in that 2007 movie.
---
Sam Heughan cleans up well
February 13th, 2020 under Sam Heughan. [ Comments:

3

]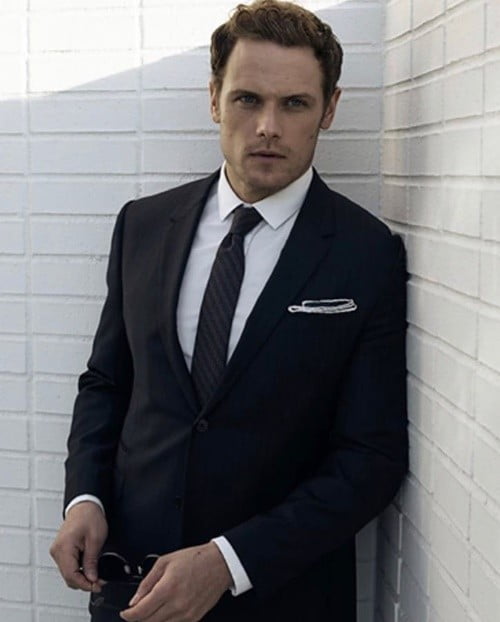 We are so used to seeing Sam Heughan as Jamie on Outlander that we are not used to seeing him all showered in a suit. However, he suited up for his interview with Nobleman Magazine, and he is looking very noble.
While he looks so dashing all cleaned up, I think, we can all agree, he looks handsome no matter what. I even can't wait to see him bloodied in Bloodshot exactly a month from now.
---
Sam Heughan wants you to know that fan did not touch his Outlanders!
January 6th, 2020 under Sam Heughan. [ Comments:

none

]
https://twitter.com/i/status/1213612026989121536
On Saturday, Sam Heughan took part in a fan event at Wizard World, and his fans are upset about something that happened. A woman, who was on the stage, appeared to grab the Outlander star's butt. There was a lot of outrage on social media. However, the actor came to her defense.
He told his concerned fans, "It was a joke. We were having fun and she made a gesture, in jest. Nothing more. X." To see what really happened, then click here!
---
Bloodshot looks like it will be indestructible at the box office
October 21st, 2019 under Sam Heughan, Vin Diesel. [ Comments:

none

]

The first trailer is out for Bloodshot. The movie stars Vin Diesel as a soldier who is turned into an indestructible machine. While that has been done before, this one has a twist. They are manipulating his memories to have him kill their targets. What will he do when he finds that out? That is what we will find out on February 21st, when the movie based on Kevin VanHook, Don Perlin and Bob Layton's popular comic book, comes out.
Dick Flicks are not normally my thing, but I want to see it because of how f*cked up it is that mess with his memories. That and it really looks bad a$$.
---
Sam Heughan doesn't need a shirt!
September 1st, 2018 under Sam Heughan. [ Comments:

none

]

There are many reasons to watch Outlander and Netflix Canada gave us the best one. Seeing Sam Heughan without a shirt. They put together a video of several of his shirtless scenes and guess how I am spending the weekend? Rewatching Outlander again!
Which will make even more excited for the return of the Starz drama on November 4th.
---