Dr. Ruth Westheimer's advice to men who question their penis size
June 8th, 2023 under Dr Ruth. [ Comments: none ]
Let's be honest. We all know men who are self-conscious about the size of their penis. So much so that they are willing to take dangerous pills to make it bigger.
Well, Dr. Ruth Westheimer has a message for them. "I would urge all men who are displeased with the size of their penis to give themselves an erection and then look in a mirror." the Sex Genius wrote. "Looking down at your penis makes it look smaller. Look at it from the point of view of a partner, and you might be pleasantly surprised."
Honestly, she is right. We don't care when we are in the moment with you.
So take your phone out, take your dick out, and take a photo from our perspective when we are about to suck on your dick. You will see things differently.
If more men with small dicks saw things the way we do, then maybe, there wouldn't be as many dicks in the world. And we wouldn't know that they have small dicks we don't want to suck.

---
Dr. Ruth Westheimer reveals her secret to making it to 95!
June 5th, 2023 under Dr Ruth. [ Comments: none ]
On June 4th, Dr. Ruth Westheimer turned 95 years young. And the beloved sex therapist told People what keeps her so young!
"Talking about sex from morning til night! That keeps you young," Dr. Ruth said. But even when you have a partner to engage in sex is even better." Amen!
I wish I had the latter, but until then, I will keep talking about sex!
And when I am not talking about it, I will be reading Dr. Ruth's latest book, The Art of Arousal.
Now back to the Lady of the Month! I hope she keeps talking about sex so that we can have her around for another 95 years! Seriously, who doesn't love the little woman with the hugest spirit?

---
Words of Wizdumb from Dr. Ruth!
February 16th, 2021 under Coronavirus, Dr Ruth, Words of Wizdumb. [ Comments: none ]

A few weeks ago, medical experts suggested that we start wearing double masks over our mouths when we leave our homes. So much so that the NY Post is reporting that anyone entering a Federal Courthouse in NYC will have to wear two masks for the time being.

When Dr. Ruth saw that, she had some Words for Wizdumb for people. "Just remember, using two condoms is riskier! And using a mask as a condom is riskiest of all," she wrote.

Isn't it interesting that two masks are better than one, but one condom is better than two? Having said that, both are great for protection from deadly viruses. Therefore, you should use them!

In case you are wondering why two condoms are bad. It is because struggling to put one on top of the other could cause both to rip. If they rip, then the sperm can get through. If it gets through, then you can get a baby or an STI.

Don't spread the sperm or COVID-19. Thus, you should wear protection over your holes. Since farts can spread coronavirus, should we wear masks over our butts?

---
Dr. Ruth Westheimer is still a man magnet!
March 15th, 2019 under Dr Ruth, Vin Diesel. [ Comments: none ]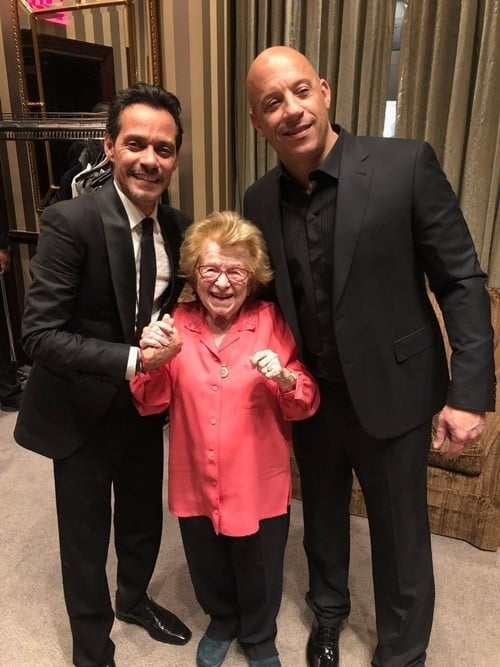 Dr. Ruth Westheimer might be 90, but that does not mean she is too old to go to a concert. Yesterday, the sex Guru went to see Marc Anthony sing and she shared a sweet story from the performance. She said, "Some nice gentleman helped me stand on a chair so I got a great view." That was the first man to be attracted to her.
After the show, she posed in a photo with the singer and Vin Diesel. Two men, who were also drawn to her. Can you blame them, she is the most vibrant 90-year-old out there. Who doesn't love the woman who knows all about lovemaking and doesn't mind sharing her vast knowledge on the topic? I am sure she gave them some tips about how to use their tips.

---
Dr. Ruth goes from the penis to the peanut
February 7th, 2019 under Dr Ruth. [ Comments: none ]

Dr. Ruth Westheimer is 90 years young and she is still giving out sex advice. Mr. Peanut loves what she saying so much, that he gave her a job. Valentine's Day is coming up in a week, and Planters nuts teamed up with the guru to answer your most intimate questions. All you have to do is leave a message at 844-4-DR-RUTH with what you know. This is a once-in-a-lifetime opportunity, so do not pass it up. Especially when she can tell you how to keep it up longer and so much more!

---