Younger will get another year older!
July 24th, 2019 under Hilary Duff, TV Land. [ Comments: none ]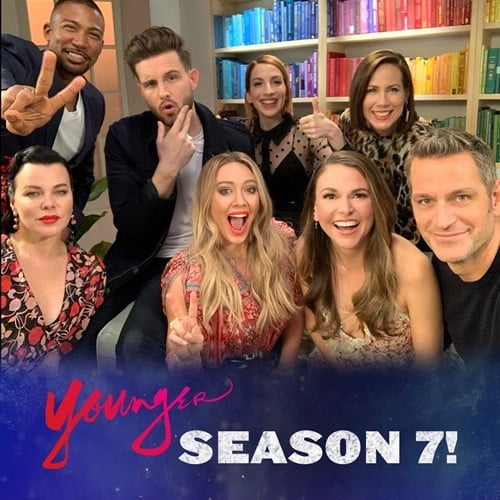 TV Land announced today that its lone original scripted show Younger will be back for a 7th season.
The show which is currently its 6th season and it is still finding new audience members. In fact, the season premiere saw a 23% rise in viewership. Not only that, it is the #1 show with female and total viewers in the 25-54 age group. Which Liza is still in, but if the sitcom goes on for much longer, her character will age out it.
I have to admit I have not seen this season, I plan on binging it when it is done. Now that it was picked up for another season, I might start binging it now. It does get better with each season and not many shows can do that.

---
What if The Golden Girls was a horror movie?
July 15th, 2019 under Betty White, TV Land. [ Comments: none ]

The Golden Girls is one of the most loved comedies to ever have graced our television sets. What if Rose, Blanche, Dorothy and Sophia found themselves in a horror movie instead? That is what TV Land pondered.
Therefore, they took several scenes from the show's 180 episodes and made it seem like they were in a scary film. It is so, well, scary how perfectly it works out. I almost forgot that we were watching scenes from a sitcom instead of a thriller. I wonder if they could do a full-length feature like that? Between the hurricane and the murder mystery episodes, they are halfway there. They can even throw George Clooney in from the stakeout episode to make money off of his name. And don't forget the piano-playing chicken, there has to be a part for Count Bassie.
Hey TV Land, you have never done a telemovie, why not make this your first one?
BTW Rose totally did it.

---
Younger moves to Paramount Network, American Woman cancelled
September 5th, 2018 under Paramount+, TV Land. [ Comments: none ]

It is a busy day over at Paramount Network. They announced today that Younger will be moving from its sister station TV Land over to them for season six in the spring.
Not only that, they picked up a new series from Younger's creator Darren Star that will debut in the summer. Emily in Paris is about a woman who "heads to the city of lights in this dramedy centered on Emily, a driven twenty-something American woman from the Midwest, who moves to Paris for an unexpected job opportunity, tasked with bringing an American point of view to a venerable French marketing firm."
Finally, they cancelled American Woman, the '70s set dramedy that starred Alicia Silverstone. This is technically the first show to get cancelled on the new network. I say technically because they never wound up airing the small screen adaptation of Heathers due to multiple school shootings.
At least Yellowstone with Kevin Costner is a hit for them and will be back with a second season.

---
Nobodies go back to being nobodies
June 24th, 2018 under Melissa McCarthy, Paramount+, TV Land. [ Comments: none ]

Melissa McCarthy produced sitcom Nobodies was given a second season renewal on TV Land. Then it was moved to its sister station Paramount Network. After 2 airings on its new home, it was returned to its original one. I guess neither liked it, so according to The Hollywood Reporter, it was cancelled.
Personally, I am surprised it was picked up for a second season because it was one of the unfunniest comedies I have ever seen.

---
How does Kelsey feel about Liza now that she knows she isn't Younger?
June 28th, 2017 under Hilary Duff, TV Land. [ Comments: none ]

Younger is back on TV Land tonight at 10p and it picks up exactly where it left off. Liza (Sutton Foster) finally came clean to Kelsey (Hilary Duff) and now they have to redefine their friendship. The first few episodes deal with Kelsey trying to understand how her good friend Liza has been lying to her all along. Someone she thought was her age, is really 14 years older than she says is. How does anyone accept that?
To top it off both women are dealing with their breakups. Will Liza get back with Josh (Nico Tortorella) or will things heat up with her boss Charles (Peter Hermann)? What about Kelsey and Colin (Jay Wilkison)? If that is not enough for Kelsey, she has no where to live.
And then there is the work thing. Millennial is picking up speed and that is keeping Liza and Kelsey busy and forcing them to talk to each other. Which also gives Liza more time with Charles.
This season there will be a lot of tension, some new love couplings, some more secrets revealed and someone will get a new job offer. Will they take it?
A lot happens in the first three episodes and you do not want to miss a single second of it. The thing I like about Younger is each season has its own feel, so it always feels fresh which keeps the show feeling like it is 26 even though it is like 40.

---