The Cheaper By the Dozen cast recreates iconic moments from the movie!
May 27th, 2020 under Hilary Duff. [ Comments:

none

]

Back in 2003, we fell in love with the Baker family. Now, 16 years later, eleven of the kids and one of the parents from Cheaper By the Dozen recreated a classic still from the family film.
They are Bonnie Hunt, Piper Perabo, Hilary Duff, Kevin G. Schmidt, Alyson Stone, Jacob Smith, Forrest Landis, Liliana Mumy, Morgan York, Blake Woodruff, Brent Kinsman, and Shane Kinsman. Who is missing? Steve Martin, who I am surprised didn't do it, and Tom Welling, who I am not surprised didn't do.
Forgetting those two men, I love this creative unreunited reunion.
---
BTWF: Hilary Duff for Subway
April 13th, 2020 under Before They Were Famous, Hilary Duff. [ Comments:

none

]

Before Hilary Duff was a publishing agent on Younger, she was a news anchor for Subway. How awwwwdorable was the 11-year-old in that 1999 commercial?
---
Hilary Duff wants the Lizzie McGuire revival to move to Hulu
February 29th, 2020 under Disney+, Hilary Duff. [ Comments:

none

]

Last year, Disney+ announced that they were reviving Lizzie McGuire with Hilary Duff. Then last month, they fired the creator, because they wanted to go in a different direction, and put the show's production on hold. Yesterday, the actress took to social media, asking that Lizzie move from Disney+ to its sister streaming site Hulu like the Love, Simon sequel will do.
Was incredibly excited to launch "Lizzie" on Da- and my passion remains! However, I feel a huge responsibility to honor the fans' relationship with LIZZIE who, like me, grew up seeing themselves in her. I'd be doing a disservice to everyone by limiting the realities of a 30 year old's journey to live under the ceiling of a PG rating. It's important to me that just as her experiences as a preteen / teenager navigating life were authentic, her next chapters are equally as real and relatable. It would be o dream if Disney would let us move the show to Hulu, if they were interested, and I could bring this beloved character to life again!".
To me, it sounds that Lizzie will no longer be happening. At least we are getting Proud Family!
---
Hilary Duff says I do again
December 23rd, 2019 under Hilary Duff. [ Comments:

none

]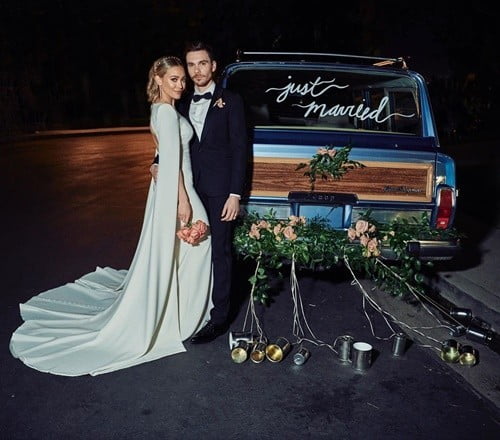 Hilary Duff married her baby daddy at her house on Saturday. According to People, the Younger star and Matthew Koma had an intimate wedding with their family and close friends.
No word what roles her son, Luca Cruz. 7, with her first husband, Mike Comrie, and their daughter, Banks, 13 months, played in their ceremony. I am sure it was a big one.
---
Disney+ is reanimating Lizzie McGuire!
August 23rd, 2019 under Disney Kids, Disney+, Hilary Duff. [ Comments:

none

]

Like OMG! Hilary Duff is going back to where it all started for her because Disney+ is doing a Lizzie McGuire revival for the streaming service. We don't know when it will air, who will be part of it or what it is about. However, we do know that show creator Terri Minsky and Hilary Duff are attached!
The series that was a mix of live-action and animation aired from 2001-2004 with a 2003 movie on the big screen.
If that is not enough exciting news for you Disney Channel fans, they also announced Phineas and Ferb The Movie: Candace Against the Universe.
How excited are you that that is happening? Netflix must be getting nervous or at least they should be.
Disney+ launches on November 12th.
---