Disney+ is reanimating Lizzie McGuire!
August 23rd, 2019 under Disney Kids, Disney+, Hilary Duff. [ Comments:

none

]

Like OMG! Hilary Duff is going back to where it all started for her because Disney+ is doing a Lizzie McGuire revival for the streaming service. We don't know when it will air, who will be part of it or what it is about. However, we do know that show creator Terri Minsky and Hilary Duff are attached!
The series that was a mix of live-action and animation aired from 2001-2004 with a 2003 movie on the big screen.
If that is not enough exciting news for you Disney Channel fans, they also announced Phineas and Ferb The Movie: Candace Against the Universe.
How excited are you that that is happening? Netflix must be getting nervous or at least they should be.
Disney+ launches on November 12th.
---
Younger will get another year older!
July 24th, 2019 under Hilary Duff, TV Land. [ Comments:

none

]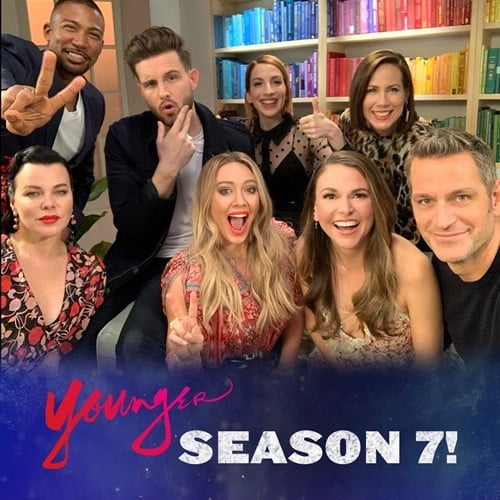 TV Land announced today that its lone original scripted show Younger will be back for a 7th season.
The show which is currently its 6th season and it is still finding new audience members. In fact, the season premiere saw a 23% rise in viewership. Not only that, it is the #1 show with female and total viewers in the 25-54 age group. Which Liza is still in, but if the sitcom goes on for much longer, her character will age out it.
I have to admit I have not seen this season, I plan on binging it when it is done. Now that it was picked up for another season, I might start binging it now. It does get better with each season and not many shows can do that.
---
Hilary Duff is a rat
January 9th, 2019 under Hilary Duff. [ Comments:

none

]

Acting has always been in Hilary Duff's blood. Even when she was a little girl, she loved doing it. Even if people could not see her face as she was doing it.

Case in point, she shared a photo of herself dressed as a rat for Nutcracker when she was just 7 years old. Even though she playing a rat, she is as happy as could be. If I played an ugly oversized mouse, the only person who would be happy about it is my cat as she went to kill me.
---
Hilary Duff banks on happiness with her daughter
October 29th, 2018 under Hilary Duff. [ Comments:

none

]

Hilary Duff and boyfriend Matthew Koma welcomed their first child together. On Thursday, she gave birth to her daughter Banks Violet Bair and she has already stolen their hearts.

This is Duff's second child, she has a son, Luca Comrie, 6 with her ex-husband.

No word if Banks is named after Cody.
---
Matthew Koma put a bowling ball in Hilary Duff
June 8th, 2018 under Hilary Duff. [ Comments:

none

]

Yesterday, Hilary Duff's sister, Hayley, gave birth to her second niece, and today Lizzie McGuire had her own baby news. She posted the above photo and wrote, "Guess what guys! @matthewkoma and I made a little princess of our own and we couldn't be more excited!!!!!!🤰🏼👶🏼🎀."

No other details were given like how far along she is with her second baby, her first with professional bowler, Matthew Koma. The actress has a son, Luca, 6, with ex-husband, Mike Comrie.

The star has done a good job hiding her pregnancy because you couldn't even tell she is with child during all of her press appearances she did this week for Younger. Although, looking back at some of those photos, you can tell she is hiding something. Sneaky, sneaky.
---