We won't find out how Hilary Duff met the father
September 1st, 2023 under Hilary Duff, How I Met Your Mother, Hulu. [ Comments: none ]
If you were wondering how Sophie (Hilary Duff) was going to meet the father of her son on How I Met Your Father, I have some awful news for you. Hulu cancelled the series after two seasons.
This is the second show the streamer pulled the plug on this week. The first was The Great, starring Elle Fanning.

---
Would Hilary Duff still do a Lizzie McGuire reboot?
January 27th, 2023 under Andy Cohen, Hilary Duff. [ Comments: none ]
Hilary Duff was on Watch What Happens Live yesterday, and a fan wanted to know if she is still up for doing a reboot of Lizzie McGuire. Without hesitation, she said, "Of course!"
Then Andy Cohen asked her why it didn't work out a few years ago. She carefully told him that Disney+ was new at the time, and both sides were figuring out what they wanted. However, what they wanted was two different things. However, she is optimistic that we could see her in the role that made her famous again.

---
Hilary Duff in the buff
May 10th, 2022 under Hilary Duff. [ Comments: none ]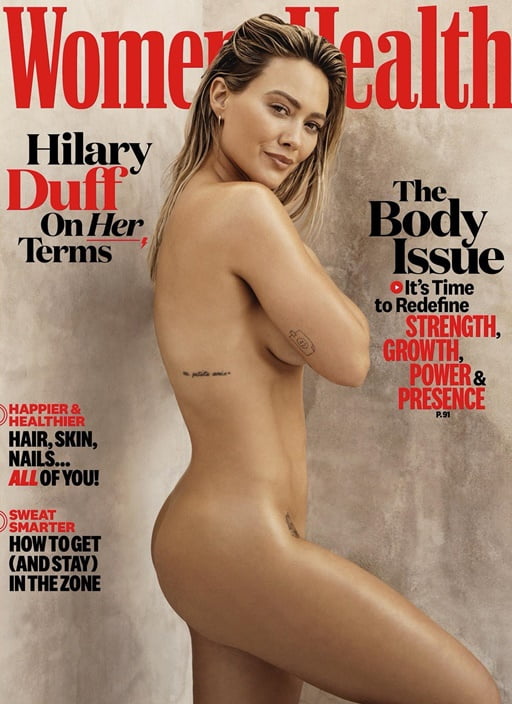 Hilary Duff is a 34-year-old mother of three children, including two toddlers. However, that didn't stop her from posing nude and showing off her 23 hidden tattoos for Women's Health.
"Sooooo, this was scary….. I knew doing this would terrify me and I was right! @womenshealthmag had the most lovely all-women shoot and I actually had the best time. I felt strong and beautiful and laughed a lot getting into some of these poses without my high waisted mom jeans and oversized whatever I normally wear," the actress wrote. "I love these photos so much, thank you for capturing a moment in time where I felt both completely vulnerable but powerful."
Duff looks amazing, And a big reason is because, in this moment, she was comfortable in her skin. And to see more photos of her skin, then click here!

---
Hilary Duff is too good to walk!
November 15th, 2021 under Hilary Duff. [ Comments: none ]
Hilary Duff attended a Baby2Baby event at the Pacific Design Center, and she couldn't walk anymore in her heels. Therefore, she summoned a worker to wheel her on a dolly.
As a woman, I don't fault her because I would do the same exact thing. What women in heels wouldn't? Heck, I would even pay him for the ride.

---
How Hilary Duff met a breakthrough case of COVID-19
August 21st, 2021 under Hilary Duff. [ Comments: none ]
Hilary Duff is the latest star to have a breakthrough case of COVID-19, and she is not liking it.
"That delta … she's a little bitch. symptoms: bad headache. No taste or smell. sinus pressure. Brain fog," she wrote. "Happy to be vaxxed."
Hopefully, she will be better soon so she can resume working on How I Met Your Father.
COVID-19 seems to be a fan of blonde child stars because she is the second one to get it this week. Melissa Joan Hart was the first. The actresses of Full House better watch out because they could be next…

---