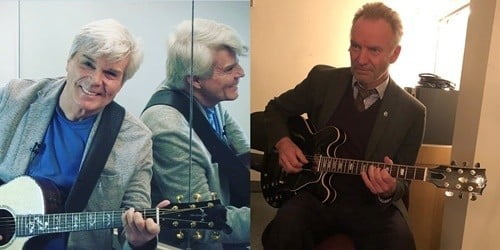 John Davidson and Sting are on the road this summer and both singers are forced to take a break from performing for their next few gigs per doctor's orders.
The Hollywood Squares' host, wrote today, "Some bad news: due to a gallbladder that's gone rogue, I will be having emergency surgery to have it removed, and my next 3 gigs have to be canceled. I feel terrible about this, but I'm in the hospital until it's out. I hope you'll come out to another show after this month, and my sincere apologies to the venues and attendees of The Guthrie Center, The Farmstand and Surflight Theatre."
While we know what is wrong with the 77-year-old, the Police singer has not revealed what is ailing him. All the 67-year-old's people said is, "It is with great regret that Sting's concerts previously scheduled for Thursday, July 11 at jazzopen in Stuttgart, Germany and Friday, July 12 at the Castle Garden in Slavkov u Brna, Czech Republic will be canceled. As reported earlier this week, Sting is under the weather and under doctor's orders, and was forced to also cancel concerts in Ghent, Belgium (Monday, July 8) and Munich, Germany (Wednesday, July 10). Sting sincerely regrets disappointing or causing any inconvenience to the fans."
Hopefully, both of them will be better very soon and back on tour soon delighting their fans. Although, personally I have never seen a good Sting concert and I have seen him 3 times, two-times solo and once with The Police. All three were huge disappointments to me.

---