An OC reunion at JFK as they head to LAX
August 14th, 2019 under Rachel Bilson, The OC. [ Comments:

1

]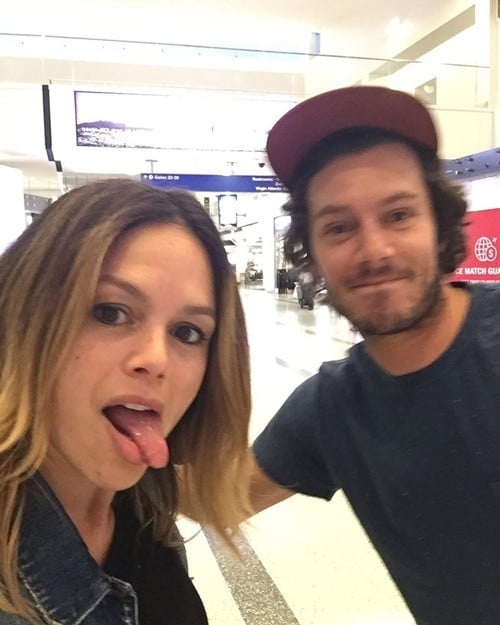 Back in 2003, we fell in love with Seth Cohen and Summer Roberts. Then by 2007, they finally in love. Have you ever wondered if The OC couple would still be together today?
Well yesterday, Adam Brody and Rachel Bilson gave us a hint that they would be. The actors ran into each other yesterday at JFK on their way to LAX and we got this cute photo.
Since I like to believe in conspiracies. I wonder if their chance meeting was not really by chance. As in the two of them are flying across the country to pitch a revival of their soapy drama with Josh Schwartz. The EP commented on the photo and said, "I don't get the reference." She told her former boss, "Well played Schwartz, well played." What do you think? Do you want The OC back on our TVs?
---
BTWF: Rachel Bilson in Sorority Crime Fighters by Nibblebox
June 21st, 2018 under Before They Were Famous, Rachel Bilson, The OC. [ Comments:

none

]

Before Rachel Bilson went to high school in The OC, she was in college in Sorority Crime Fighters by Nibblebox. She looks the same now as she did when she 18 in that 2000 video.
---
Who's the hottest MILF in this photo?
September 27th, 2015 under Dallas, Jessica Alba, Kristen Bell, Rachel Bilson, The OC. [ Comments:

none

]

Kristen Bell, Jessica Alba, Jordana Brewster and Rachel Bilson all came out to support Alliance of Moms and the four of them are some pretty sexy moms. Proving just because you have a child, doesn't mean you lose your looks.
They are all equally MILFable; so I can't pick one, can you?
---
Rachel Bilson doesn't like having a bad rap, so she sings a scary good one.
January 18th, 2012 under Rachel Bilson, The OC. [ Comments:

none

]

Rachel Bilson is back on TV playing a doctor on The CW's Hart of Dixie and some people have made fun of her saying she doesn't look like one. So Zoe Hart took to Funny or Die and wrote a prescription for all those sickos with the best rap every made. After watching it all the way through several times, I will never say anything bad about Summer Roberts ever again because she f*cking scares me.
That video is freaking perfect except that Scott Porter and Wilson Bethel kept their shirts on the whole time. Yes they got their white tank tops soaking wet as they washed the car, but that is enough for us ladies. Oh well, I guess we will have to wait until Monday at 9p for a new episode of Hart of Dixie to see Wilson shirtless again.

UPDATE: Not only does Wilson Bethel write poetry, he also writes a pretty damn good rap because he wrote the words for Bilson to say in that video and he produced it too. All those good looks and he has brains too, not bad.
---
Ben McKenzie's mom has given up on him
February 10th, 2011 under Ellen DeGeneres, The OC. [ Comments:

none

]

Ben McKenzie will be on Ellen on Valentine's Day and he told her his mother is over him.
Ellen: Now, will you be spending Valentine's Day with someone?
Ben: I knew you were going to get to this. I'm not married. Audience cheers. This is really going to cheer me up. I'm not married. Recently out of a relationship. Audience cheers again. This is doing wonders for my confidence. This is fantastic.
Ellen: We probably have somebody in the audience. Audience cheers. Look there are people pointing, voting already. Audience cheers. Well, we'll put the names in a hat and just pick one.
Ben: It'll probably work as well as my system at this point.
Ellen: And what is your system?
Ben: I don't have one. Laughs. It's a disaster.
Ellen: Well, you're working all the time.
Ben: I am. And that's what I tell my mother. I'm working.
Ellen: Is your mother bugging you about that?
Ben: She's given up on me. She's moved on to my two younger brothers who are both married. They're more likely to give her grandkids at this point which is really the point of the whole exercise. I mean, she cares about me, she's my mother. But it's really about grandkids so she just moves on to them.
Poor Ben, I am sure he will make his mother a happy woman soon by giving her some grandkids. You know because there are several woman who would like to settle down in The OC with him!!!
---