Lifetime brings The Facts of Life girls together for Christmas
October 21st, 2019 under Lifetime, The Facts of Life. [ Comments:

none

]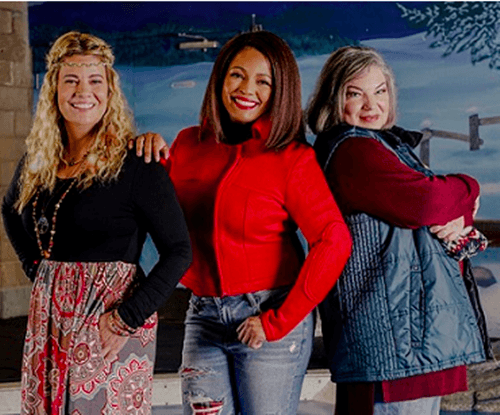 Back in 1979, we got to know Tootie, Natalie, Blair and Jo on The Facts of Life. This Christmas, Kim Fields, Mindy Cohn, Lisa Whelchel and Nancy McKeon are going to have a 40th reunion on Lifetime in the movie You Light Up My Christmas.
Fields, who is starring and producing the telemovie, explained why she asked her classmates to join her. She said, "We're sisters. We have a ball when we get to hang out personally and holidays are about family, memories and fun. So, when the opportunity came up to combine all of that with You Light Up My Christmas, I invited Lisa, Mindy and Nancy to make some fun, Christmas cameos and was thrilled they all enthusiastically jumped on board." Maybe Lifetime will see how well the four of them still work together that they will consider giving them a revival. How awesome would that be?
Charlotte Rae, who passed away last year, will also be part of the film. They named an ice rink after her. Therefore, you should look out for it when the movie debuts on December 1st.

---
BTWF: Lisa Whelchel on Mickey Mouse Club and who she beat out for the role
May 1st, 2019 under Before They Were Famous, The Facts of Life. [ Comments:

none

]

Before all the boys wanted to dance with Lisa Whelchel on The Facts of Life, she was hoping someone would ask her to dance with them on Mickey Mouse Club. You will never believe who the 14-year-old beat out to be on the show in 1977. To see which famous rocker it is, then click here!

---
Lisa Whelchel is collecting collectors for MeTV
February 28th, 2019 under MeTV, The Facts of Life. [ Comments:

none

]

Lisa Whelchel is returning to TV on a station that airs The Facts of Life. MeTV, the channel that airs classic television shows, is getting into the original programming business.
On April 7th, Collector's Call is coming to their network. Each week, they will feature people who collect some of the most amazing things like items from The Wizard of Oz, KISS, presidential artifacts and so much more. We learn about their collections and then they will have to make a big decision. Trade one of their iconic items for something even more iconic or keep what they have. Anyone, who has collected anything, knows that is an impossible decision.
What was not an impossible decision for them was to get Blair Warner, I mean, Lisa Whelchel to host the show. Facts airs on their channel every morning, so it is a match made in TV heaven. To make it even more heavenly for us, they are going to air a special 3-hour marathon of the classic sitcom that will include her 5 favorite episodes. To make it even more enticing, she will tell us why each episode was so memorable for her. What a perfect way to celebrate the show's 40th anniversary. Who feels old now?
Although, watching MeTV makes us feel young again. Thus, Collector's Call is the perfect mix of old and new for us.

---
The World's Largest Disco celebrates with the era's biggest stars
November 26th, 2018 under The Brady Bunch, The Facts of Life. [ Comments:

none

]

Over the weekend, Buffalo held the World's Largest Disco and several '70s icons came out to put on their boogie shoes. The groovy celebs are The Brady Bunch's Barry Williams, Mike Lookinland, Chris Knight, Susan Olsen with "Fake Jan" Geri Reischl, Howard Hesseman and Loni Anderson from WKRP in Cincinnati, Lisa Whelchel from The Facts of Life and Deney Terrio from Dance Fever.

What a neato lineup of actors who look just as great now as they did then. Plus, they did it for a good cause because the event was to raise money for Camp Good Days & Special Times. That's the way, uh huh, uh huh, I like it.

---
Nancy McKeon has seen better days
November 19th, 2018 under The Facts of Life. [ Comments:

none

]

Nancy McKeon looks like she was struck by lightning, so what is going on with her hair? While lightning did not strike for her on Dancing with the Stars this season, a blowdryer did. Well, The Facts of Life are you cannot do the ABC dancing competition show without a spray tan and huge hair. In other words, she had to get her '80s on for tonight's season finale.

Even with the hairsaster, the actress still looks gorgeous. Hopefully, some show will hire her because TV has been missing her.

---