Cousin Oliver reunites with his Brady Bunch cousins for a Lifetime Christmas movie
May 19th, 2021 under Lifetime, The Brady Bunch. [ Comments: none ]
Since so many of us are getting the vaccine, Lifetime is giving us a Christmas present early. Today they announced that they have a Christmas movie coming out this year with several cast members from a show we grew up on, along with some other sitcom legends.
Blending Christmas stars Barry Williams (Greg), Christopher Knight (Peter), Mike Lookinland (Bobby), Susan Olsen (Cindy), and Robbie Rist (Cousin Oliver). Yes, for all of us who wondered what happened to Cousin Oliver, we will find out in a few months! That is enough reason to tune in.
If the Bradys are not enough for you, then Greg Evigan, one of My Two Dads, is on it, along with Beth Broderick, who is one of Sabrina the Teenage Witch's aunts. They will be joined by Telma Hopkins, who was bosom buddies with the Bosom Buddies and Nell on Gimme A Break.
For Gen Xers, this is like getting a White Christmas on December 25th in Los Angeles or Miami.
What is the telemovie about? "The holiday season is in full swing when Emma (Haylie Duff) learns that the resort where she used to spend Christmases with her family is being redeveloped. Her boyfriend Liam (Aaron O'Connell), hatches a plan to bring her to the resort one last time to propose! He secretly invites both their families to join them and Emma is delighted when she arrives to find the whole family bunch there. Of course, no holiday gathering is complete without drama, and soon the families are bickering over every detail! The added stress from trying to blend the two families eventually takes a toll on Emma and Liam, who start questioning their own relationship. Now just days before Christmas, the two families realize that they're going to have to work together in order to reunite Emma and Liam!"
So this what it means when we sing Joy to World during the Holiday Season because I am feeling it now!

---
There's a Brady Bunch connection to the Prince Harry/Meghan Markle interview
March 9th, 2021 under Oprah Winfrey, The Brady Bunch, The Princes of England. [ Comments: none ]

There is so much that we have heard about Oprah Winfrey's interview with Prince Harry and Meghan Markle, but there is one thing we missed. Did you know there was a connection to The Brady Bunch during it?

The Duke and The Duchess, along with Winfrey, were sitting on chairs that are designed by Christopher Knight, aka Peter Brady. "To our pleasant surprise our wicker and acacia Burchett Outdoor Club Chairs were used for the Prince Harry and Meghan Markle interview with Oprah Winfrey," he wrote.

They are currently sold out on Amazon, but he hopes to have them available again soon.

I seriously love how random this little tidbit is. Something mundane but interesting that came out of the interview.

---
A tale of two Cindy Bradys!
November 7th, 2019 under The Brady Bunch. [ Comments: none ]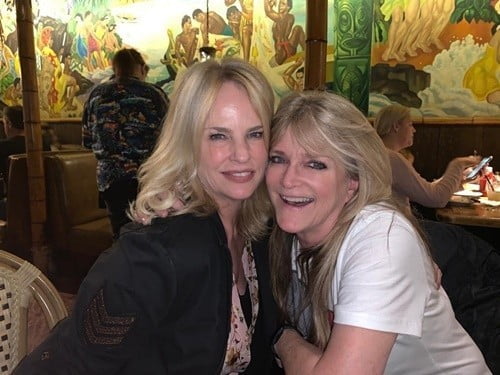 Susan Olsen played Cindy Brady in all of the Brady Bunch productions with the OG cast, minus A Very Brady Christmas in 1988. That is because she opted to go on her honeymoon instead.
Since the telemovie had to go on, they asked Charles in Charge's Jennifer Runyon to join the in crowd. Which she did.
Now almost 31 years later, we find out how the original Cindy feels about her replacement. Just as you would expect the younger Brady girl in curls to deal with it, they hugged it out!
Am I the only wants another Brady telemovie? All of the replacements can play the spouses of the siblings. How groovy would that be?

---
BTWF: Sofia Vassilieva in The Brady Bunch in the White House
October 2nd, 2019 under Before They Were Famous, The Brady Bunch. [ Comments: none ]

Before Sofia Vassilieva was the oldest child on Medium, she was the youngest one in The Brady Bunch in the White House. Back in 2002 when she was 9 years, she was as cute as Cindy Brady. Which is probably why she got the part.

---
A Very Brady Renovation gets three spinoffs!
October 1st, 2019 under HGTV, The Brady Bunch. [ Comments: 2 ]

Tonight on A Very Brady Renovation, the designers finished the renovation on the Brady Bunch house and made it look like the one we knew. Since they are finished that means the series is finished too.
Not so fast. Just like The Brady Bunch was not the end of the Brady Bunch, neither is tonight's episode. For the next two weeks, we are getting The Brady Brides of the HGTV series. As in A Very Brady Renovation: Behind the Build. We will get see even more in-depth how they turned a one-story, two-bedroom house into a two-story home with four bedrooms and a very groovy attic below.
Not only will we get to see more behind the scenes with Barry Williams (Greg), Maureen McCormick (Marcia), Christopher Knight (Peter), Eve Plumb (Jan), Mike Lookinland (Bobby) and Susan Olsen (Cindy), will transfix fans of the iconic television series as they work alongside HGTV's biggest renovation star experts Jonathan and Drew Scott (Property Brothers: Forever Home), Mina Starsiak Hawk and Karen E Laine (Good Bones), siblings Leanne and Steve Ford (Restored by the Fords), Jasmine Roth (Hidden Potential) and Lara Spencer (Flea Market Flip). We will also get a really nice surprise. Do you know how I mentioned The Brady Brides? Well, they had husbands and Mr. Marcia Marcia Marcia aka Jerry Houser and Jan's real-life George Glass aka Ron Kuhlman will make a special appearance on one of those two episodes.
Not only will we be getting more of the renovation, but we will also be getting The Brady Bunch Hour. No, they will not be singing and dancing again. However, they will be singing like a canary. As in during the 8-episode digital series Just Ask Brady, they will be spilling secrets as they answer fan's questions.
Wait, there is even more. Back in 1988, The Bradys got a Christmas movie and so will this show. Coming in December we will be getting another holiday special from The Bradys.
That's all for now. Although, there is one more series I would love to see from HGTV. Remember when Knight did Surreal Life? How about we do a Surreal Life like series with all the Brady kids living in their house. Who wouldn't want to watch that?

---