*NSYNC reunited for Taylor Swift
September 13th, 2023 under JC Chasez, Joey Fatone, Justin Timberlake, Lance Bass, Taylor Swift, VH1/MTV. [ Comments: none ]
There is only one thing that could get *NYSNC together again. Not money. Not the fans. But Taylor Swift.
Joey Fatone, Lance Bass, JC Chasez, Chris Kirkpatrick, and Justin Timberlake reunited at the VMAs yesterday to present Taylor Swift with the award for Best Pop. And she loved every second of sharing the stage with the five men whose dolls she had growing up.
And like us, she wondered. "Are you doing something? What's gonna happen now?… They're going to do something! And I need to know what it is." We also need to know.
But as of now, they aren't saying anything.
Do you want them to do something, or do you think it is time they all said, "Bye! Bye! Bye!"

---
Taylor Swift took on The Exorcist; and won
September 1st, 2023 under Taylor Swift. [ Comments: none ]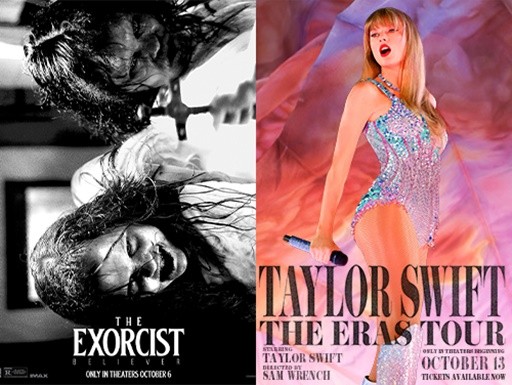 Valerie Bertinelli went to see Taylor Swift in concert and declared that she can't be human. The actress might be onto something.
Some might say that Swift went to the same crossroads as Robert Johnson and made a pact with the Devil.
Why do I think that? Well, the singer announced yesterday that she is releasing a big screen version of her Eras Tour on Friday, the 13th of October.
That is the same date that Warner Bros was planning on releasing the sequel to The Exorcist.
I say planning because the studio realized they can't compete against the Swifties. So Jason Blum, the head of Blumhouse, threw up the white flag and said, "Look what you made me do. The Exorcist: Believer moves to 10/6/23. #TaylorWins"
Therefore, Taylor is stronger than the Exorcist. And the only entity that can defeat an exorcist is The Devil himself. So she is the Devil.
Back to Blum and Swift, I wonder if there is Bad Blood between them now. And I bet he is Team Kanye West because it makes more sense for his film to be released on Friday the 13th than hers. But she is more powerful than he will ever be, and he has M3GAN, Michael Myers, The Purge, and Paranormal Activity on his side.

---
Want to see Taylor Swift's concert for less than $20?
August 31st, 2023 under Taylor Swift. [ Comments: none ]
Were you not able to get tickets to see Taylor Swift on her Eras tour? Well, now you can. And it won't cost you a lot of bad blood. In fact, it will only cost adults $19.89, while seniors and children will pay $13.13 for a ticket.
How is that possible? The singer teamed up with North American AMC theaters to bring her concert to the big screen starting on October 13th.
The singer wrote, "The Eras Tour has been the most meaningful, electric experience of my life so far and I'm overjoyed to tell you that it'll be coming to the big screen soon Starting Oct 13th you'll be able to experience the concert film in theaters in North America! Tickets are on sale now. Eras attire, friendship bracelets, singing and dancing encouraged 1, 2, 3 LGB!!!! (iykyk)"
The nearly three-hour movie will screen on Thursdays, Fridays, Saturdays, and Sundays at every AMC theatre location in the United States.
You can get tickets on Fandango. But don't wait too long because, like her concerts, the screenings are selling out.

---
Do you agree with Valerie Bertinelli's theory on Taylor Swift?
August 11th, 2023 under Taylor Swift, Valerie Bertinelli. [ Comments: none ]
Did you know that Valerie Bertinelli is a Swiftie? She is, and the actress has a theory about the singer, and she just can't shake it off.
What is it? "Taylor Swift isn't human?" the Hot In Cleveland star said. "There is no way. Like to write that many songs, good songs, great songs, constantly. Put that many albums out. And to perform for three and a half hours straight. It is straight, no breaks. Costume changes aren't a break. She is not human. She's just not. She is not real. So all of us Swifties out here, we are worshipping someone is who is not real."
Do you agree with Bertinelli? She knows what it means to be a musician because she was married to Eddie Van Halen, one of the greatest guitarists who ever lived. Thus, she would know if someone is real or a robot.

---
Taylor Swift is going back to 1989
August 10th, 2023 under Taylor Swift. [ Comments: none ]
Yesterday was the final US date of Taylor Swift's Eras tour in 2023, and she had a little announcement for the Swifties. The singer played her tune New Romantics, so you know what that means.
"Surprise!! 1989 (Taylor's Version) is on its way to you ! The 1989 album changed my life in countless ways, and it fills me with such excitement to announce that my version of it will be out October 27th," the singer, who was born in 1989, wrote. "To be perfectly honest, this is my most FAVORITE re-record I've ever done because the 5 From The Vault tracks are so insane. I can't believe they were ever left behind. But not for long!"
You can preorder her version of 1989 on TaylorSwift.com.  And who doesn't want to hear her versions of Bad Blood and Shake It Off? I know I do.
This is the fourth Taylor's Version album. The previous three are Fearless, Red, and Speak Now.

---