Emma Stone is pregnant!
January 4th, 2021 under Emma Stone. [ Comments:

none

]

Emma Stone and her husband, Dave McCary, have secretly been working on a project together. The Oscar winner is expecting her first baby sometime this year.

"She seems very happy and very excited about becoming a mother — she's constantly oohing and cooing. She looks great, she looks healthy, she's glowing," a source tells Us Weekly. "She's been keeping up with friends and work lately, she's always staying active and gets her daily exercise in."

Stone and McCary, who writes for Saturday Night Live, started dating in 2017. They got engaged in 2019 and reportedly tied the knot in September.

---
Zombieland: Double Tap looks like double the fun!
July 25th, 2019 under Emma Stone, Uncategorized, Woody Harrelson. [ Comments:

9

]

Ten years ago, we fell in love with Zombieland and now we are finally getting a sequel. Woody Harrelson, Jesse Eisenberg, Emma Stone and Abigail Breslin all return for Zombieland: Double Tap and it looks like they are having even more fun in the trailer.
One person who should not be in it is the A-list star who did a cameo in the first film. Or will he? Find out on October 11th when the anticipated film comes out.

---
Emma Stone meets her namesake Baby Spice
June 14th, 2019 under Emma Stone. [ Comments:

none

]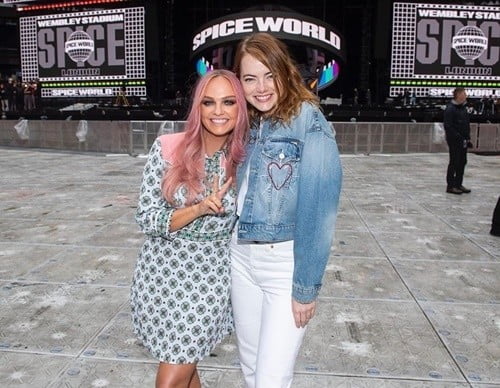 Emma Stone was born Emily but now she goes by Emma. Back when she was in elementary school, she was the biggest Spice Girls fan and Baby Spice was her favorite. So much so, she told Jimmy Fallon that she told her 2nd grade teacher to call her Emma. Now, all these years later she still goes by that name professionally.
Even though the actress has seen the band in concert a couple of times, she has never met them. That is until yesterday when she finally got to meet her namesake. I think she looks more excited to meet Emma Bunton than she was to win her Oscar. Can you blame her? I mean it is not like she calls herself Oscar.

---
Please don't let Emma Stone and Jennifer Lawrence ever do a film together
January 4th, 2018 under Emma Stone, Jennifer Lawrence. [ Comments:

none

]

W Magazine decided to interview Oscar winners Jennifer Lawrence and Emma Stone together, and I am not sure it was such a great idea. When they are by themselves, they are really cute. When they are together, they are really annoying. So annoying, I have no idea what the two of them said after J-Law asked for her best friend to be referred to as her given name Emily. I just tuned them out because they sounded like a teacher from the Peanuts.
Seriously, didn't you find them extremely annoying or is it just me?

---
This Honest Trailer for La La Land is brutally honest!
May 3rd, 2017 under Emma Stone, Ryan Gosling. [ Comments:

none

]

Last month, I was stuck on a JetBlue (where they don't kick you off if they overbook) flight and one of the movies (for free) they were showing was La La Land (the price was right). Although, I try to avoid Oscars movies, I still opted to watch the Oscars Best Picture. Oh wait. I like Musicals, so I said why not give it a try and find out what all the hoopla was about. It was a much ado about nothing.
Thus, when I saw that Screen Junkies took it on as one of their Honest Trailers, I had to see how honest they would be with it. They were very honest. The best critique is when they said, "Proves it is easier to teach a world class singer (John Legend) how to act, then two world class actors (Ryan Gosling and Emma Stone) how to sing." Which perfectly sums up this film that starts off with a great opening number and goes down faster than the Titanic (which really won Best Picture at the Oscars) did.
What also makes this Honest Trailer so swell, is the little side trip they take to Moonlight 3/4 of the way through! It is a perfect tribute to Hollywood's Biggest Night's biggest gaffe in its history.

---