Adam Pally punched Baby Yoda too hard
February 13th, 2020 under Seth Meyers, Star Wars. [ Comments: none ]

Late last year, Adam Pally became one of the most hated people in the World because he punched Baby Yoda in The Mandalorian. It turns out; we did not hate him as much as the crew who worked on the show. Yesterday, he told Seth Meyers on Late Night, why they all detest him.
It is because when they shot scene, he hit the sweet, innocent, beloved Baby Yoda way too hard. As soon as he did, everyone jumped up and were like WTF did you do? Director Jon Favreau had to explain to him that he was working on a movie now and that Baby Yoda is very expensive. He needs to be a lot gentler with his punches. The actor understood what he had to do now.
When it was time to shoot the scene again, he was still getting looks of disdain from everyone. Therefore, he decided to try to break the ice. Thus, he told them all that before he clocked his nemesis, BT "said something antisemitic to him." Did they laugh? Not at all, they wanted to clock him like he clocked Baby Yoda.
Baby Yoda is a beloved icon like Henry Winkler, and no one should mess with him. I am talking to you, Hanks. Anyways, back to Pally, if someone hurts someone, who is just as loveable, they should feel a wrath that not even Jar Jar Binks has experienced. Poor Jar Jar Binks.
If you want to see the punch that was heard around the World, then click here!

---
When George Lucas met Baby Yoda
January 17th, 2020 under Star Wars. [ Comments: none ]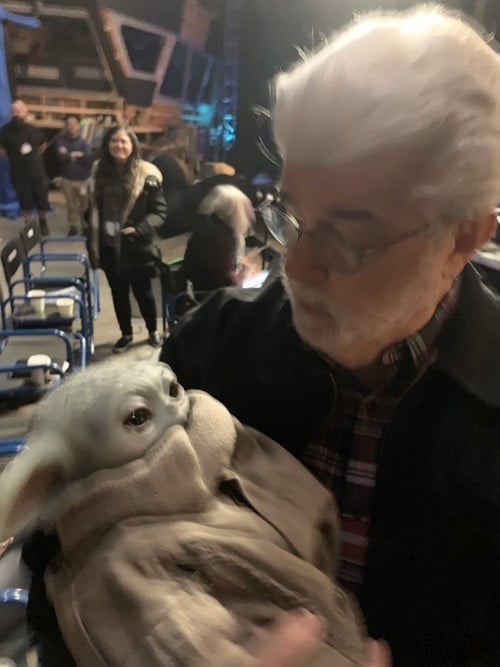 George Lucas gave us old Yoda, and Jon Favreau gave us the baby version of it The Mandalorian. Yesterday, the grandfather of Star Wars met the newest addition to the family, and it was love at first sight for the two. Making us almost forget that Lucas gave us the first three episodes of Star Wars. Almost, but we will never forget.

---
The blunt way Carrie Fisher asked James Blunt to move in
December 10th, 2019 under Star Wars. [ Comments: none ]

Carrie Fisher had a big place with a pool house, and she sometimes let struggling celebrities like Craig Bierko live with her. Another person that took up residence there was the English singer James Blunt.
Today, he told Lorraine, how he wound up moving in with her. Blunt met the late actress at a restaurant through some mutual friends, and they started chatting it up. She asked him what he does. He told her that he just signed a record deal and was moving to LA. Then she asked him where he was going to live. When he said he did not have a place, she asked him to move in. Which he did.
The two remained friends, and he named his first album, Back to Bedlam, in honor of the madness of her house. Which he loved, and he loves her so much he made her the godmother to one of his children. He hasn't forgotten his old friend. On his new album, he wrote the song Prozac Pill in honor of her.
Amazing how a chance encounter changed his life forever.

---
Did Carrie Fisher haunt this Star Wars presser?
December 5th, 2019 under JJ Abrams, Star Wars. [ Comments: none ]

It has almost been three years since Carrie Fisher passed away. She died before they started filming the last Star Wars movie Rise of the Skywalker. However, J.J. Abrams was able to include her in the film.
While she is in the feature, she is not able to do press for it. Or is she? Yesterday, when the director was talking about her part in it, something very spooky happened. As Abrams said, "the lighting," some of the stage lights went out. Freaking him out, so he said hi to her to let the late actress know he felt her presence. Especially, because he told the audience, "That is so Carrie, BTW, to do that."
Do you think her force is with them? I say yes because she was such a huge spirit, why shouldn't she be a spirit…

---
Disney gives a small glimpse at Star Wars: The Rise of the Skywalker
August 26th, 2019 under Disney+, Star Wars. [ Comments: 3 ]

We are less than four months away until the final episode of Star Wars comes out and now we are seeing some video from Star Wars: The Rise of the Skywalker. Over the weekend, Disney released a special look at the film during a panel at D23.
Fans of the franchise say that they can predict what might be happening, but they will not know for sure until December 20th. At that point, all the answers will be answered. Unless you cannot get the day off of work to see it. Then you will have to wait until the 21st. Or if you are Jewish, then on the 25th.
I wonder if this movie will beat out Avengers: End Game in box office titles. I doubt it, so it will be interesting to see how it does as compared to Star Wars: The Force Awakens. I still have not seen that movie.

---