What does Harrison Ford think of Mark Hamill's impression of him?
May 27th, 2019 under Harrison Ford, Jimmy Fallon, Star Wars. [ Comments:

none

]

For over 43 years, Harrison Ford and Mark Hamill have worked together, so they probably know each other well by now. They do.
When Luke Skywalker was on Late Night with Seth Meyers, he did a spot-on impression of his co-star. While I thought it was perfect, what does Ford think of his friend doing him? The other night when Han Solo was on The Tonight Show, Jimmy Fallon asked him just that.
When you watched him watching the playback video, you would think he hated it. Then after he put some thought into it, he said, "That's me."
I will never understand why Ford does not do comedies because his deadpan humor is so funny. Maybe he can do one with David Duchovny because they are both masters of that genre of comedy.
---
The fourth is strong with the Jonas Brothers
May 4th, 2019 under Jonas Brothers, Star Wars. [ Comments:

none

]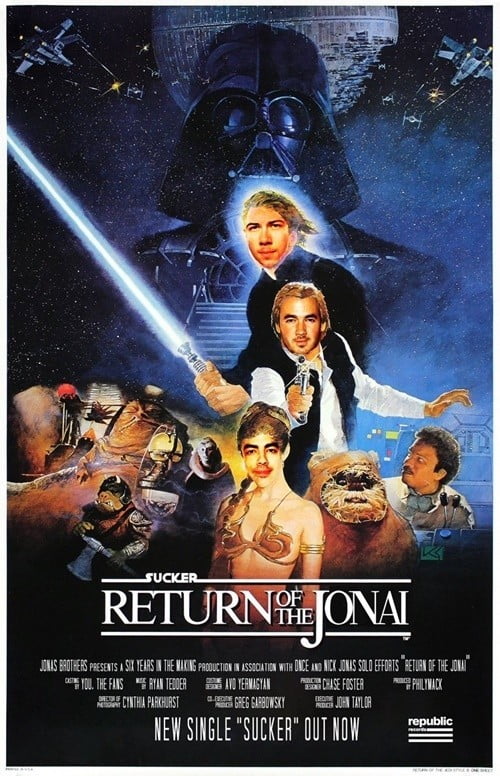 I guess the Jonas Brothers are Star Wars fans because they created a fun poster to celebrate May the Fourth. They took the Return of the Jedi poster and placed their faces over Han Solo, Luke Skywalker and Princess Leia. I wonder who decided to make newly married Joe Jonas' face should replace Carrie Fisher's? Not that I am disagreeing with the decision, but I am just curious how that placement came about.
I also love that the three of them are not cool off to pull off Lando. None of them are as suave as Billy Dee Williams.
---
Star Wars: Episode IX gets a name and a trailer
April 12th, 2019 under Star Wars. [ Comments:

none

]

For over 40 years, people have been waiting for the final Star Wars movie, and that time is in a galaxy near nearby. In 8 months, fans will get to see the last episode and today they got a glimpse of Star Wars: The Rise of Skywalker.
Since I have not seen a Star Wars movie since Episode II, I have no idea what is going on this trailer. However judging all of the people going crazy on social media about it, there is a lot to be excited about this Christmas. Are you dripping with anticipation?
---
BTWF: Justin Trudeau being interview by CBC
September 24th, 2018 under Before They Were Famous, Star Wars. [ Comments:

none

]

Before the press wanted Canadian Prime Minister Justin Trudeau's opinion about world affairs, CBC wanted to know what he thought of Star Wars: Return of the Jedi. How awwwdorable was the 11-year-old during that 1983 interview?
And he is right, Jedi was the best of the first or the last 3 Star Wars movies, depending on how you look at it.
---
BTWF: Terri Nunn auditions for Star Wars
September 10th, 2018 under Before They Were Famous, Star Wars. [ Comments:

none

]

Before Terri Nunn took our breath away as the singer of Berlin, she was trying to take our breath away as an actress in Star Wars. While the 14-year-old was no Carrie Fisher in 1975, she was a close second.
---