Baby Yoda gets his own Chia Pet!
November 20th, 2020 under Chia Pet, Star Wars. [ Comments: none ]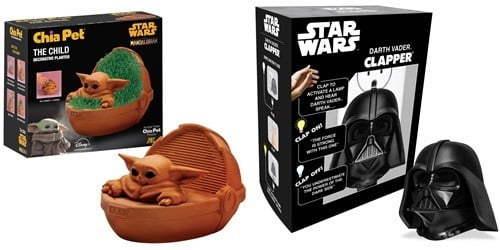 I have never had a Chia Pet, even though I really want one. I almost bought the Bob Ross one, but I didn't do it. Now, that there is a Baby Yoda one, buy him I must. Seriously, how cute is he?
As you know, Chia Pets need light to grow. Maybe he would like to come over to the dark side with a Darth Vader Clap On clapper. Who knew they still existed, but they do. Now, I know what I am going to get my friends' kids for Christmas. Since they are young enough to enjoy clapping really loud over and over again to get the lights to go on and off until the bulbs burn out. He he!

---
BTWF: John Ratzenberger in Empire Strikes Back
August 20th, 2020 under Before They Were Famous, Star Wars. [ Comments: none ]

Before John Ratzenberger was a mailman on Cheers, he was a Rebel Force Major in Empire Strikes Back. Is your mind blown that when he was 32 he was in that 1980 movie?

---
Of course, 2020 gives us a Star Wars Holiday Special
August 14th, 2020 under Disney+, Lego, Star Wars. [ Comments: none ]

Back in 1978, Star Wars got its own holiday special. It was so horrendous that people tried to bury it with E.T.: The Extra Terresterial Atari game. Therefore, you would think they would never attempt another one again.

Well, Disney+ says how much worse can 2020 get. Therefore, they are teaming up with Lego to do a Christmas special with Star Wars' most loved characters.
Set after the events of Star Wars: The Rise of Skywalker, Rey leaves her friends to prepare for Life Day as she embarks on a new adventure with BB-8 to gain a deeper knowledge of the Force. At a mysterious Jedi temple, Rey finds herself hurled into a cross-timeline adventure through beloved moments in Star Wars cinematic history, coming into contact with Luke Skywalker, Darth Vader, Yoda, Obi-Wan Kenobi and other iconic heroes and villains from all nine Skywalker saga films. But will she make it back in time for the Life Day feast and learn the true meaning of holiday spirit? You'll have to watch to find out!
The LEGO Star Wars Holiday Special will debut on November 17th.
On a positive note, Bea Arthur will not be part of this special. Maybe they can get Brad Garrett to play her part.

---
Coronavirus might delay Baby Yoda and other toys
March 6th, 2020 under Coronavirus, Star Wars. [ Comments: none ]

First, Disney+ was not prepared with Baby Yoda toys when The Mandalorian came out in November. Now, due to the Coronavirus, they might not have a shortage of supply of him for Christmas.

Baby Yoda and other Hasbro toys are made in China, and because of the virus production has been disrupted. Jim Silver, CEO of Toys, Tots, Pets & More, told CNN Business, "If things aren't normal by the time June and July roll around, there will be shortages on a litany of toys."

Meaning come Christmas, we might be forced to buy kids books and clothes instead of toys. That means they will be the ones saying bah humbug instead of us. Sad, we will be.

---
The Baby Yoda merchandise is as cute as he is
February 20th, 2020 under Star Wars. [ Comments: 3 ]

Disney+ did a lot of smart things. However, there was one extremely stupid thing that they did, and that was not to have Baby Yoda merchandise ready to launch as soon as the series, The Mandalorian, came out. I mean, it doesn't take a marketing genius to tell you that every kid, and child at heart, is going to want to one.
Well, that was then, and this is now. By Christmas, there will be a whole slew of Baby Yoda toys and accessories available for us to own. I mean, to give to the kids in our lives. This morning, Good Morning America showed off a few things we can expect to see. There is one that moves and coos, an animatronic plush, a talking plush, some Pop figures, a necklace, and some action figures.
Since they don't mention the prices, that means we do not want to know what they are going to cost us. Even though everyone calls him Baby Yoda if you do a search on the Disney Shop website, they call him The Child. Make that two dumb things that Disney+ did.

---