Coronavirus might delay Baby Yoda and other toys
March 6th, 2020 under Coronavirus, Star Wars. [ Comments:

none

]

First, Disney+ was not prepared with Baby Yoda toys when The Mandalorian came out in November. Now, due to the Coronavirus, they might not have a shortage of supply of him for Christmas.

Baby Yoda and other Hasbro toys are made in China, and because of the virus production has been disrupted. Jim Silver, CEO of Toys, Tots, Pets & More, told CNN Business, "If things aren't normal by the time June and July roll around, there will be shortages on a litany of toys."

Meaning come Christmas, we might be forced to buy kids books and clothes instead of toys. That means they will be the ones saying bah humbug instead of us. Sad, we will be.
---
The Baby Yoda merchandise is as cute as he is
February 20th, 2020 under Star Wars. [ Comments:

4

]

Disney+ did a lot of smart things. However, there was one extremely stupid thing that they did, and that was not to have Baby Yoda merchandise ready to launch as soon as the series, The Mandalorian, came out. I mean, it doesn't take a marketing genius to tell you that every kid, and child at heart, is going to want to one.
Well, that was then, and this is now. By Christmas, there will be a whole slew of Baby Yoda toys and accessories available for us to own. I mean, to give to the kids in our lives. This morning, Good Morning America showed off a few things we can expect to see. There is one that moves and coos, an animatronic plush, a talking plush, some Pop figures, a necklace, and some action figures.
Since they don't mention the prices, that means we do not want to know what they are going to cost us. Even though everyone calls him Baby Yoda if you do a search on the Disney Shop website, they call him The Child. Make that two dumb things that Disney+ did.
---
Adam Pally punched Baby Yoda too hard
February 13th, 2020 under Seth Meyers, Star Wars. [ Comments:

none

]

Late last year, Adam Pally became one of the most hated people in the World because he punched Baby Yoda in The Mandalorian. It turns out; we did not hate him as much as the crew who worked on the show. Yesterday, he told Seth Meyers on Late Night, why they all detest him.
It is because when they shot scene, he hit the sweet, innocent, beloved Baby Yoda way too hard. As soon as he did, everyone jumped up and were like WTF did you do? Director Jon Favreau had to explain to him that he was working on a movie now and that Baby Yoda is very expensive. He needs to be a lot gentler with his punches. The actor understood what he had to do now.
When it was time to shoot the scene again, he was still getting looks of disdain from everyone. Therefore, he decided to try to break the ice. Thus, he told them all that before he clocked his nemesis, BT "said something antisemitic to him." Did they laugh? Not at all, they wanted to clock him like he clocked Baby Yoda.
Baby Yoda is a beloved icon like Henry Winkler, and no one should mess with him. I am talking to you, Hanks. Anyways, back to Pally, if someone hurts someone, who is just as loveable, they should feel a wrath that not even Jar Jar Binks has experienced. Poor Jar Jar Binks.
If you want to see the punch that was heard around the World, then click here!
---
When George Lucas met Baby Yoda
January 17th, 2020 under Star Wars. [ Comments:

none

]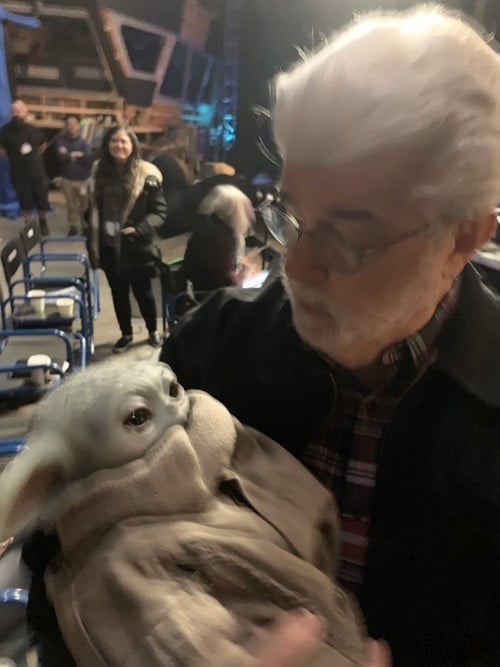 George Lucas gave us old Yoda, and Jon Favreau gave us the baby version of it The Mandalorian. Yesterday, the grandfather of Star Wars met the newest addition to the family, and it was love at first sight for the two. Making us almost forget that Lucas gave us the first three episodes of Star Wars. Almost, but we will never forget.
---
The blunt way Carrie Fisher asked James Blunt to move in
December 10th, 2019 under Star Wars. [ Comments:

none

]

Carrie Fisher had a big place with a pool house, and she sometimes let struggling celebrities like Craig Bierko live with her. Another person that took up residence there was the English singer James Blunt.
Today, he told Lorraine, how he wound up moving in with her. Blunt met the late actress at a restaurant through some mutual friends, and they started chatting it up. She asked him what he does. He told her that he just signed a record deal and was moving to LA. Then she asked him where he was going to live. When he said he did not have a place, she asked him to move in. Which he did.
The two remained friends, and he named his first album, Back to Bedlam, in honor of the madness of her house. Which he loved, and he loves her so much he made her the godmother to one of his children. He hasn't forgotten his old friend. On his new album, he wrote the song Prozac Pill in honor of her.
Amazing how a chance encounter changed his life forever.
---