Watch the Star Wars characters sing Hanson's MMMBop
May 5th, 2022 under Hanson, Star Wars. [ Comments: none ]
So I missed May the Fourth Be With You yesterday, but I prefer Revenge of the Sixth anyway. So, here is a little something for you Star Wars fans. Someone mashed up several characters from Star Wars singing Hanson's biggest hit MMMBop. And I almost think it is better than the original. The only reason why I say that is because they are missing Jar Jar Binks.

---
What happens if Mark Hamill tweets his own name?
September 6th, 2021 under Star Wars. [ Comments: none ]
Mark Hamill is so loved that his fan, Lauren, told him that if all he did was tweet "Mark Hamill," he would get thousands of life.
So what happened when he did just that? He didn't get thousands of likes. Instead, he has received hundreds of thousands of them. As of Monday, September 6th at 1p PST, he has gotten over 583,200 likes.
I think we like him. We really, really like him. So, take that, Darth Vader.

---
Mark Hamill wanted Luke Skywalker to go to the Dark Side
July 16th, 2021 under Jimmy Fallon, Star Wars. [ Comments: none ]
Everyone loves that Luke Skywalker followed the light and didn't go dark like his father. However, if the actor had his way, it would have been a different story.
Yesterday when the beloved actor was on The Tonight Show, he told Jimmy Fallon he went to George Lucas with that idea. "I pitched that to George because I thought that's the way things were going in Empire [Strikes Back]. I've got the gloved hand, and I was dressed all in black," he said. "But actually, George said, 'No, it's a fairytale for children. Luke is virtuous. He's the good guy.'"
Do you wish Hamill got his way?
Now back to Luke's severed hand, the actor also revealed something you didn't know about it. In the original opening to Star Wars: The Force Awakens, the movie was going to start off with the appendage floating in the air holding a lightsaber. Then when it hit the atmosphere, the skin and bones were supposed to melt away, leaving just the lightsaber to float into nothingness. That means he would have opened and closed the movie. However, it did not happen.
While Hamill is very fluent in Star Wars, the same cannot be said about his knowledge of two of the other roles that he plays. Those roles are The Joker and Skeletor. Watch him fail at answering those questions.
His getting those answers wrong made me adore him even more. Seriously, besides Darth Vader, who doesn't love him?

---
May the Fourth be with Jack Black
May 4th, 2021 under Jack Black, Star Wars. [ Comments: none ]
Jack Black is cheating on his Marvel buddies to represent another Disney entity. This time around, he is celebrating Star Wars Day with lightsabers and three versions of himself. I don't know what is going on here, but the force is strong with him.
Is it just me, or is Jack Black like Baby Yoda grown up? So cute, you cannot help but to want one.

---
Baby Yoda gets his own Chia Pet!
November 20th, 2020 under Chia Pet, Star Wars. [ Comments: none ]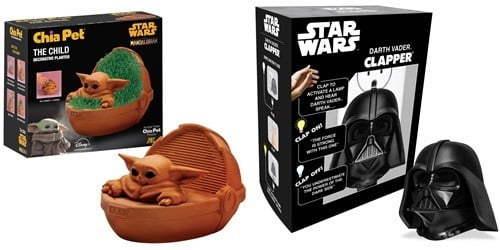 I have never had a Chia Pet, even though I really want one. I almost bought the Bob Ross one, but I didn't do it. Now, that there is a Baby Yoda one, buy him I must. Seriously, how cute is he?
As you know, Chia Pets need light to grow. Maybe he would like to come over to the dark side with a Darth Vader Clap On clapper. Who knew they still existed, but they do. Now, I know what I am going to get my friends' kids for Christmas. Since they are young enough to enjoy clapping really loud over and over again to get the lights to go on and off until the bulbs burn out. He he!

---