Zac Hanson has the perfect reaction to welcoming baby #5
March 10th, 2021 under Hanson. [ Comments: none ]

Zac Hanson and his wife Kate welcomed their fifth child together on Sunday. How does the youngest member of Hanson feel about it? I think his face says it all. In case it isn't clear, here is what he wrote, "…freaking out over the fact that I am now responsible to help raise another person."

One kid is a lot; five is, I don't even want to imagine. His five children are John Ira Shepherd, 12, Junia Rosa Ruth, 10, George Abraham Walker, 7, Mary Lucille Diana, 4, and Quincy Joseph Thoreau, 3 days.

Together the three brothers made up a band. If their 15 kids (Isaac has three and Taylor has seven) wanted to get into music, they would make up a choir.

---
Zac Hanson is expecting mmmbaby #5
January 17th, 2021 under Hanson. [ Comments: none ]

Zac Hanson and his wife, Kate Tucker, are expecting their fifth kid together in March, according to People. The latest child will join big brothers and sisters John Ira Shepherd, 12, Junia Rosa Ruth, 10, George Abraham Walker, 7, and Mary Lucille Diana, 4.

If that is not enough kids for it to play with, they also have 10 cousins from his older brothers and Hanson bandmates. Taylor has seven children, while Isaac only has three. I guess they can only have an odd number amount of kids.

The happy and soon to be tired couple will be celebrating their 15th anniversary this year.

---
Taylor Hanson welcomed baby #7 on the 7th
December 17th, 2020 under Hanson. [ Comments: 1 ]

Whenever I think of Taylor Hanson, I still think of him as the little boy who sang MMMBop with his two brothers. Well, he is not that little boy anymore. Now, he is a father with seven kids. That is right, SEVEN KIDS.
They are Jordan Ezra, 18; Penelope Anne, 15; River Samuel, 14; Viggo Moriah, 12; Wilhelmina Jane, 8; and Claude Indiana, almost 2. Wait, that is only six kids. You are right. Maybellene Alma Joy was born December 7th to the 37-year-old singer and his wife Natalie. "7 is a beautiful number," Hanson said. It is as beautiful as the song he sang for her at the Vernon AME Church, a month before she was born.
Baby #8 should be coming in August 2022. Joking!
To see beautiful baby Maybellene, then click here!

---
MMMBaby #7 for Taylor Hanson and his wife
September 15th, 2020 under Hanson. [ Comments: none ]

I don't know about you, but when I think of Taylor Hanson, I still think of that kid who sang MMMBop.

Believe it or not, that was 23 years ago. Since then, he got married and had six children. They are Jordan, nearly 18, Penelope Ann, 15, River Samuel, 14, Viggo Moriah, 11, Wilhelmina Jane, 7, and Claude Indiana Emmanuel, 20 months. Since one of them is about to leave the house, that means it is time to have lucky #7.

The latest addition to their family is due in December, and it is a happy little surprise for the parents.

This pandemic better end soon, so that Hanson can hit the road again. The middle brother is going to need the money to feed all of those mouths.

---
Zac Hanson injured in a motorcycle accident
October 7th, 2019 under Hanson. [ Comments: none ]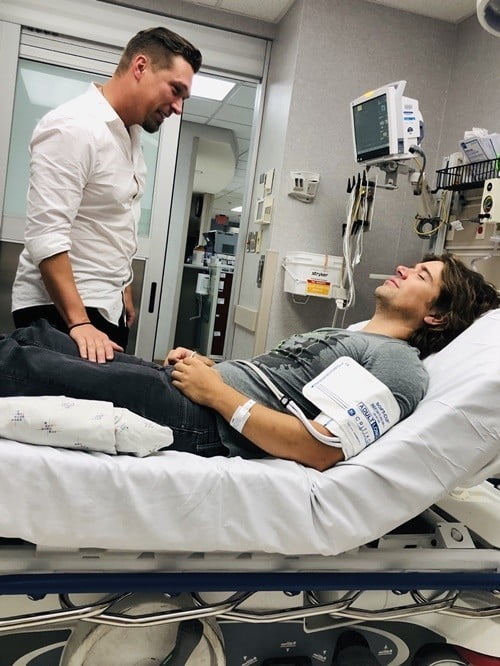 Zac Hanson is singing MMMouch after breaking five bones in a motorcycle accident last week.
The drummer explained what happened, "Wednesday I was involved in a wreck on my motorcycle while preparing for an upcoming cross-country ride. Though I ended up with three broken ribs, a broken collarbone, and a cracked scapula, nothing is injured that won't heal with a little rest and time, and a healthy dose of gaming! Thankfully with good quality protective gear, I was able to walk away, even if very slowly with the help of Isaac, Taylor, and a few of a Tulsa's first responders 🚒."
He is not going to let his injuries stop him. In the words of Queen, "The Show Must Go On," and it will for Hanson. Zac revealed how "We will not be canceling any concerts. Instead, I will be handing over the drum sticks to our good friend Dash Hutton @dashdrumdude for the next few weeks, and I will be giving my full attention to singing while my shoulder is on the mend. Thank you for all the thoughts and prayers, hope to see many of you soon! -Z #youcantstopus"
The brothers hit the road again on October 25th in Atlantic City. Until then, he gets to spend some time at home with his wife and kids.

---