Pee-Wee Herman is immortalized as a Chai Pet
December 12th, 2022 under Chia Pet, Pee Wee Herman. [ Comments: none ]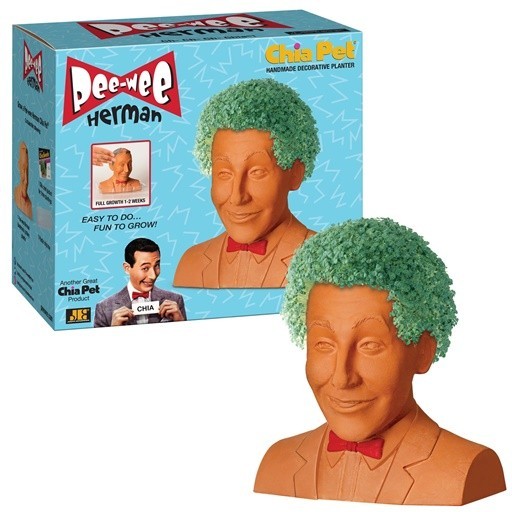 Don't know what to get that person who has everything for Christmas, then buy them the Pee-Wee Herman Chia Pet which is out now. It is the perfect addition to any window that needs a little something to brighten it up!
I know having him look at me with green hair would make me smile, just like the real thing does every time I see Paul Reubens on our televisions.
BTW Did you know that you can use regular Chia seeds if you run out of the ones that come with the original packaging? I learned that last week on my Buy Nothing group, and I am still blown away by that fact.

---
Chia Pets is giving us some scary heads for Halloween
October 6th, 2022 under Chia Pet. [ Comments: none ]
Chia Pet has a treat for Horror fans this Halloween. They added four new heads to their killer lineup. Who are they? They are Halloween's Michael Myers, It's Pennywise, Child Play's Chucky with two faces, and Elvira, the Mistress of the Dark.
These are the perfect gifts for the person in your life who loves scary movies. Since we don't see a lot of sunlight, it is great to have a plant that doesn't need any.

---
Who else wants a David Hasselhoff Chia Pet for Christmas?
December 7th, 2021 under Chia Pet, David Hasselhoff/Baywatch, Willie Nelson. [ Comments: none ]
I don't know what it is about Chia Pets, but they are just so groovy. They were always cool, but now they are even cooler because they are shaped like people and characters from pop culture. This year, they are adding a Knight Rider version of David Hasselhoff and a braided one of Willie Nelson to their collection.
I must have the Hoff one because it is Hoffmazing. It is not that I don't want the one of the Red Headed Stranger. I just would want it more if the plant that grew out of his braids was marijuana. How rockin' would that be?

---
Baby Yoda gets his own Chia Pet!
November 20th, 2020 under Chia Pet, Star Wars. [ Comments: none ]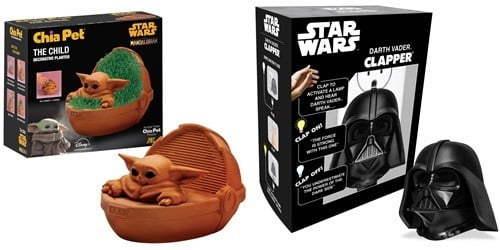 I have never had a Chia Pet, even though I really want one. I almost bought the Bob Ross one, but I didn't do it. Now, that there is a Baby Yoda one, buy him I must. Seriously, how cute is he?
As you know, Chia Pets need light to grow. Maybe he would like to come over to the dark side with a Darth Vader Clap On clapper. Who knew they still existed, but they do. Now, I know what I am going to get my friends' kids for Christmas. Since they are young enough to enjoy clapping really loud over and over again to get the lights to go on and off until the bulbs burn out. He he!

---
Weird Al Yankovic and his Chia pet
October 6th, 2020 under Chia Pet, Weird Al Yankovic. [ Comments: none ]

If ever there was anyone, who deserves to have a Chia pet in his likeness, it is Weird Al *Yankovic. Guess what? They made one for the White & Nerdy singer. After months of waiting, he finally got one. I can't wait to see it look likes when his '80s fro grows out. The only thing missing is the mustache he had back then. Can they make it so some grass grows on his upper lip?

---