Selma Blair drops out of Dancing with the Stars for medical reasons
October 17th, 2022 under Dancing with the Stars, Selma Blair. [ Comments: none ]
Selma Blair announced tonight that she will not be continuing on Dancing with the Stars because it is too hard on her bones. The actress had an MRI done, and the doctors discovered that she has tears and stress fractures. Therefore, they told her it is too much on her body which is already suffering from MS.
Blair and Sasha Farber performed one last dance, and all four judges gave her a 10. She was the first person to get a perfect score this season. And it was so deserved.
The fact that she even competed with Multiple Sclerosis was admirable. And seeing how hard she worked through all of the pain made her an inspiration to so many. She proved you can do anything if you put your mind to it. And she did. It was her body that failed her.
Blair, we are so proud of you. But no one is as proud of you as your son.

---
A mini Cruel Intentions reunion
April 15th, 2022 under Freddie Prinze Jr / Sarah Michelle Gellar, Reese Witherspoon/Ryan Phillippe, Selma Blair. [ Comments: none ]
Yesterday was Sarah Michelle Gellar's 45th birthday, and she spent it with some old friends who had some Cruel Intentions. As in her co-stars, Ryan Phillippe and Selma Blair, from the 1999 movie.
Seeing them together makes me want to see them do a sequel. Let's see how cruel they are in their 40s.

---
Selma Blair is legally blonde
June 9th, 2021 under Selma Blair. [ Comments: none ]
Selma Blair normally has jet black hair, but now she has gone in the opposite direction. The actress is now a bleached blonde. Most people with dark hair can't go light, but she can, and she looks like a model as compared to a thespian.
What do you think of her new hair color?

---
Coronavirus won't stop Sarah Michelle Gellar and Selma Blair from kissing
June 24th, 2020 under Coronavirus, Freddie Prinze Jr / Sarah Michelle Gellar, Selma Blair. [ Comments: none ]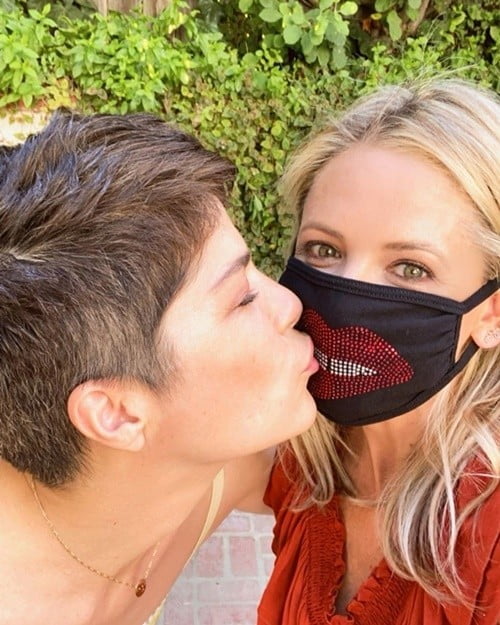 Sarah Michelle Gellar
Ever since Sarah Michelle Gellar and Selma Blair shared a kiss in Cruel Intentions, they can't stop kissing on the lips. They won't let something like the coronavirus pandemic stop that. Therefore, SMG put on a mask with big lips and Blair went in for the lip lock.
Hopefully, Blair didn't inhale any rhinestones. Although, it will make her crap prettier.

---
Selma Blair gives a health update
July 25th, 2019 under Selma Blair. [ Comments: none ]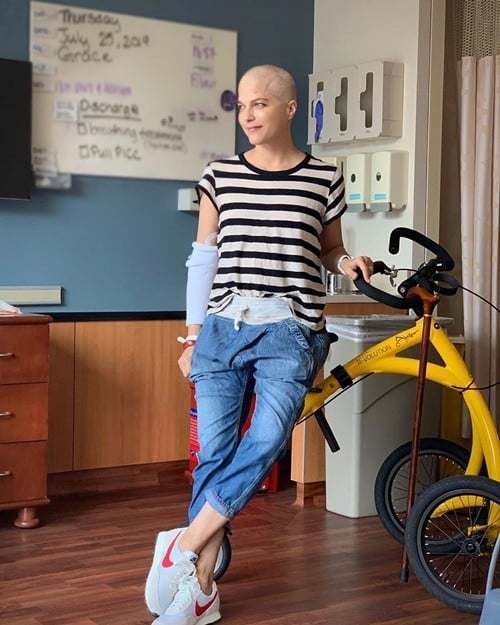 Selma Blair revealed last year that she is battling Multiple Sclerosis and she is not going to let it win. She recently shaved her head and went into thw hospital for some treatments. Today, she is getting out and she gave an update on her health.
Today is a banner day. I am being discharged from the care of an incredible team of nurses and techs and a visionary Dr. who believes in my healing as much as I do. This has been a process. And will continue to be one. I am immunocompromised for next three months at least. So no kisses please. I wanted to make sure any complications that might arise here were my private space. And we got through brilliantly. I thank you all for your love and support and that extra dose of great with a @people cover. I see things so much more clearly now. And I am excited to share this journey when I am ready. For now, I have recovery. And a great @the_alinker_world so I gotta split. Bye!!!!!! This is the best gift I could give to Arthur. #newimmunesystem #whodis? 🎂
Hopefully, this treatment will make a huge difference in her life and she will be feeling more like herself soon. Which will be an even better present for her son Arthur.
When it comes to her new hairdo, she looks gorgeous with or without hair.

---