Thank you, Lenny Kravitz
January 5th, 2023 under Lenny Kravitz. [ Comments: 8 ]
Lenny Kravitz shared a half-naked photo of himself. As in the left side of his body. And today is a very good day.
That is all because his beautiful physique has left this American Woman speechless!

---
So that is how Lenny Kravitz gets his chiseled abs?
July 28th, 2021 under Lenny Kravitz. [ Comments: none ]
Lenny Kravitz shared a photo of himself with his shirt open. At first glance, I thought that his chiseled abs are fake. I mean, his six-pack is so toned it looks like the ones that were CGIed on a superhero.
Then I saw the other photo of him using a jackhammer, and it all made sense. That and I would like him to jackhammer me with that body. Hey, I am American Woman who doesn't want to stay away from him.

---
Did A-Rod hear the rumors that J-Lo is rebounding with Lenny Kravitz?
March 26th, 2021 under A-Rod, Lenny Kravitz. [ Comments: none ]
A few weeks ago, there were rumors that A-Rod and J-Lo broke up. Then within 24 hours, they denied it. However, the rumors continued on.
Jennifer Lopez is in the Dominican Republic filming Shotgun Wedding with Lenny Kravitz. There have been rumors that the actress might be hooking up with her co-star. Of course, no one is confirming nor denying it.
Today, the singer shared a photo of himself looking like he just got into a huge fight? Did Alex Rodriquez do that to him? Nope! It was for the movie. That is a good thing because I don't want anything to happen to Kravitz's handsome mug.

---
Did you know Stephen Dorff sings on Lenny Kravitz's American Woman?
December 10th, 2019 under Andy Cohen, Lenny Kravitz. [ Comments: none ]

When we think of Stephen Dorff, we know of him as the actor who starred in movies like The Gate and Backbeat. Turns out he also sang on a song we all know.
Yesterday when he was on Watch What Happens Live with Andy Cohen, a viewer wanted to know if his vocals are on Lenny Kravtiz's American Woman. Guess what, you can hear his voice on the track. Do you know that grunt at the beginning? Well, that is him.
How did that happen? The two men are friends and Dorff went to visit Kravitz in the studio. Then the singer invited him into the booth, asked him to grunt and the rest is music history.
Musicians if you need grunter, Dorff is available for your songs.
To hear his grunt on the single, then click here!

---
Lenny Kravitz is the epitome of a rock star
August 20th, 2019 under 80s, Lenny Kravitz. [ Comments: 1 ]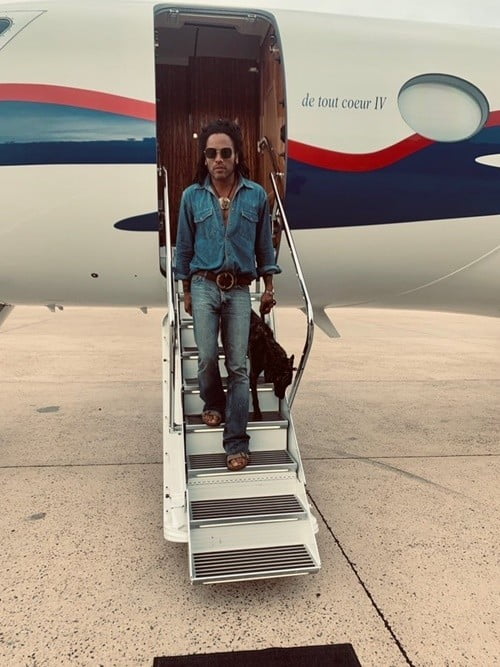 When you picture a rock star, you picture him effortlessly walking down the steps of a private jet in an opened button-down shirt that is tucked in his clean dirty-looking jeans covering his cowboy boots. Since his future is so bright, he is going to wear shades whether it is daytime or nighttime. His hair, pulled back because he was resting on the plane before he embarks on the madness he is about to experience.
That is exactly what Lenny Kravitz looks like here in this photo as he takes his first steps out for his Raise Vibration tour. Since the American man is even cooler than we imagine, his loyal dog is by his side with no intentions of leaving it.
Even if Kravitz wasn't a singer, he would still look like one. Since he is one, he is what the future musicians want to be. And we enjoy staring at all day long as we listen to his music.

---